A front runner in everything that is good about South African wildlife conservation, The Motse is an outstanding eco-luxury lodge. Owned by Nicky and Strilli Oppenheimer, and located south of the Botswana border on the 100,000 hectare malaria-free Tswalu Kalahari Reserve, The Mostse is ideally placed at the foot of the Korannaberg Mountains, overlooking the Kalahari scrub and grassland.
Overview
The Motse is a stone and clay and thatch build comprised of a main house and eight suites. Elevated and open-sided, the main house includes multiple seating areas, a mezzanine library, bar, walk-in wine cellar, pool, decking, boma, spa and shop.
Described by Conde Nast Traveller as the epitome of African chic, everything about the main house is restrained, organic and natural. The polished floors are offset by stone walls and the outdoor dining area's canopy is made of roughly weaved sticks, their edges spiky and jagged. Tswalu's distinctive red clay wall cladding gives the house a fantastically idiosyncratic style.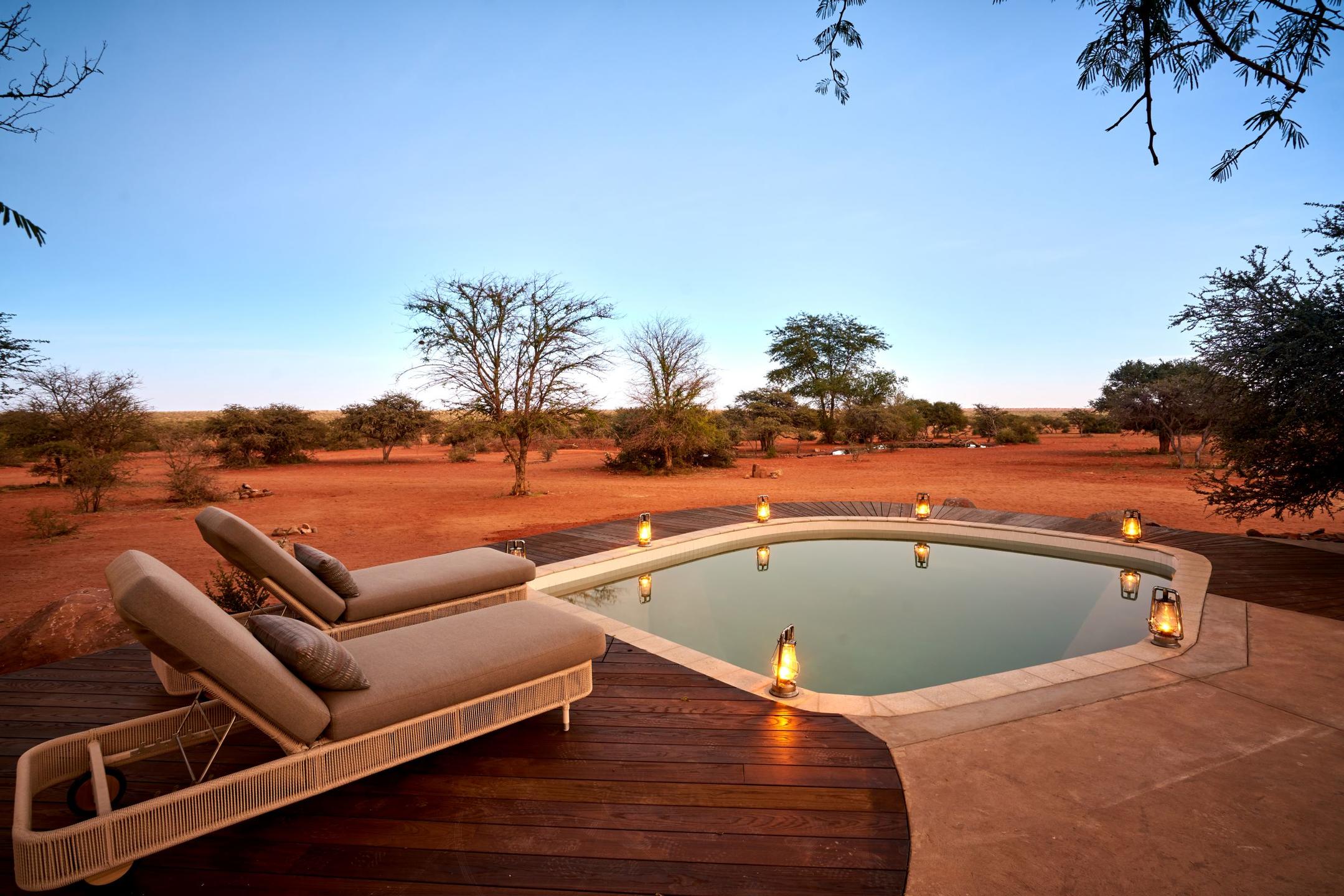 Food & service
The food is excellent, as is the service. Feedback from returning guests is full of praise for the standard of food, the flexibility of the staff, and the fact that everything at Motse – from special diets to individual tastes – is easily catered for. Theresa Fehrson heads up the kitchen, and prepares anything from bush tucker to five-course gourmet meals. Friendly, highly knowledgeable, and excellent in every field, the service here is something else.
Rooms
The suites of The Motse are divine. Like the main house, architecturally clean, understated, the use of glass acts as a fine counterpoint to the use of more traditional materials, while inside the same restrained themes are explored, and here the open log fireplaces add colour to the clay, polish and bleached deadwood.
Open-plan, each room is divided into clearly defined sections, a private sundeck, a sleeping area, a study, a changing area and an en-suite bathroom. The beds are huge, comfortable and come with ceiling-to-floor mosquito nets. The bathrooms are equally fine and possess a stand-alone bath, basin, flush toilet and inside and outdoor showering facilities. Two of the suites are bigger, have two bedrooms, separate lounges and are designed with families in mind. All suites overlook a busy waterhole. The Motse can accommodate up to 20 guests. Additionally, the suits each have fine broadband and Wi-Fi access.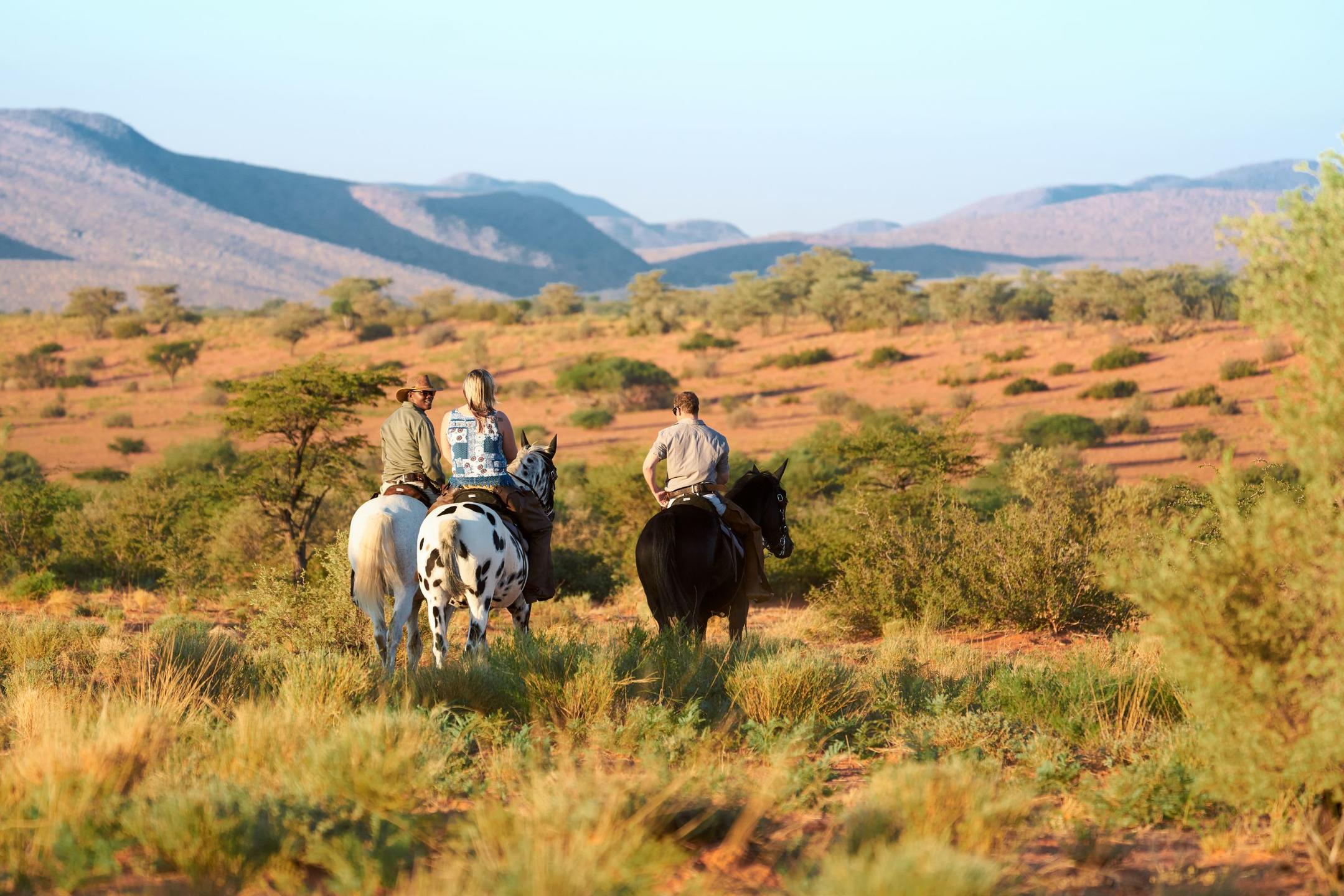 Activities
Activities at Tswalu are plentiful and diverse. They include horse riding, guided walks, wildlife drives, rock art trips, educational and cultural visits, star-bed sleep-outs and massages – either on desert platforms or in the newly extended spa. Horse riding is offered to all, with horses and trails for beginner, intermediate and experienced riders. The equipment and horse ride guides are first rate. Child friendly, Tswalu Kalahari sees the next generation as crucial stakeholders in its ideas around sustainability and conservation. The pools are centrally located, the junior ranger programme is oversubscribed and children are welcome on all wildlife drives, irrespective of age.
Please note that bookings taken for 3 nights or more come with a private vehicle, guide and tracker, giving guests complete control over the shape and timings of their itineraries.
Impact
Conservation
Tswalu Kalahari Reserve is a momentous conservation project which provides vital protection for numerous endangered species of mammals, birds, reptiles and sensitive vegetation. A dedicated Research Centre –  funded and run by the Tswalu Foundation – facilitates projects designed to understand the impact of climate change on species and ecosystem processes. Tswalu also supports a Tracker Academy which seeks to keep the dying art of tracking alive and ensure that tracking skills are formally recognised.
Commerce
Tswalu employs nearly 200 people, most of whom are local, and provides crucial opportunities, skills training and career development for the community.
Community
Tswalu funds a primary Health Care Centre which offers family planning, trauma, dental and ophthalmic services. It also provides preschool facilities to staff families, which allows parents to work.