Originally a private getaway for the friends and colleagues of co-owners Ivor Ickikowitz and Kirk Lazarus, Molori is located 400 km north-west of Johannesburg, in the Madikwe Game Reserve, on a 90 hectare plot of prime wild land. The Molori Safari Lodge is a truly first rate luxury lodge.
Overview
Acquired in 2004, first draft plans for a traditional thatch lodge were scrapped in the interest of designing a more experimental and forward looking kind of accommodation. With a clientele that includes Nelson Mandela, Pik Botha and Raila Odinga, the aim has been to create a design conscious getaway, 'the Camp David of Africa,' says Ickikowitz, where privacy is valued, flyovers unheard of and a highly luxurious experience the norm. Open for business in 2007, it's a formula that has gone on to attract more than politicians and statesmen, its guestbook including the likes of Nicholas Cage and Kate Moss.
Consisting of a shared area and 5 suites, the stone, thatch and wood build's shared areas include multiple-seating areas, a restaurant, pool, extensive decking, bar, wine cellar, spa, steam room and hot tub. Interiors are designed by Lazarus, whose passion for beautiful things gives Molori Safari Lodge its spectacular sense of eclecticism. The main lodge includes polished concrete floors, an in-house crystal light feature since copied by Fendi, and functional objects sourced from the likes of Paris's Maison & Objet trade show. Items such as Phillip Plein swingbeds, a motorised Fendi chaise and French screens to name but a few.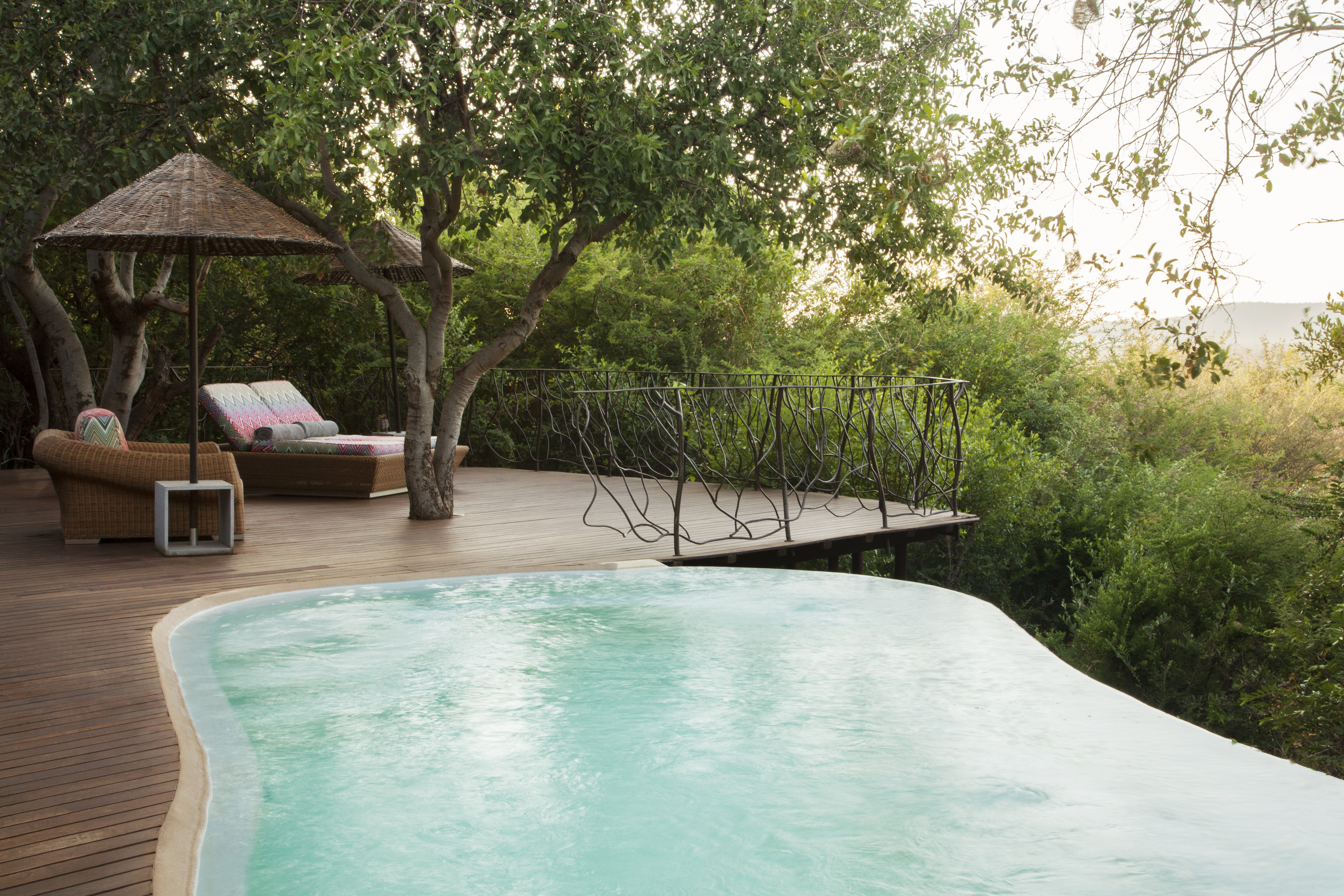 However, while he does doff a rather large cap in the direction of international design, Lazarus has made sure that traditional and local art, crafts and materials feature throughout the Molori Safari Lodge. This includes the layered thatch roofing, wood carvings, a boma, kudu horn door handles, zebra skins and iron hand rails, all of which contribute to the lodge's effortlessly fascinating mix of styles.
Food & service
The food at Molori Safari Lodge is excellent. Prepared by Willie Malherbe, previously of the Rothschilds in England, it is in many senses a brand of its own. New African: a cuisine that takes from Europe's kitchens a culture of sauces and preparation techniques, and adds to it traditional African recipes and produce. This said, given enough warning, Malherbe can and will cook whatever a guest needs, whatever the dietary requirement. The service is equally good – from restaurant floor to guide.
Rooms
Highly idiosyncratic, the suites are individually named: Metsi, Molelo, Lesedi, Ngwedi and Sepheri. The first two of these are presidential in size and name. The one bedroom Metsi made up of a lounge, dining room, library, office, separate bathroom, salinga wood decking and infinity pool. The bedroom has its own walk-in dressing room, and the bathroom includes a standalone roll top bath, showers, sinks and flush toilet. Styled once again by Falcke and Lazarus, the mix of African art and designer furniture, set in acres of space, makes for a piece of accommodation that easily matches – in terms of elegance as well as opulence – anything you might find Paris, London or New York. The 2 bedroomed Molelo suite is similarly fine, and the remaining suites, though slightly smaller, are beautiful in their own right.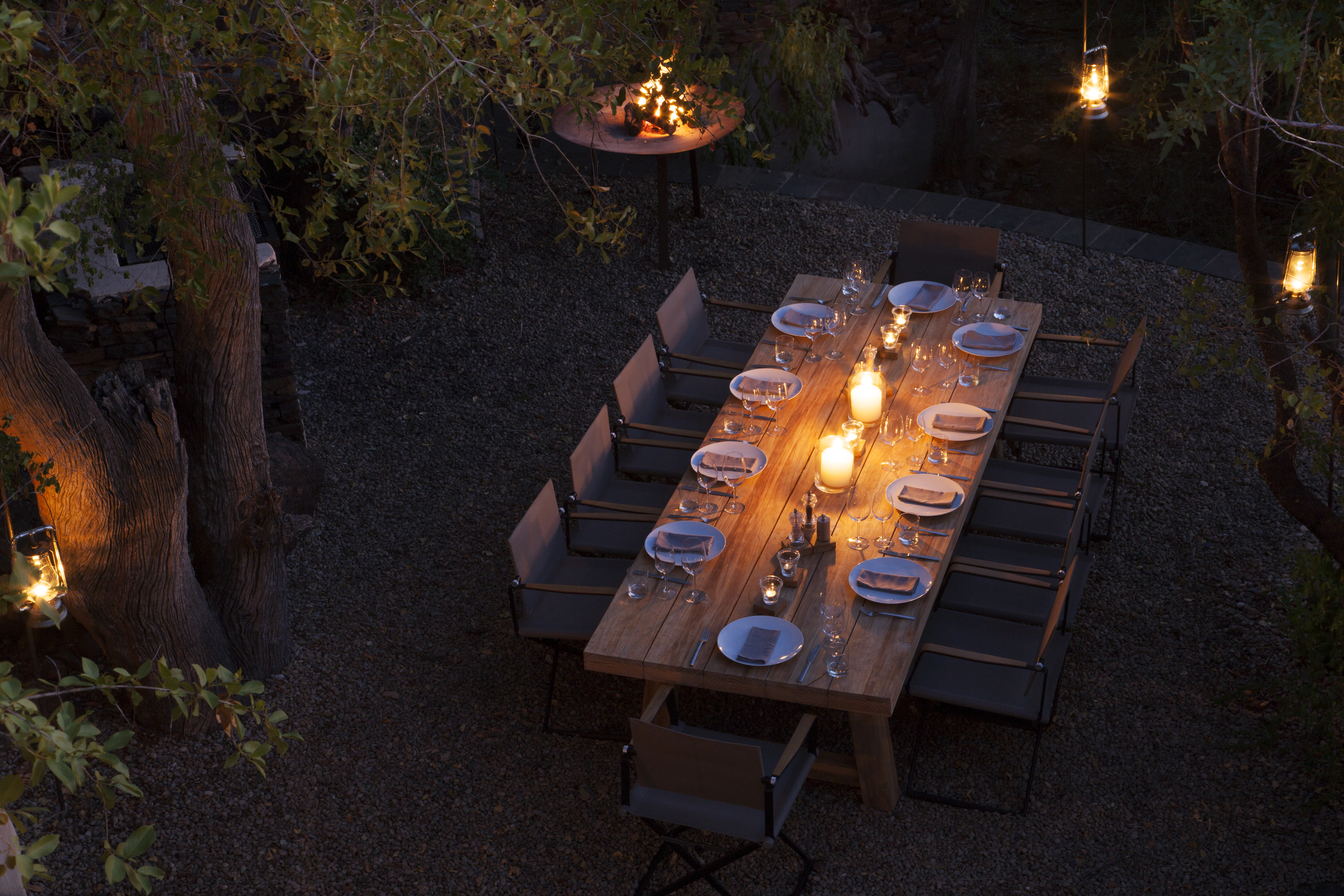 Activities
Activities at Molori include wildlife drives, guided walks, fishing trips, cooking workshops, spa and fitness facilities and massage.
Impact
Conservation 
Molori Safari Lodge is committed to rhino conservation and, through the Ichikowitz Family Foundation, works closely with Madikwe Game Reserve as well as SANPARKS, covering the greater Kruger National Park. Molori, in association with The Foundation, has successfully completed its notching programme; almost all the rhinos in the park are now notched, and therefore the vast majority of local rhinos can be identified.
Guests can – in a quite incredible opportunity – get involved with the rhino tagging efforts and participate in the notching, DNA sampling and micro chipping of the rhino's horns. Guests are also encouraged to attend the Molori wild dog experience, in which they can learn about the pack's strictly defined social hierarchy, the bonds between members and their cooperative hunting techniques.
In addition, the Foundation supports the essential work of the CPU (Count Poaching Unit) in Provincial Park, by ensuring the unit has been fully trained and by providing them with full field combat kit.