Set in Marakele, a 23,000-hectare private concession in the foothills of the Waterberg National Park, with 180-degree vistas opening out onto Waterfall Valley, Marataba Mountain Lodge is an intimate stay.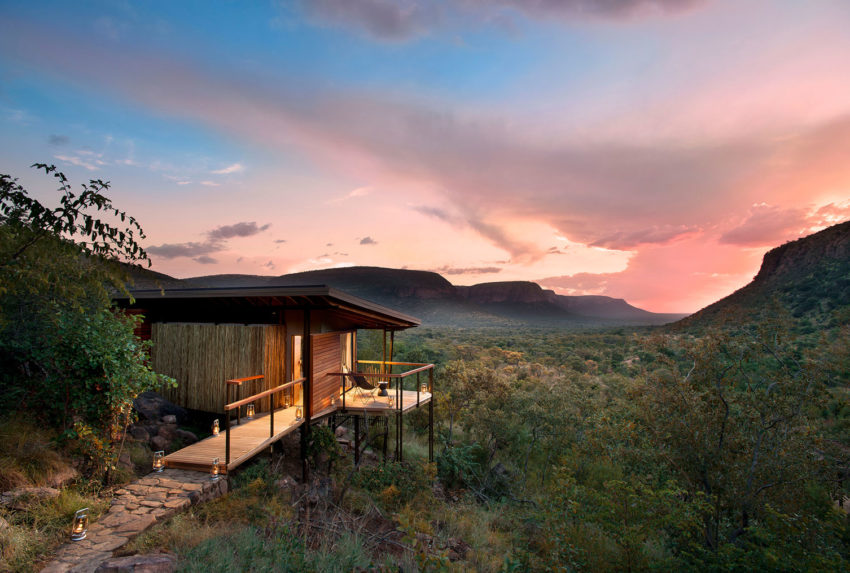 Overview
Situated on an escarpment, Marataba Mountain Lodge accommodates a maximum of 10 guests, and is raised above the trees, looking down along a valley of acacia scrub. Consisting of a shared area and five guest suites, it includes a dining room and lounge that opens up onto a deck kitted out with comfortable armchairs and a swimming pool with sun loungers. Based on the concept of biomimicry, the look and feel of the camp is exceptionally natural, the buildings part and parcel of the environment at large. Please note that the camp is solar powered, meaning electricity is finite. This being the case, Wi-Fi is available when the solar cells have generated enough energy. A laundry service is available at an additional cost.
Food & service
The food at Marataba Mountain Lodge ranges from between wholesome to fine, all of it filling, healthy and delicious. The lodge's chef caters to all dietary requirements. The bar at the lodge is equipped with both premium alcoholic and non-alcoholic drinks.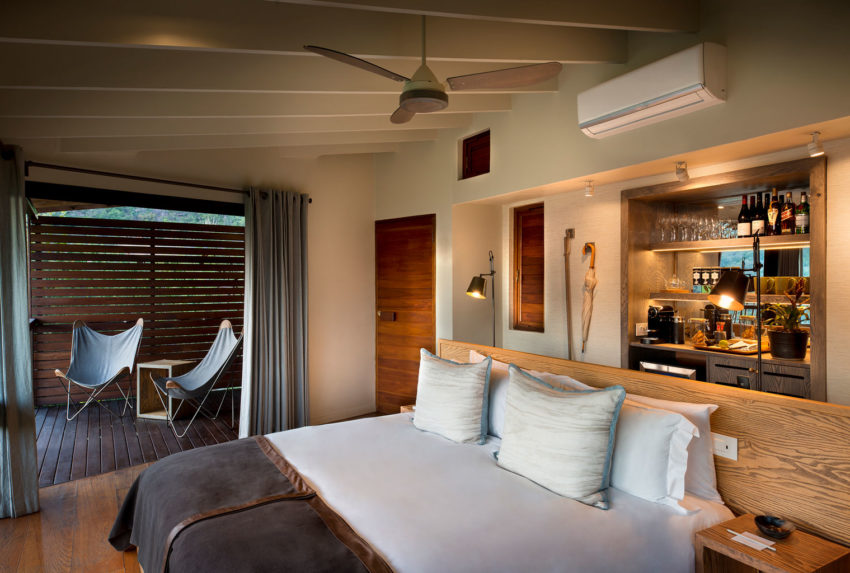 Rooms
Discreetly spaced along the escarpment, each guest suite at Marataba Mountain Lodge is raised above the acacia canopy, with easy access to the main shared area. Each is fully equipped with a king / twin size bed and floor-to-ceiling glass windows provide beautiful views down the valley. On one side there is a private balcony with armchairs and a coffee table; on the other sits an en suite bathroom with vanity unit, large shower and flush toilet.
Activities
With a number of different tracks and trails running from its doorstep, Marataba Mountain Lodge was initially designed with hikers in mind. Some of the walks range from gorge scrambles, to riverine trails, fresh water pools for wild swimming and through the dense scrub alongside free-roaming wildlife including lion, buffalo, hippo and leopard, as well as some extraordinary bird life. As well as a base for walking, the lodge intermittently serves as a yoga retreat. There are also a number of caves with cave paintings as well as stone age and iron age relics.
Impact
Conservation 
The whole lodge is run on solar power, thereby reducing the lodge's carbon footprint.