The Oyster Box is a large luxury hotel on the sea front in Umhlanga, a pretty suburb of Durban, in KwaZulu-Natal in South Africa.
Overview
Situated overlooking the ocean, the Oyster Box is a biggish hotel with 86 rooms and a number of restaurants, bars, eateries and spas to accompany. Colonial in design, it is reminiscent of London's Savoy, but with a modern makeover. The extensive veranda and pool with restaurant seating area can be used for anything from whiling away the time with a book and some world-class food to attending a wedding, which are regularly catered for at the Oyster Box. The amenities at the hotel include a large gym, a spa, a 24-seater cinema, a beautiful garden and a business centre with high-speed internet. Please note that WiFi is available throughout the hotel.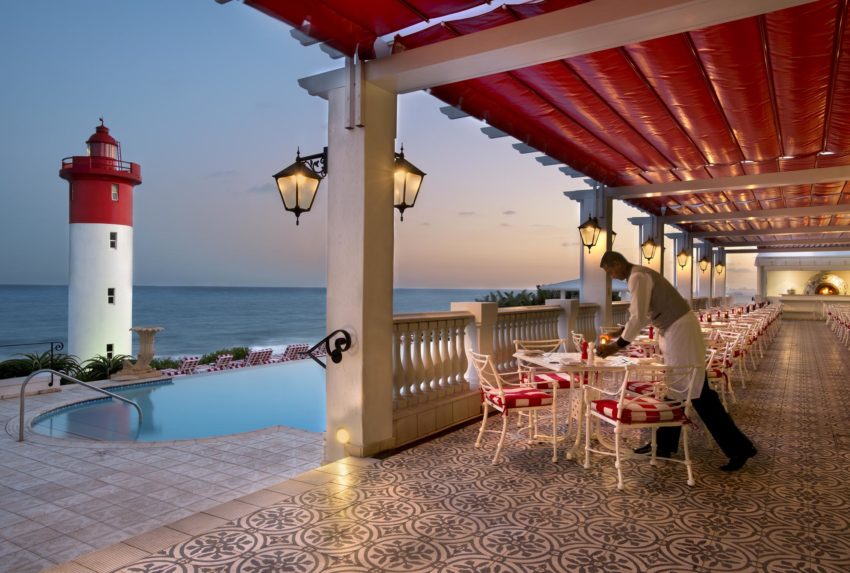 Food & service
The food at the Oyster Box is top quality. As well as an oyster bar, there's a curry night that pays homage to the city's historic Indian population and to a cuisine that evolved from Durban's original trading posts. There are also buffets with a large variety of options every breakfast and lunchtime. The food has been commented as exquisite by returning guests and pulls people in from all over the city. The service is extremely attentive and almost theatrical, with staff in colonial pointed helmet uniforms and a porter to operate the old-fashioned lifts.
Rooms
The rooms at the hotel are large and range from garden villa loft to the presidential suite. Although the different prices do reflect different levels of comfort, even the least expensive room feels and looks opulent. Each room has a different feature to make it unique – from balcony sea views to private plunge pools and extensive verandas. Amenities in each room TV with movie, complementary beach gear including sun cream, beach games, and umbrellas.
Activities
The gym is extensive and has a range of equipment. The spa is home to a lunge pool, tranquillity lounge, salon, and a sensation shower. It's treatment menu is comprehensive. There are endless activities and facilities for children staying at the Oyster Box Hotel, from a playroom with games consoles to face painting, storytelling, craft, cooking, and more.
Impact
Conservation
In order to lessen the Oyster Box's carbon footprint, waste heat that would normally be expelled is reused to heat the pools and solar panels fitted to assist. The use of grey water has been employed for flushing toilets and rainwater is harvested for watering the garden. All waste outgoings at the hotel are separated and as much recycled as possible.
Community
Bed linen and library books that are no longer in use at the hotel are donated to the local communities and the Oyster Box supports Lungisisa Indlela Village, a charity that supports orphaned and vulnerable children, providing care and nurturing.