27°
50'
8.85'' S
32°
14'
49.96'' E

Exclusive, small and beautifully serviced, Phinda Zuka Lodge is located in KwaZulu, in Maputaland, in the north-western sector of Phinda Private Game Reserve.
OVERVIEW
The recipient of unfailingly good reviews, a wood, stone and thatch build, Phinda Zuka Lodge is situated at the foot of a forested hill, overlooking a waterhole, and consists of a main house and 4 separate bush cottages. The main house includes a kitchen, dining area, lounge, pool, veranda, boma and library.
Easily distinguished by its size and huge white chimney, the house's interiors are characterised by Phinda's trademark mix of retro lighting, chic seating and an artistic take on traditional Kwazulu approaches. Cosy, welcoming, arranged around an open log fire, its seats deeply comfortable, the lounge functions as a retreat; a place to while away time, digest the evening meal and exchange notes. The veranda, on the other hand, is much more self-conscious, its stylised design perfect for coffee, lunch, or a sundowner. The view is something else.
FOOD AND SERVICE
With a staff-to-guest ratio of 1:3, the level of attention and care at Phinda Zuka Lodge is first rate, as is the food, which is prepared in what &Beyond call an interactive kitchen. While the cuisine is pan-African, menus are readily adapted to suit diets and tastes, and meals are taken outside, on the veranda, in the boma, as a bush picnic, or inside, at the dining table. The atmosphere is relaxed, flexibility being the key.
ACCOMMODATION
The lodge accommodates up to 8 guests. Each cottage is at least 15 metres apart, overlooks the lawn and waterhole and includes a double bed, seating area, private verandah and ensuite bathroom. Simply styled, the sleeping area is beautiful. Muted colours – off-white bed-heads, pale green walls, dark woods – compliment functional and well made furniture, geometrically arranged gourdes serve as wall art and seventies style bedside lamps hang suspended from the ceiling. The bathroom – bath, shower, toilet, twin sinks – is just as fine, the circular stone bath chamber a real highlight.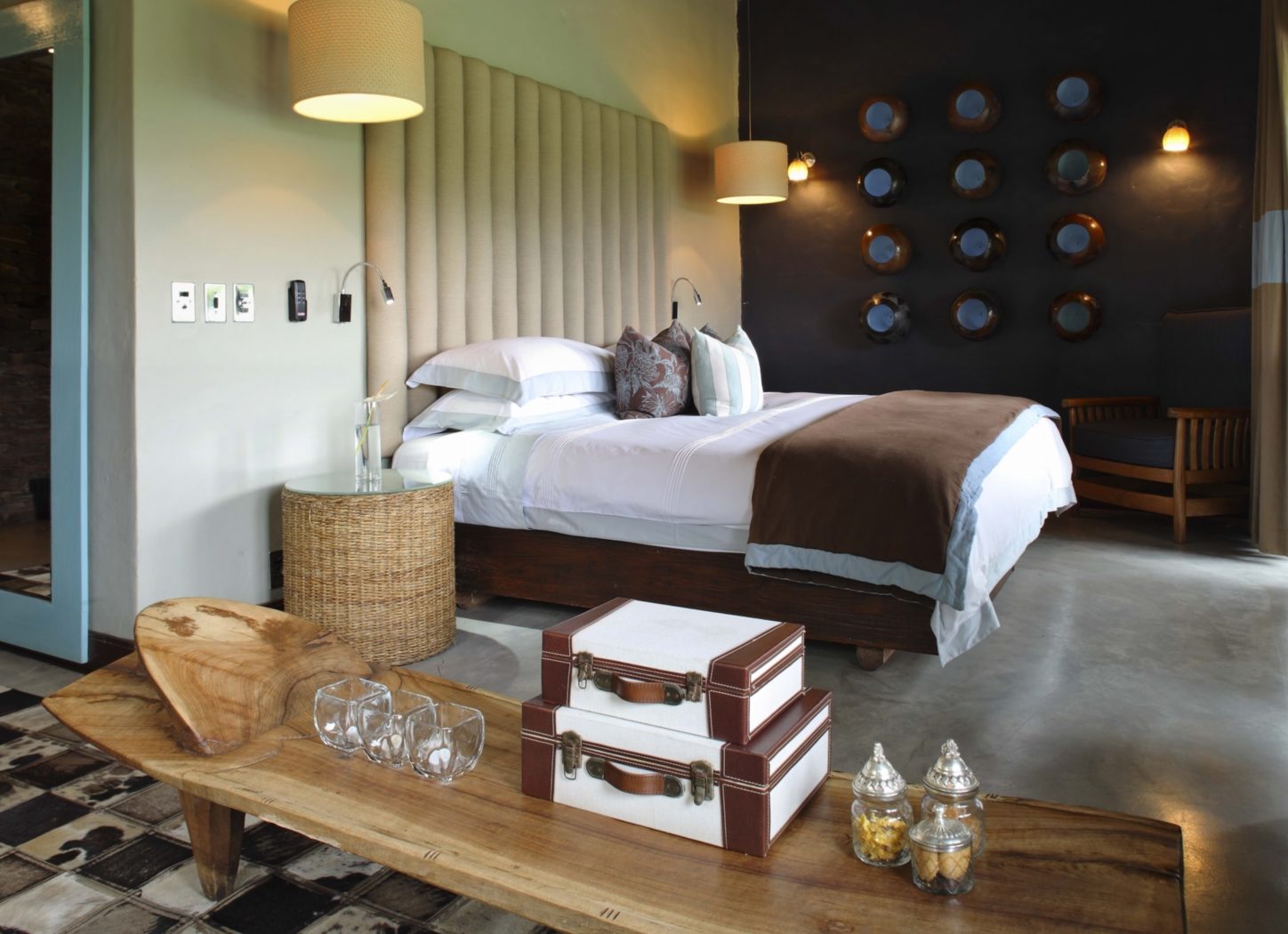 ACTIVITIES
Phinda Zuka Lodge comes with its own guide and vehicle, and itineraries are movable feasts. Activities include game drives, guided walks, rhino tracking, bird watching, river boat trips, canoeing, deep sea fishing, cultural visits, scuba diving, scenic flights and beach adventures.
ETHICS
At &Beyond's values are and always have been:
"Care of the land. Care of the wildlife. Care of the people."
They have become an intuitive part of the way the company operates and are increasingly part of the reasons why guests find their experience with them so rewarding. Examples of this sustainable practice can be read on the Phinda Mountain Lodge accommodation.