New to the Phinda stable, and already the recipient of excellent feedback, Phinda Mountain Lodge is located north of Durban, in the southern sector of the Phinda Private Game Reserve, close to the Mzinene River.
Overview
Managed by &Beyond, Phinda Private Game Reserve is a leading light in the world of conservation. Once a collection of rundown farms, and now home to 7 types of habitat and a diverse and burgeoning wildlife population, it was originally returned to the wild by CC Africa (&Beyond) and then subsequently restored to its original owners, the Makhasa and Mnqobokazi communities, who have in turn agreed to commit the land to wildlife in perpetuity. Having nailed the key factors in animal conservation – that is ensuring all stakeholders benefit – Phinda continues to attract enormous international interest.
Built into the reserve's southern uplands, set in a semi-wild garden of mixed trees, aloes and gravel paths, Phinda Mountain Lodge is a stone, wood and thatch build, and consists of a main lodge and 25 suites. The main area includes a reception, seating and dining areas, a bar, a tiered veranda, a pool, boma, business centre, shop and observation area.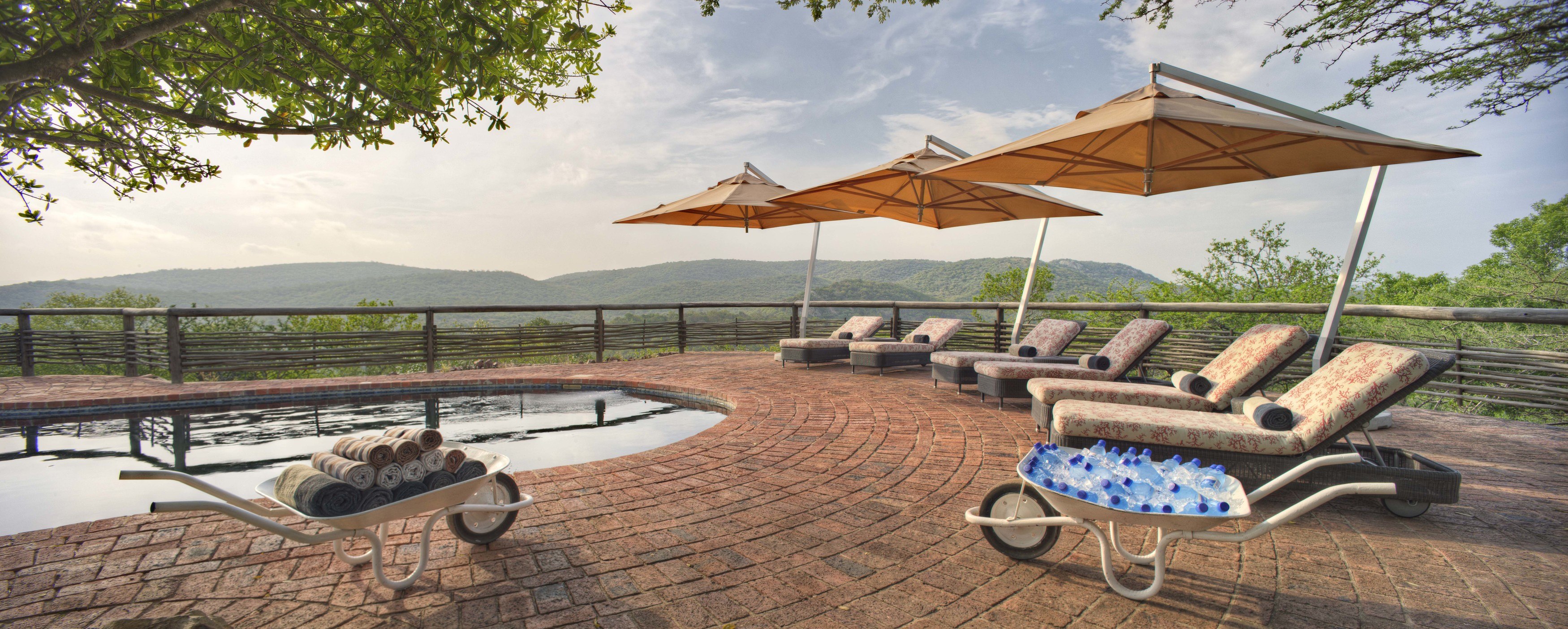 Food & service
As with all the reserve's accommodation, Phinda Mountain Lodge's menu showcases &Beyond's signature pan-African cuisine, and its service – accommodating, professional, discreet – is just as good. Meals can be taken in the main dining areas – outside or in – or in the privacy of one's own suite. Much is made of the boma, and its clay oven cooking is a real eye opener.
Rooms
Large, spacious and built around a rectangular courtyard, the shared areas are characterised by exposed brick walling, polished floors, dark wood walkways and a wealth of slumber seating. In keeping with the Phinda style, traditional Kwazulu-Natal utilities adorn white walls, polished found animal horns sit in large clear-glass containers and steel railing sits comfortably against wooden uprights. Well kept, beautifully designed, the shared areas are both purposeful and relaxing, the sense of space is underlined by the choice and quality of objects.
Away from the main areas, constructed in the same materials, and approached by means of bricked pathways, the lodge's sleeping rooms consist of a double bed, seating area, en suite bathroom, plunge pool, veranda and al-fresco shower. Marked by a muted colour scheme – browns, off-whites, beige – and by a real eye for what works in terms of lighting, the rooms are beautiful. The beds are large and comfortable, the furniture well-made and original drawings and photographs fit well with the overall scheme. Naturally lit by way of large glass doors, both bedroom and bathroom – standalone roll top bath, toilet, shower and twin sink – look out onto the bushveld. Please be advised that 3 suites can accommodate 3 guests, while one is family size.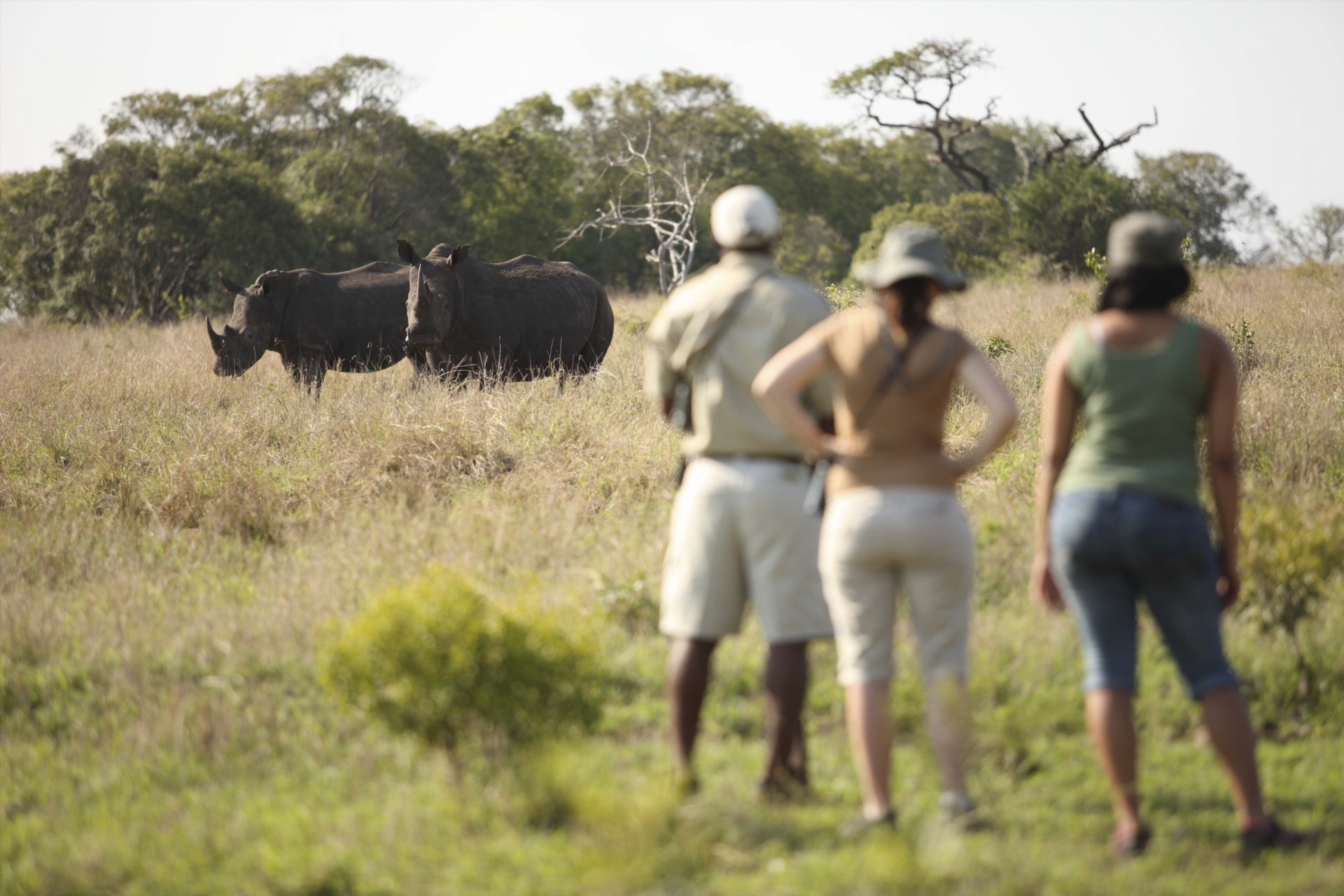 Activities
Activities at Phinda Mountain Lodge include wildlife drives, guided walks, canoe safaris and river cruises. Additional activities include an adventure package (bushveld and beach), an air safari and scuba diving.
Phinda Mountain Lodge is open all year round. We recommend visiting in the dry season – May through to September.
Ethics
&Beyond's values are and always have been:
"Care of the land. Care of the wildlife. Care of the people."
They have become an intuitive part of the way the company operates and are increasingly part of the reasons why guests find their experience with them so rewarding. Examples of this sustainable practice include:
Conservation 
Following the launch of a major leopard conservation programme in 2002, the leopard population at Phinda has bounced back in a big way. Moreover Phinda protects the greatest number of Pepper-Bark trees in KwaZulu-Natal – 1400.
These efforts are combined with the rangers at Phinda hosting conservation lessons for an average of 350 school children and their teachers every year.
Finally consumption levels of water, energy and power have reached more sustainable levels through the installation of 25 water meters and other water-saving devices on Phinda.
Community
Through a simple innovation, Phinda has helped address one of the challenges of water supply for local families with the introduction of Hippo Water Rollers. These are drums that hold 90 litres (25 gallons) of water and are easily rolled along the ground by means of a stainless steel holder, as opposed to the usual five litre (one gallon) containers that are traditionally carried on the heads of women and children.