Ecca Lodge is located in the Eastern Cape, on the Kwandwe Private Game Reserve and set back from the Great Fish River, a member of Relais & Châteaux, Ecca Lodge is an outstanding and ultramodern destination.
Overview
Situated overlooking a semi-arid valley of acacia, aloe and spekboom, a stone, wood and corrugated iron build, Ecca Lodge consists of a main area and 6 sleeping rooms. The main area includes a dining room, lounge, veranda, pool, playroom, computer room and library. Designed by Chris Browne (of Phinda Reserve fame) the main area is characterised by cool, spacious interiors, brick flooring, meshed sandstone walls, vibrant, iridescent colours; an eclectic mix of retro furnishing, Japanese-like lighting, long corner sofas and industrialised surfaces. Purposefully at odds with its outdoors environs, the overall effect, and one underlined by both its art and music collections, is one designed to cultivate the urbane.

Food & service
The food and service is equally fine. Warm and attentive, everyone is capable, multi-skilled and committed. Likewise the food. Prepared in an open kitchen, the cuisine is African-European and meals are served inside, outside and as picnics on wildlife drives. In between main scoffs, the day is one endless round of tasters, hot drinks and sundowners. Delicious.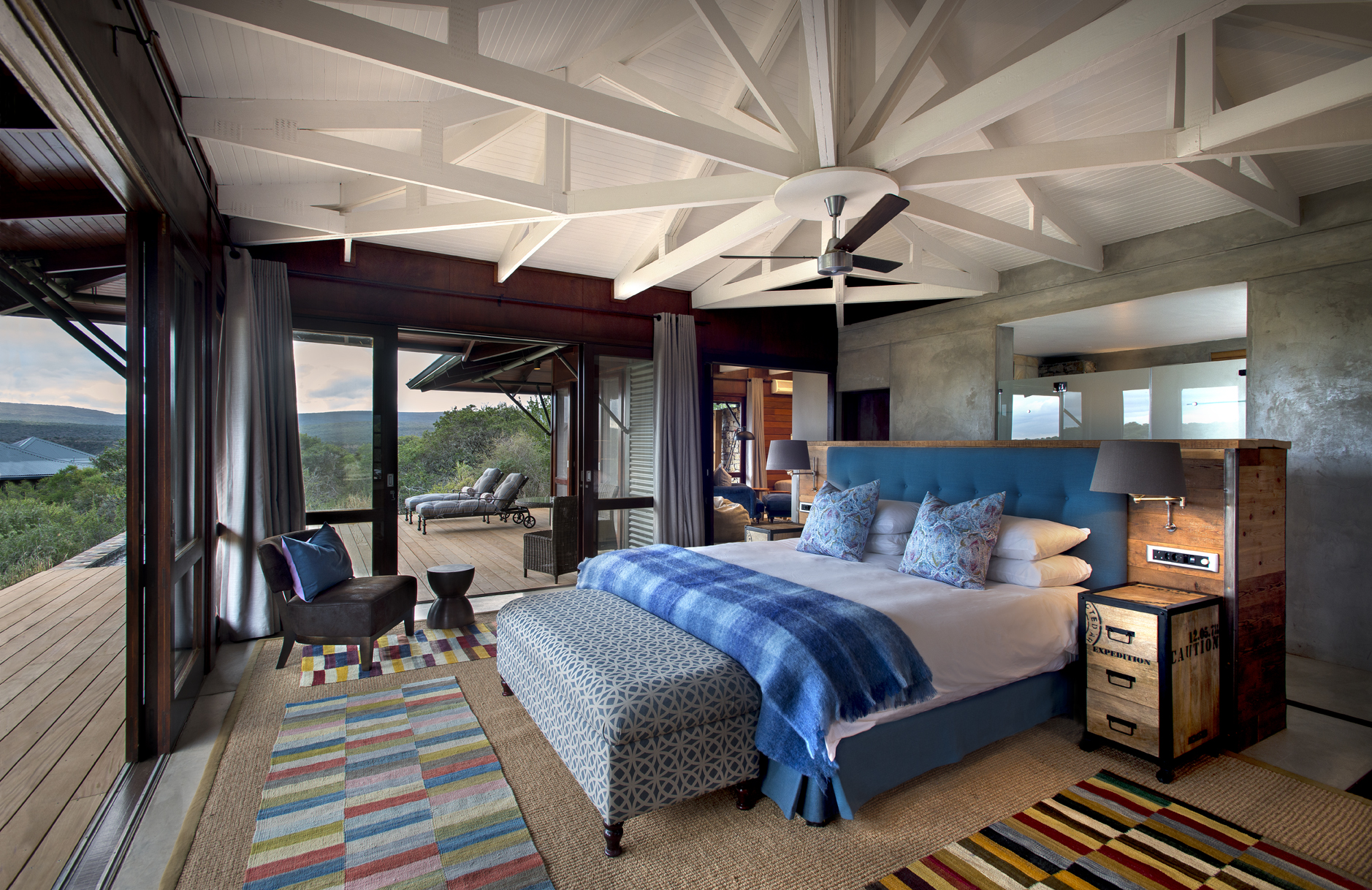 Rooms
The sleeping rooms at Ecca Lodge are extraordinary. Like the main area, every room is beautifully put together, only less eclectic and more minimal. Its polished flooring, industrial walls, wood cladding, Rothkoesque curtains, shutters and lineally patterned seating are designed to create an effect bereft of ornament. Each room consists of double bed, low room divider, a lounge, veranda, pool, en suite bathroom and outdoor shower. Eschewing the sort of luxury elements (period, gold tap, retro-chic) that tends to feature in much of today's leading safari accommodation, it is a tightrope design, one that manages to feel cool and luxurious and, at the same time, irreverent. Great fun.
Activities
Activities at Ecca Lodge include wildlife drives (day and night), carnivore research workshops, guided walks, sundowners, massage, historical and cultural visits and trips to the beach.