A recent extension of the renowned Tanda Tula Safari Camp, this is a unique addition to the South African safari scene. Located like its larger sibling in Timbavati Private Nature Reserve in the Greater Kruger area, the field camp offers unrivalled exclusivity and a minimal footprint.
Overview
A non-permanent camp, Tanda Tula Field Camp can plausibly claim to be one of the most environmentally friendly wilderness accommodations in South Africa. Designed to cater simultaneously to growing demands for privacy and for ecological sensitivity, the camp is broken after each group departs, leaving hardly a trace behind. The communal lounge area is exemplary of just how much the team do with what is an essentials-only operation.
Food & service
Covered only by a canvas roof and rug-floored, there is comfortable wicker furniture and a range of cold drinks available. The dining-table is usually set in the open air, surrounded by lamps and candles, and the cuisine is reliably excellent.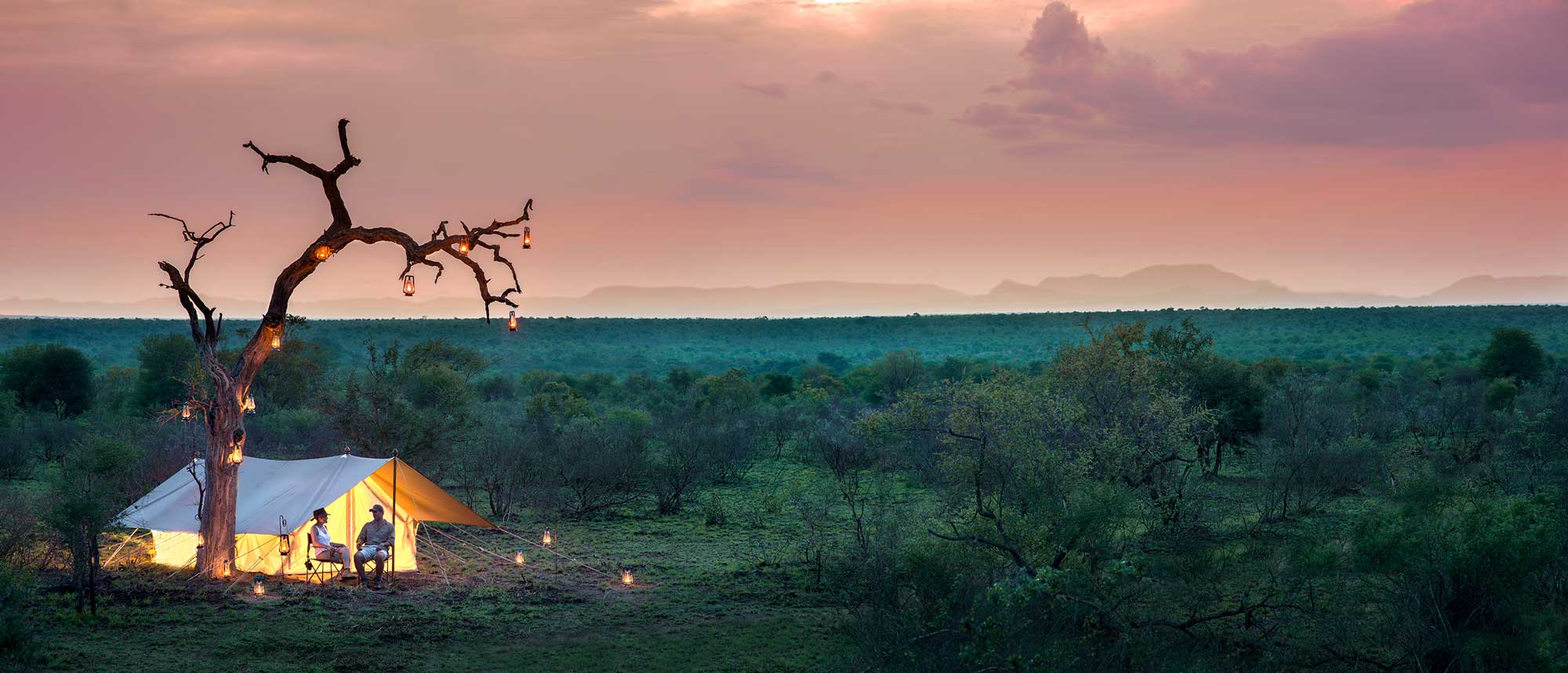 Rooms
Tanda Tula Field Camp, in keeping with its privacy theme, caters for groups of between two and eight guests on an exclusive-use basis. There are four tents that have been custom-designed for Tanda Tula, each with en-suite private bush bathrooms. Traditional-but-comfy camp furniture is complemented by thoughtful additions like bedside tables and attractive local rugs and blankets.
Activities
This is a true safari camp offering a full range of activities undertaken either by foot or vehicle. These are some truly breathtaking wildlife experiences and are all accompanied by one of a range of industry-leading guides.
Impact
Conservation
Tanda Tula assists with many research projects, including the Ground Hornbill Research Project; providing a monthly fuel donation for the field vehicle. Furthermore, Tanda Tula's rangers give feedback of all first-hand Ground Hornbill sightings to the researchers, and – most importantly – record these sightings on the Cybertracker system employed at the lodge.
Commerce
Tanda Tula believes that regular training not only improves skills, but also empowers people and their livelihoods. It therefore focuses on developing skills in the workplace.
Community
Tanda Tula has partnered with the African Safari Lodge Foundation (ASLF) and the Southern African Wildlife College (SAWC) and is participating in the pilot programme of "Best Practice Training", which involves providing high quality long-term training for guides who come from disadvantaged backgrounds. The lodge also provides weekly adult literacy lessons and is a sponsor of the Hlokomela HIV Aids Clinic.