An exclusive five-star lodge, Savanna Private Game Lodge is situated in Savanna Private Game Reserve, in the Sabi Sand Reserve within the greater Kruger National Park conservancy, where it is not unusual to see lion, leopard, elephant, buffalo and rhino in a single wildlife drive.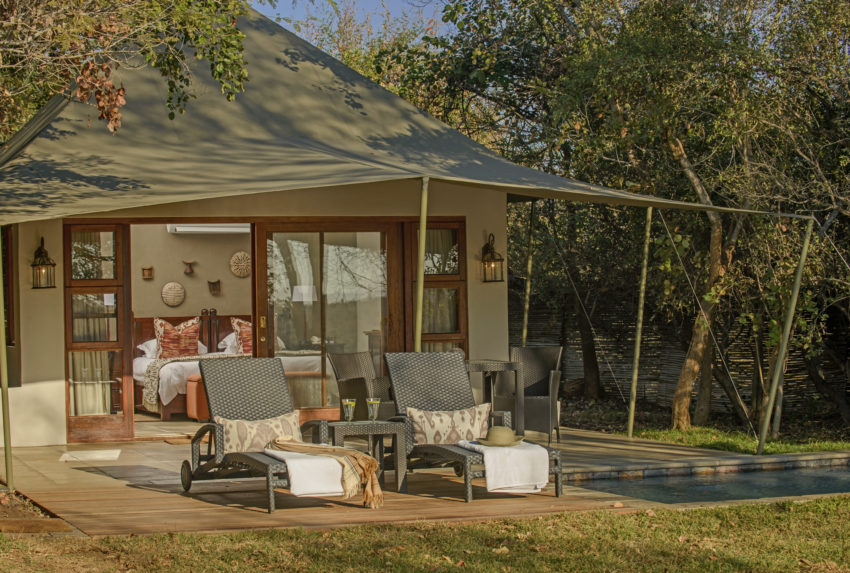 Overview
Guests at the Savanna Private Game Lodge are frequently treated to fantastic views of birds and game drinking and bathing from the public lounge with its spacious patio, or at the main pool looking out over the gardens and the floodlit waterhole. A viewing loft above the lounge also offers a good view and a barman is in constant attendance. An adjoining library provides Wi Fi and offers guests the means to transfer digital photographs from safari, onto CD or DVD. There is also a fully-equipped gym with satellite television, DVD access and an iPod docking station.
Food & service
Gourmet dining is an essential component of the Savanna Private Game Lodge safari experience. Breakfast includes a full English plus fresh fruits, yogurts, pastries, home-made mueslis and Savanna smoothies. A lunch buffet offers a large variety of salads, hot meat and vegetable dishes and cheeses, as well as some simple children's meals. Candle-lit dinners, are served on the deck of the main lodge. On balmy nights, barbecues are enjoyed around a fire in an open-air 'boma' and guests are often treated to a local choir. The high quality cuisine is complemented by award-winning wines, imported and local, from Savanna's well-stocked wine cellar.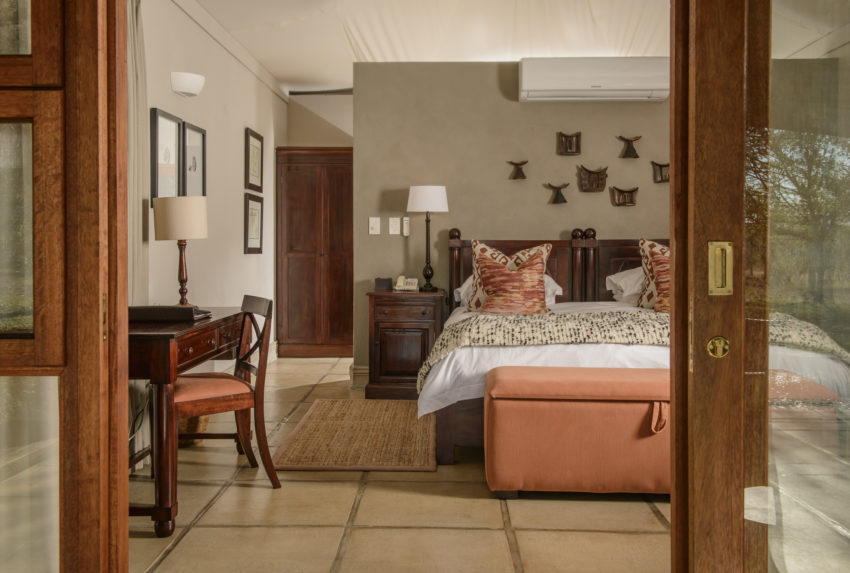 Rooms
Nine suites offer spacious accommodation at the Savanna Private Game Reserve. Three executive and four luxury suites have canvas roofs above draped ceilings set on permanent structures. All have large bathrooms and decks looking onto waterholes in the bush. The larger executive suites also have plunge pools. The décor throughout is a blend of colonial and classic with hand-crafted furniture, fine linen and artwork. The thatched Savanna Suite is tailor-made for families, with two en suite bedrooms on either side of a spacious lounge and large covered patio. The bedroom suites with their individual bathrooms can also be booked separately, but this would not include the lounge, private vehicle and guides which are part of the Savanna Suite package.
Activities
Specially designed game viewing vehicles and highly-trained guides with vast knowledge of the African bushveld, take guests on close and intimate encounters with a large variety of wildlife at the Savanna Private Game Reserve. Numerous nearby dams and a series of waterholes in front of the lodge attract many species, especially in the winter months. Special activities are provided for children.
Impact
Community 
The Savanna Trust, which runs the Savanna Private Game Reserve, supports a range of community projects including a nursing home, orphanage and youth activities as well as local farmers.