Located in Melrose, a short wander from central Johannesburg, The Peech is a boutique hotel that offers the highest levels of suburban comfort.  
Overview 
Built in the 1950s and a used as a family home for over 40 years, what we now know as The Peech opened in 2004, after being bought by James Peach two years prior. Since then, the hotel has been fully renovated, and offers guests the choice of five different room types, alongside two outstanding restaurants, two outdoor swimming pools, a library, and two acres of flourishing gardens. There is also free Wi-Fi across the hotel.  
Food & service  
Named the Best City Boutique Hotel in Africa at the World Boutique Hotel Awards in London in 2014, The Peech's service is outstanding across the board. Freddie Dias, former Head Chef at The Pot Luck Club in Cape Town, oversees both of The Peech's restaurants, one of which is reserved for guests only. The other, Basalt, is something of a Johannesburg sensation, and we strongly recommend booking in advance. Described a contemporary global, the hotel's cuisine is a world traveller in terms of flavor and style.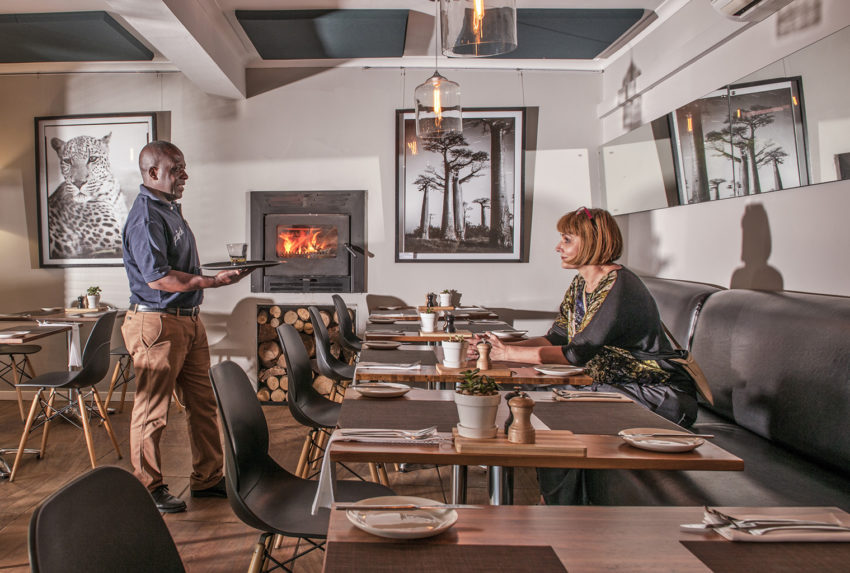 Rooms 
The 32 rooms are split into five types: Luxury Rooms, Classic Rooms, Heritage Rooms, Peech Suites, and the Peech Villa. The Luxury Rooms are the hotel's newest, and feature oak flooring, cavernous walk-in raindance showers, and generous patios. The Classic Rooms are just that: beautifully appointed, with views across the gardens and pool, they embody timeless comfort. The Heritage Rooms are slightly more retro in feel, with shuttered blinds and chequered hazel wallpaper reminiscent of the old house. The Peech Suites, tucked away in a quiet part of the gardens, are the most spacious – offering 60 square meters of floor space – and have extra-large bathrooms. The single Peach Villa has a Master and Second Bedroom, ideal for visiting families and bigger groups. All the rooms have king sized/twin beds.  
Activities
The hotel's central location lends itself to Johannesburg's multitude of opportunities. Sandon – the city's hub for shopping – is just ten minutes away, and the hotel is adjacent to the Wanderers International Cricket Stadium; perfect for anyone inclined to enjoy a few hours of a Test match or an evening Twenty20. In addition to the two on-site swimming pools, guests can also use the nearby Planet Fitness gym, albeit for a small charge.