33°
54'
30.72'' S
18°
24'
59.31'' E

Part of the highly successful and highly respected One&Only portfolio, located in Cape Town, One&Only Cape Town is a large luxury hotel.
OVERVIEW
Situated overlooking the Victoria and Albert Waterfront, on both shore and the so-called Island, One&Only Cape Town is a startlingly modern build, all clean lines, post-neon lights and enormous rooms. It consists of a main hotel and 131 sleeping rooms. The main hotel includes multiple restaurants, a reception, a huge infinity pool, the Vista Bar and Lounge, the Wine Loft, various seating and lounge spaces, numerous bars, a spa, gym, business facilities and kids' area.
Characterised by water, palm trees, Chinese bridges and sections of the harbour's promenade, the hotel's exterior – low-rise, white – is a glittering homage to something that could well have been invented by Pixel. The glossy interiors are dominated by great sweeps of marble, glass and metal, original pieces of art, both local and international, and beautifully thought through public spaces, their designs pinched from all over; the combined effect is a resounding success.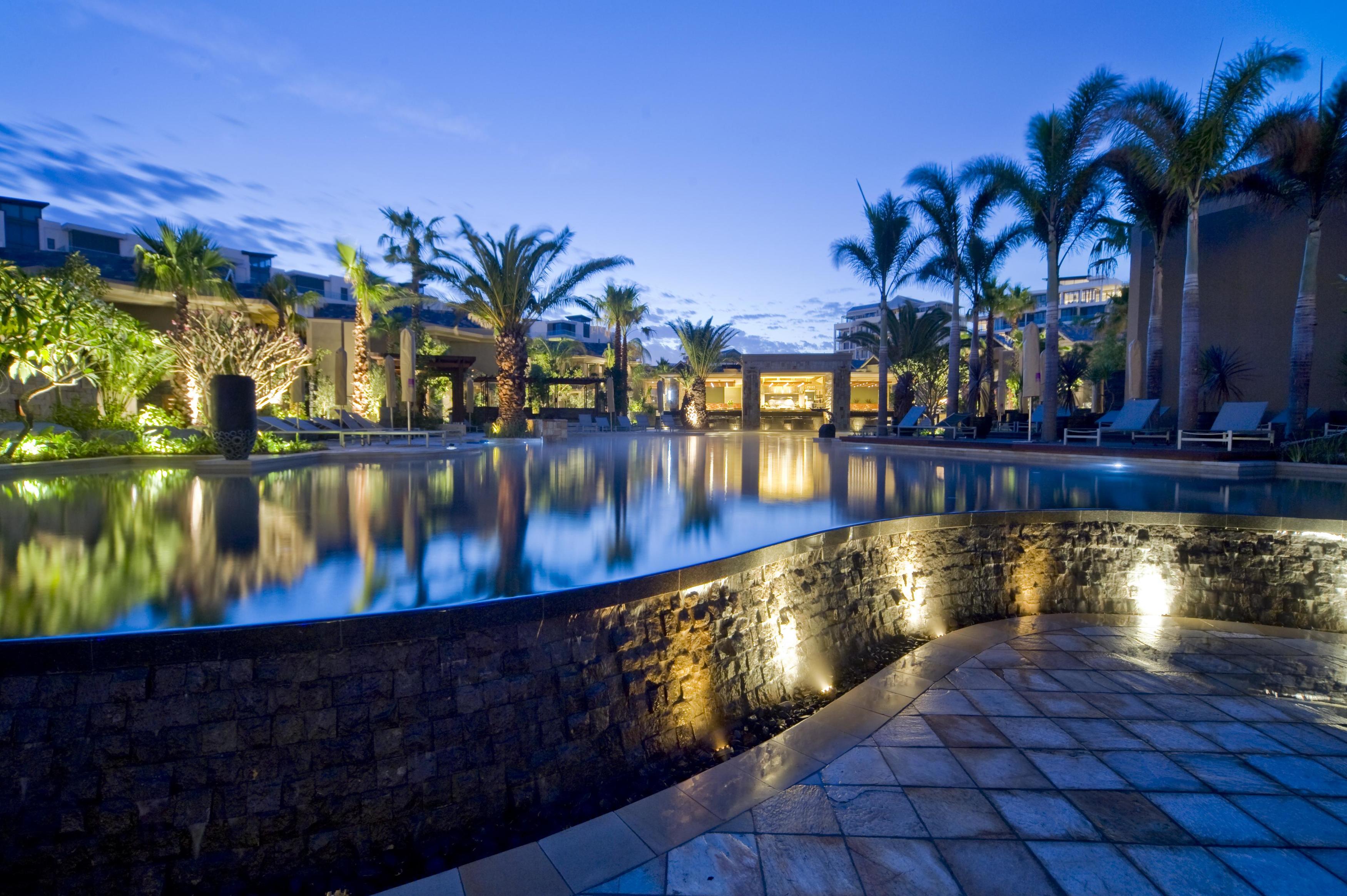 FOOD AND SERVICE
Much is made by both hotel and guests of the food. Rightly so: Nobuyuki 'Nobu' Matsuhisa is here, as is local hero Reuben Riffel – their restaurants being the Nobu and Reuben's. A Japanese diner made grand, Nobu's take on sushi etc is deeply South African, while Reuben's brassier turns on a French wheel, the produce fresh, local and delicious. Isola, a poolside restaurant, serves up Italian fare, and snacks are available throughout the day. Possessing a cellar boasting 5000 plus wines, many of which are vintage South African, One&Only Cape Town's 3 tier Wine Loft is grape lover's heaven.
ACCOMMODATION
The rooms at One&Only Cape Town are divided between suite (78) and room (53), which in turn are subdivided into categories defined by size and position. Guests can choose to stay in either Island or Marina Harbour. Island consists of the following classes: Superior King Room, Superior Double Room, One Bedroom Suite and Two Bedroom Grand Suite. Marina Harbour offers a King Room, Double Queen Room, Mountain King Room, One Bedroom Suite and One Bedroom Grand Suite.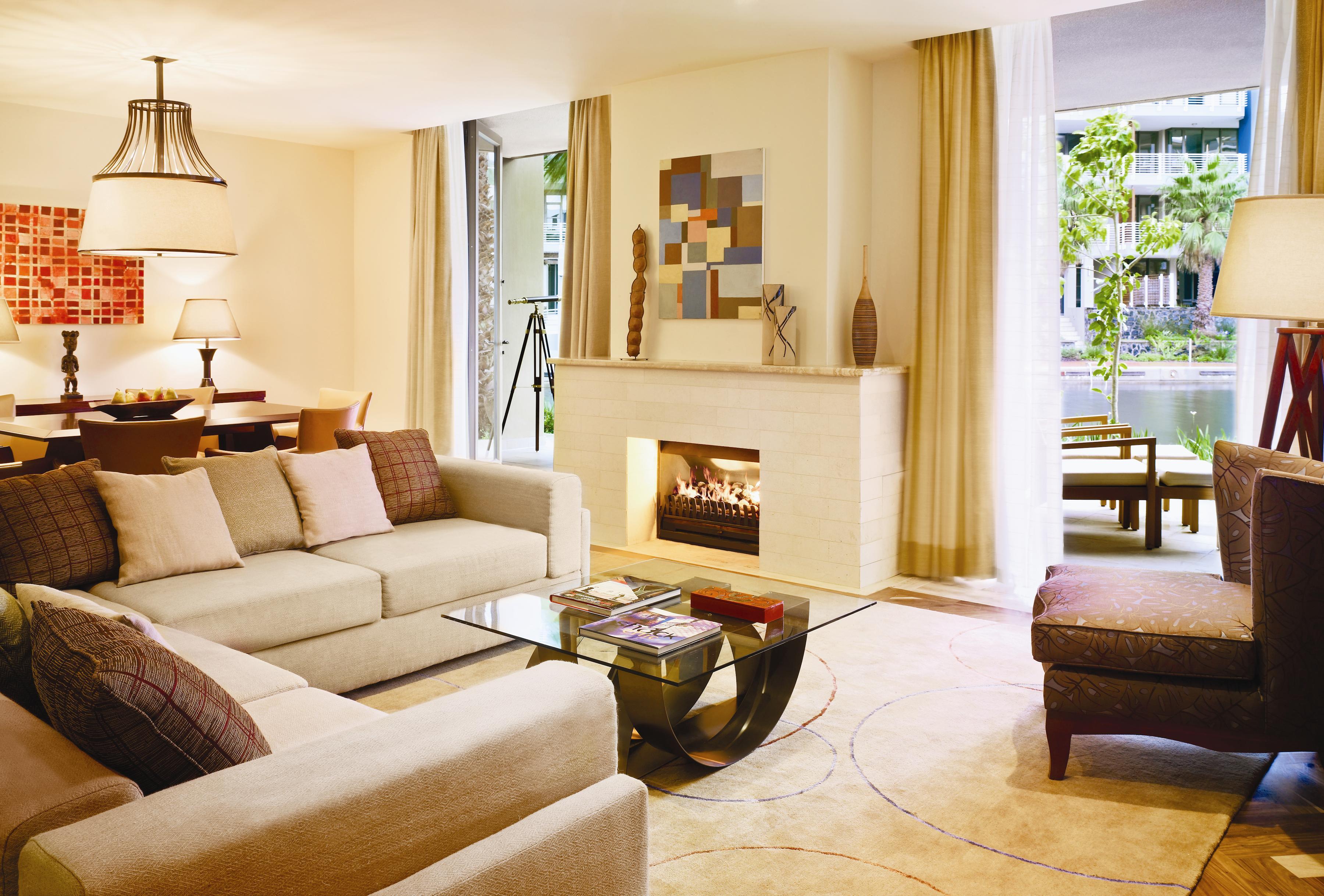 In addition, away from both Marina and Island, further classes include Table Mountain Suite, Presidential Suite and the One Penthouse Suite. So, a mindboggling array of sleeping options. However, rest assured: even the most standard of One& Only Cape Town's rooms are exceptionally luxurious, the double bed, en suite bathroom and view all delights. Free and fast Wi-Fi is offered throughout the hotel.
ACTIVITIES
Activities at One&Only Cape Town are diverse. A by no means exhaustive list includes gym and health related activities, including classes, personal instructors and massage; excursions into town, the winelands and the Fynbos; mountain climbing, scuba diving and a clutch of flying related activities; golf, sunbathing and, of course, relaxing by the pool.
Please be advised that One&Only Cape Town is child friendly and provides all kinds of activities and support in the form of the Kids Area.