Located at the top of a large beach dune in 36,000-hectare De Hoop Nature Reserve, 50 miles from the southern-most tip of Africa, Morukuru Beach Lodge is an ideal base for land-based whale watching.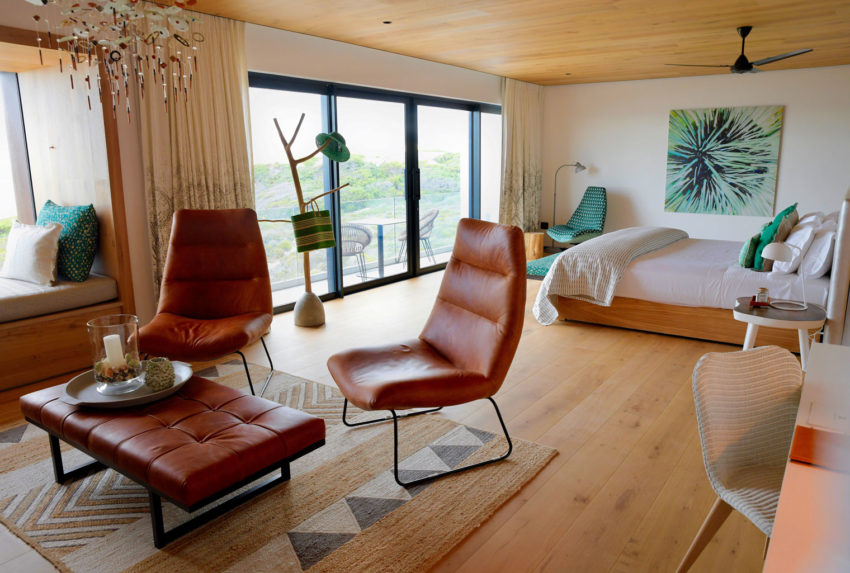 Overview
Morukuru Beach Lodge consists of a shared area and five rooms. The shared area is open plan and indoor and outdoor areas are separated by large floor-to ceiling windows, giving 180-degree views out onto the sea. It includes a bar, inside and outside dining options, a number of fireplaces, heated swimming pool, library and lounge, all laid out linearly and leading out onto either a balcony or terrace with a fire pit. The look and feel is both grand and modern. Please note that WiFi is available throughout.
Food & service
The experience of the Morkuru team is second to none, and includes private butler, babysitting facilities, and a first rate house-keeping team. The food is excellent, the wine list is extensive and includes world-class South African wines. Meals can be taken inside or outside dining areas, as well as on the beach or elsewhere on the reserve.
Rooms
Of the five generously-sized bedrooms, four have a direct ocean view, the other a view of the dunes to the back. Each of the bedrooms follow the style and layout of the shared areas and contain a king-sized bed, comfortable lounge area, which is heated during colder months by a wood burning stove and underfloor heating. The bathrooms contain a shower and stand-alone bath from which there are views out to the sea or dunes.
Activities
De Hop Nature Reserve is an excellent spot to watch the migration of the southern wright whales from the land. Other activities include sandboarding, stargazing or any number of water sports. The reserve is also home to a number of antelopes and zebras as well as the cape leopard, which can be viewed by safari vehicle, on foot, or by bike.
Impact
Conservation
The electricity in the lodge is fully generated by solar power and water is heated by a pellet burner using recycled wood. The whole lodge's heating is under-floor and uses water heated from the stoves.