32°
7'
14" S
19°
6'
28" E
Located high in the Cedarberg Mountains of the western cape, Bushman's Kloof is an unusual wilderness reserve. Situated in what is generally a harsh and inhospitable place, it is an island of greenery, and offers the kind of comforts one would associate with a Relais & Chateaux accreditation.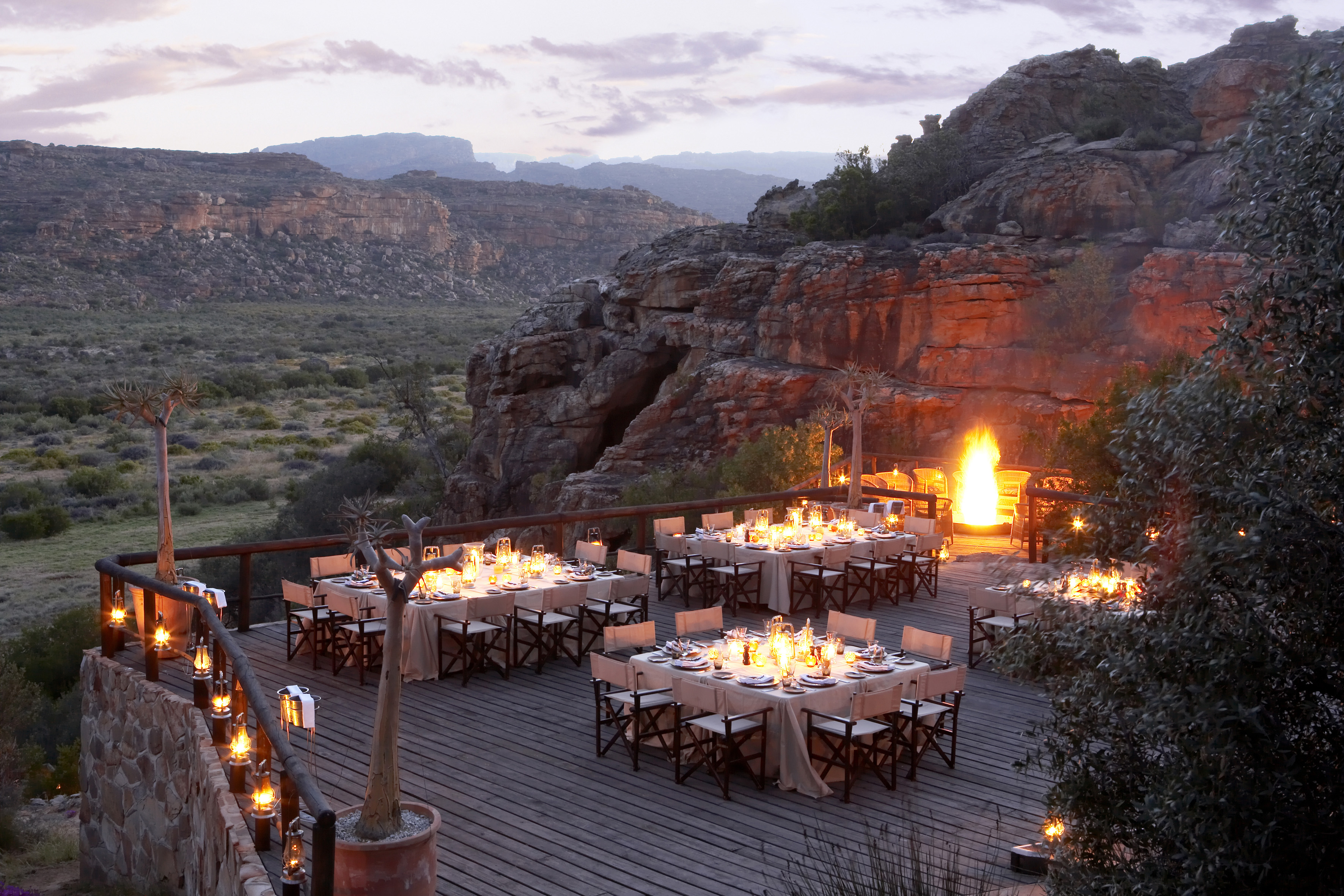 A single story building, and set in botanical gardens, near a large pond, the main building, or Homestead, has white washed exteriors, slate roofing and looks very much like an enormous cottage. Other significant buildings include the Manor House, Makana, Kadoro and Koro Lodge. A well being centre, business conference centre and tourist destination, Bushman's Kloof caters for a mixed clientele. Large, sprawling, it has in total 16 bedrooms or suites, a number of bars, a wine cellar, TV lounge, sitting rooms, libraries, multiple restaurants, swimming pools, conference rooms, business facilities, a heritage centre, spa, shop and stone boma. Awarded world's best Hotel of the Year status in 2009, its food is top drawer, as is the service.
There are 4 classes of room: luxury (7), deluxe (6), suite (2) and the supreme suite. Each luxury room comes with a wrought iron double bed, seating, a balcony and separate bathroom. Characterised by sisal carpeting, curtains, exposed beams, cavernous ceilings, handmade furniture and high density mattresses, the rooms are simply and stylishly furnished, and the bathrooms include a bath, shower, sinks and flush toilet. As they go up in class, the rooms get bigger, offer more amenities, hold extra lounges (deluxe). Particular favourites are the Cedar Falls and Rock Pools deluxe rooms situated at the bottom end of the property, both of which have access to their own private swimming pool.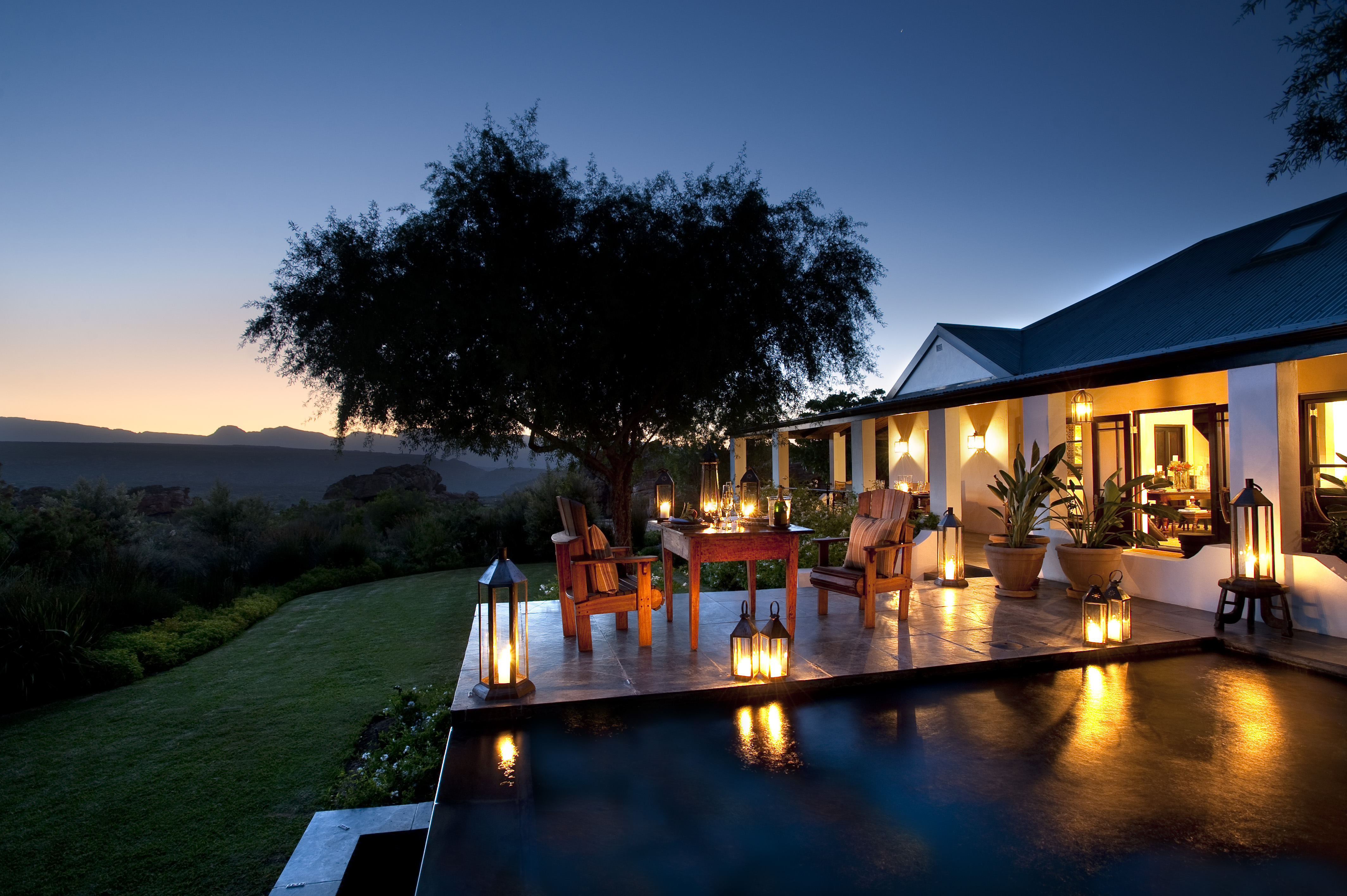 The reserve is probably most famous for its early rock art, of which there are well over 100 sites. Only 12 of these are accessible to the public. Daily guided tours of the rock painting sites are conducted by experienced guides. The San roamed this region between two and ten thousand years ago, during the late Stone Age period, and are recognised as one of mankind's oldest civilizations. These ancient sites, invariably located just above the waterline of a lake or river, and under rocky outcrops, have been meticulously preserved and recorded, making them some of the finest examples of rock art painting in all of southern Africa.
On one of my morning runs I came across a small cave with a set of cave paintings depicting women (identified by their large bottoms) fishing by the lake at which I was standing. Our origins are fascinating and Bushman's Kloof helps us picture a snapshot in the process of our development as modern humans. Will Jones, 2008.
Game drives on the reserve are also an important feature of a stay at Bushman's Kloof, although the harshness of the terrain tends to limit the range of game one is likely to find. There are however 35 species of mammal with eland, oryx, aardwolf and some smaller gazelle. The reserve is also home to 29 of the endangered Cape Mountain Zebra. All the same, Kloof is not known for its wildlife. It is rather, an exceptional all round stay, an ideal retreat for those looking for a one off destination, and one in which there is ample time to rest and recuperate.
Other activities include walking, mountain biking, river walks, canoeing, swimming in crystal clear natural rock pools and bird watching. It is the perfect environment for painting, photography, stargazing, picnics and reading. Wonderful for relaxing and well combined in September with the advent the Namaqualand flowers and the sight of calving whales off Hermanus.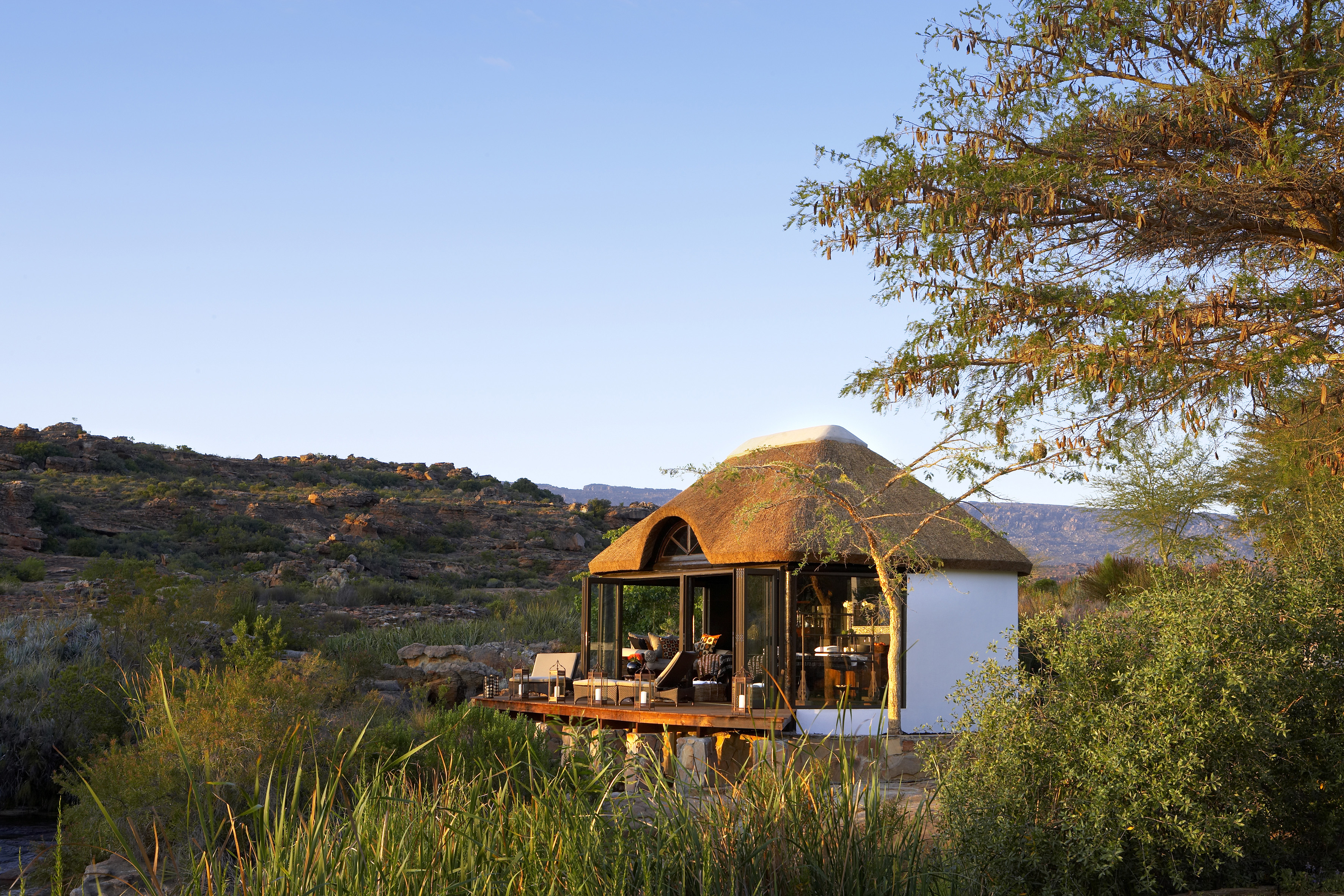 Ethical Information
Bushmans Kloof today protects one of the largest private herds of Cape Mountain Zebra in the world – an animal saved from the brink of extinction in the wild.
The wildlife reintroduction programme has also seen the return of the magnificent Bontebok, Red Hartebeest, Grey Rhebok and Ostrich.
A huge diversity of birdlife is thriving once more, with 150 species from the great African Fish eagle to the jewel-like Sunbird. Keen birders may even spot a Black harrier, and a number of dams have been established around the Lodge to attract resident waterfowl.
And in the reserve, the endangered Clanwilliam Yellow Fish was reintroduced and now swims once more in the rivers and dams.
The Clanwilliam Cedar
Bushmans Kloof Wilderness Reserve & Wellness Retreat together with the Botanical Society and Western Cape Nature Conservation has given its commitment to support the Clanwilliam Cedar Tree Project.
Bushmans Kloof grows saplings in its nursery and hosts an annual tree and seed planting ceremony, thus supporting efforts to reintroduce this highly endangered tree into its natural habitat, encompassing the area specifically around Bushmans Kloof.
Conservation
Bushmans Kloof Wilderness Reserve & Wellness Retreat is the proud Global Winner of Wildlife Conservations Programs in the Condé Nast World Savers Awards (2009), and won the coveted Relais & Chateaux Environment Trophy in 2007. It's entire operation is based on sound environmental conservation practices. This covers a wide spectrum: from the implementation of a comprehensive reserve management plan, ongoing monitoring of water quality, rainfall, soil erosion, vegetation cover and wildlife to prevent degradation, to environmentally friendly solid waste disposal and an advanced Biolytix waste water processing system.
Conservation Projects
'To measure is to manage', and Bushmans Kloof's rangers implement a number of important scientific monitoring programmes, which include rock art, vegetation, soil erosion, human impact, water quality, wildlife and rainfall. Records are analysed to detect long-term changes or fluctuations in the natural equilibrium. Planning and decision-making are based on these findings.
A number of research projects have been initiated at Bushmans Kloof including:
•    A comprehensive survey of the Cederberg reptiles and amphibians for conservation and ecotourism, by the University of Stellenbosch SCARCE Unit
•    A photographic Cape mountain zebra identification project
•    A Cape leopard survey project by the Cape Leopard Trust
Saving the Cape Mountain Zebra
Supporting the Cape Leopard Trust
Alien Vegetation Eradication