34°
24'
39.34" S
19°
17'
1.19" E
Please note: Birkenhead Villa is no longer available for bookings, but Birkenhead House next door is suggested as a great alternative.
Detached from Birkenhead House, owned and designed by Liz Biden, and (re)opened for business as of 2007, described by Conde Naste as being somewhat like an 'Armani designed yacht', Birkenhead Villa is the ultimate in streamlined luxury, a one off, a piece of accommodation that wastes nothing and thinks of everything.
Situated on a cliff overlooking Walker Bay, at the western end of Hermanus, 90 minutes from Cape Town, the recipient of numerous awards, Birkenhead Villa is a stone build consisting of a main house and 6 sleeping rooms. The main house includes a lounge, dining area, tanning deck, spa and swimming pool. As is true with all the Royal Portfolio's properties, the interior design at Birkenhead Villa leaves nothing to chance. Building on – modernising – its exterior white-block look, the villa's innards are characterised by highly polished stone floors, strip light white seating, one off pieces of furniture, a fine selection of contemporary paintings, a range of carefully chosen artefacts. A balancing act, it is both sumptuous and spare, its distribution of objects demarcated by a most demanding eye.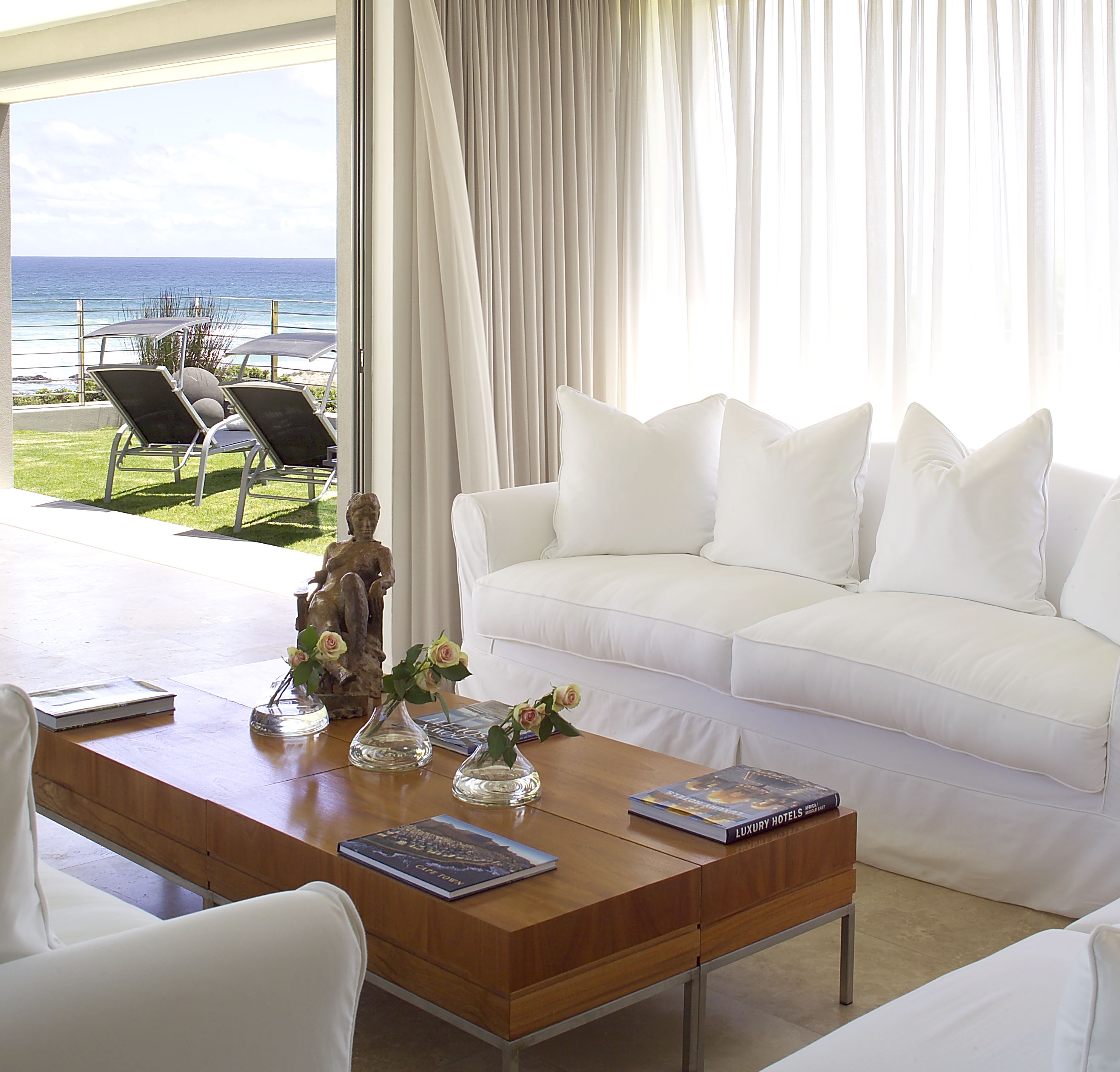 Both service and food at Birkenhead Villa is out of this world. Available either exclusively or on a suite by suite basis, the villa is staffed by an extraordinary crew of chefs, house managers and room care. Like Birkenhead House, the villa's kitchen falls under the auspices of Nico Verster, an African food fusion specialist – think homemade breads, ice creams and sorbets, local fish (marlin, red roman and kabeljou), fresh, locally produced vegetables, meat and fruit, French inspired sauces, Asian spices and Mediterranean salads. Complimented by a world class cellar, it's delicious, beautifully presented and expertly served. A real treat.
The suites at Birkenhead Villa are just as good. Each, according to position and size is slightly different, but all include a king-size double bed, seating and an en suite bathroom. Distributed across two floors, and overlooking mountain, sea, pool or garden, each room is individually designed, the details of which are too many to include. Suffice to say that some – Room 1, for example – are very regal looking, while others are more in keeping with the main house design. Needless to say, it all works perfectly. The light is beautiful, as are the views. The bathrooms – standalone bath, twin basin, shower and toilet – are a delight. Please be advised that Rooms 2a and 2b are linked and would suit a family.
Activities at Birkenhead Villa include spa, facilities, beach sports, excursions to the pretty seaside town of Hermanus and boat trips to see whales, seals, penguins, sea-bird colonies and great white sharks off Dyer Island. As an extension to the winelands and garden route, Birkenhead Villa is easily worked into mixed itineraries. The local fynbos reserves are also a huge attraction.