Another gem of a place, Denis Island Lodge is located on Denis Island, a small coral island 30 minutes flight north of Mahe.
Overview
Once a pirate getaway, a coconut plantation and a copra factory, it has been a holiday destination since 1975, and one that has been owned and run by the Mason family for years. Very much a hands-on, family orientated set up, the Denis Island Resort consists of a main lodge and 25 villas. Housed largely in an enormous open sided stone and thatch build, the shared areas include a lounge, bar, dining room and games and internet area. Outside, there is a dive centre, plenty of outdoor seating area. The lounge itself is characterised by huge, curved seating, cream cushions, unfinished walls and a cavernous ceiling.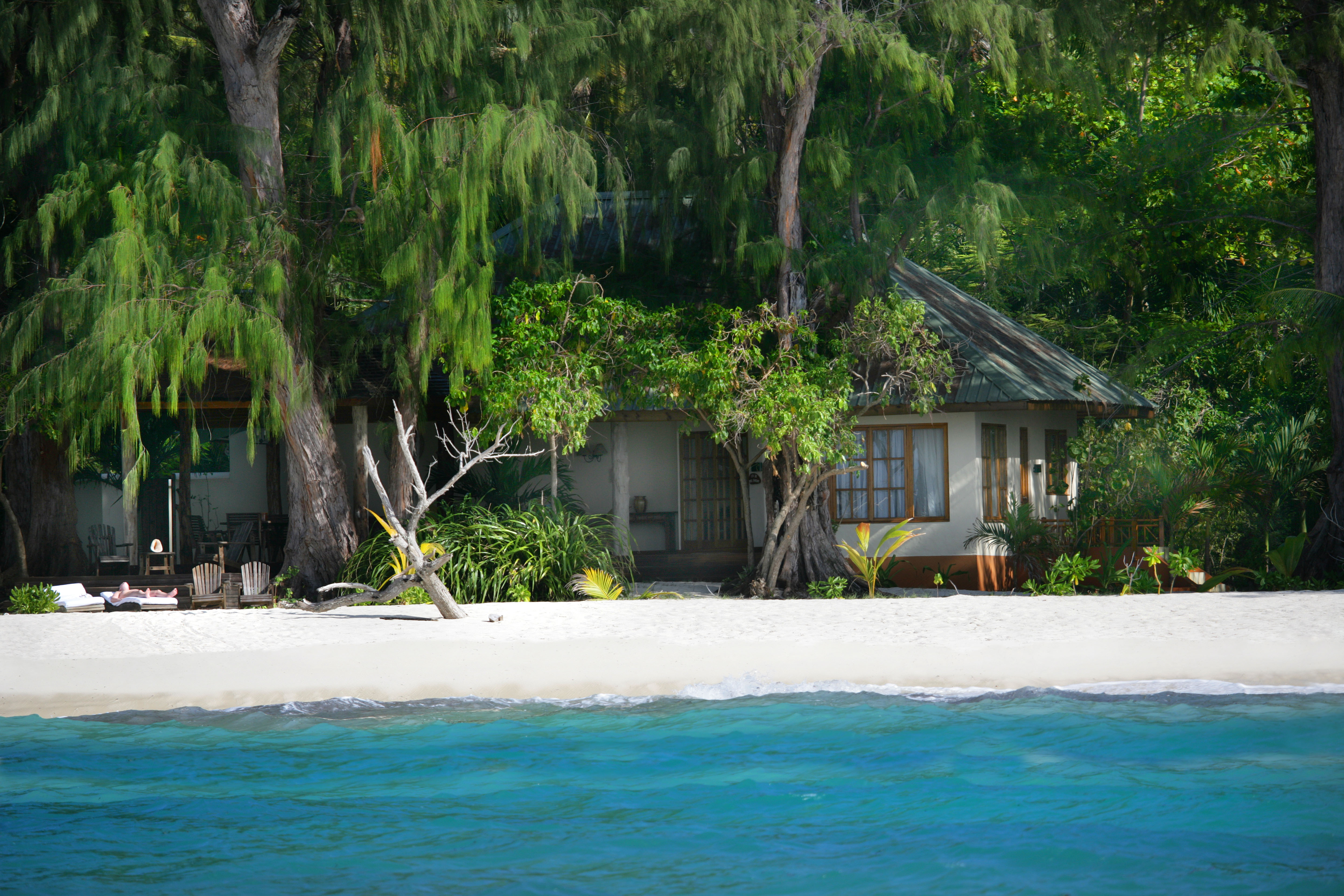 Food & service
Food is served anywhere and everywhere, with wide ranging buffets dominating the breakfast and lunch fares, and a table d'hote menu taking care of dinner. Not to be missed, a Creole buffet is served twice weekly. With much of the produce grown – including beef, dairy and pork – on the island's small farm, and fish fresh from the sea, the quality of food couldn't be better.
Rooms
The villas are made from a range of materials – corrugated iron, wood, stone – and are divided into the following classes: Beach Cottage, Deluxe Beach Cottage, Beachfront Spa Cottage, Family Cottage and Beach Villa. This sounds like a lot, and it is, but the villas are beautifully spaced, and the trees and the lay of the land, together with the distraction of the beach, combine to create a really private stay – so private, in fact, that having stayed a night, and slept extremely well, we were shocked upon our return to discover that Denis Island was capable of accommodating over 50 guests.
Each of the standard villas includes a double bed, private courtyard or beach front, en-suite bathroom, a seating area and various amenities, including a chiller, telephone, fridge, air-con and fan. Bathrooms include a double sink, bidet, flush toilet, bath and outdoor showering facilities.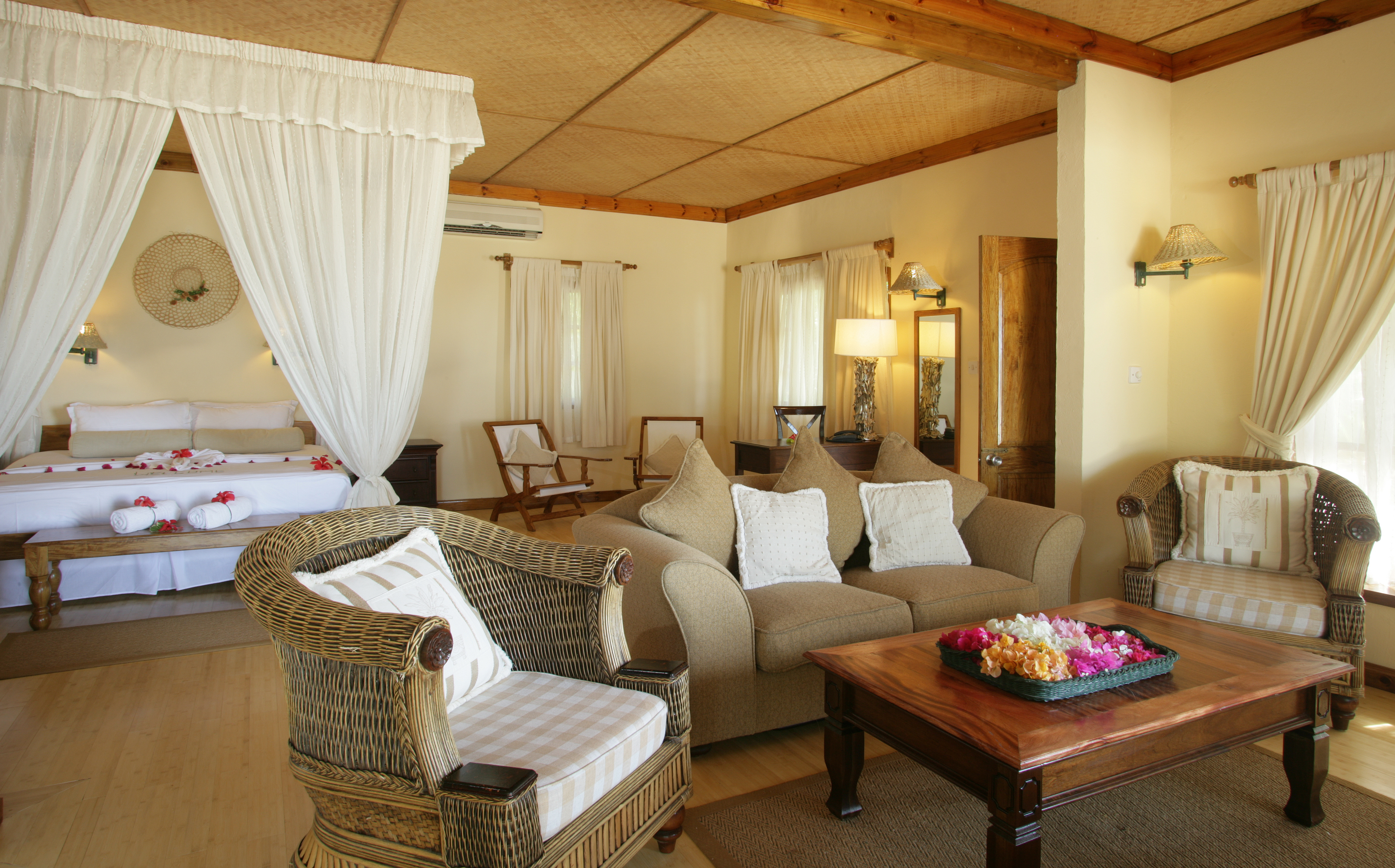 Activities
Activities include beach sports, snorkelling, boat trips, nature walks, workshops and fishing.
Impact
Conservation
Denis Private Island is committed to ensuring that her numerous treasures remain protected, for our future generations to enjoy.
Endemic bird species are being introduced to the island as part of ongoing national efforts to increase breeding populations. Hawksbill and green turtles that lay their eggs on Denis' protected shoreline are monitored and tagged, providing valuable information assisting the protection of the species.
Green Islands Foundation (GIF) is an environmental NGO, registered and based in the Seychelles, dedicated to supporting sustainable development in tropical islands and archipelagos. GIF is the island's major partner in implementing an integrated coastal zone management programme.
Commerce
Locals are trained in cooking techniques to become chefs on the island; a vital job opportunity in such an isolated location.
Community
The island's estate and in partnership with local communities uses organic methods wherever possible: rearing poultry for meat and eggs, cattle for milk, and growing vegetables, fruits and herbs grown in soil fertilised by sea grass.