Another largish luxury resort, and a fairly recent addition to the Four Seasons Resort's growing portfolio, Four Seasons Seychelles is located on the south-west coastline of Mahe.
Overview
A mixed material build, situated either among the areas hillside trees, or down by the beach, and spread from one end of Anse Petite to the other, the hotel consists of a series of shared areas and 67 villas.
The shared areas include two restaurants, two bars, a spa, pool, library, multi-seating areas, gym, shop and beauty salon. When visiting we were especially struck by the use of colour (blues, greens and greys), by how well the colour scheme chimed with the sea, trees and rocks – the hill is pockmarked by giant granite boulders, many of which have been incorporated into the hotel's buildings. Inside the shared areas, a mix of natural woods contrasts (intentionally) with plastic moulds, contemporary fittings, tiled roofing and open sides. The Japanese garden water features also helps create a modern, international feel.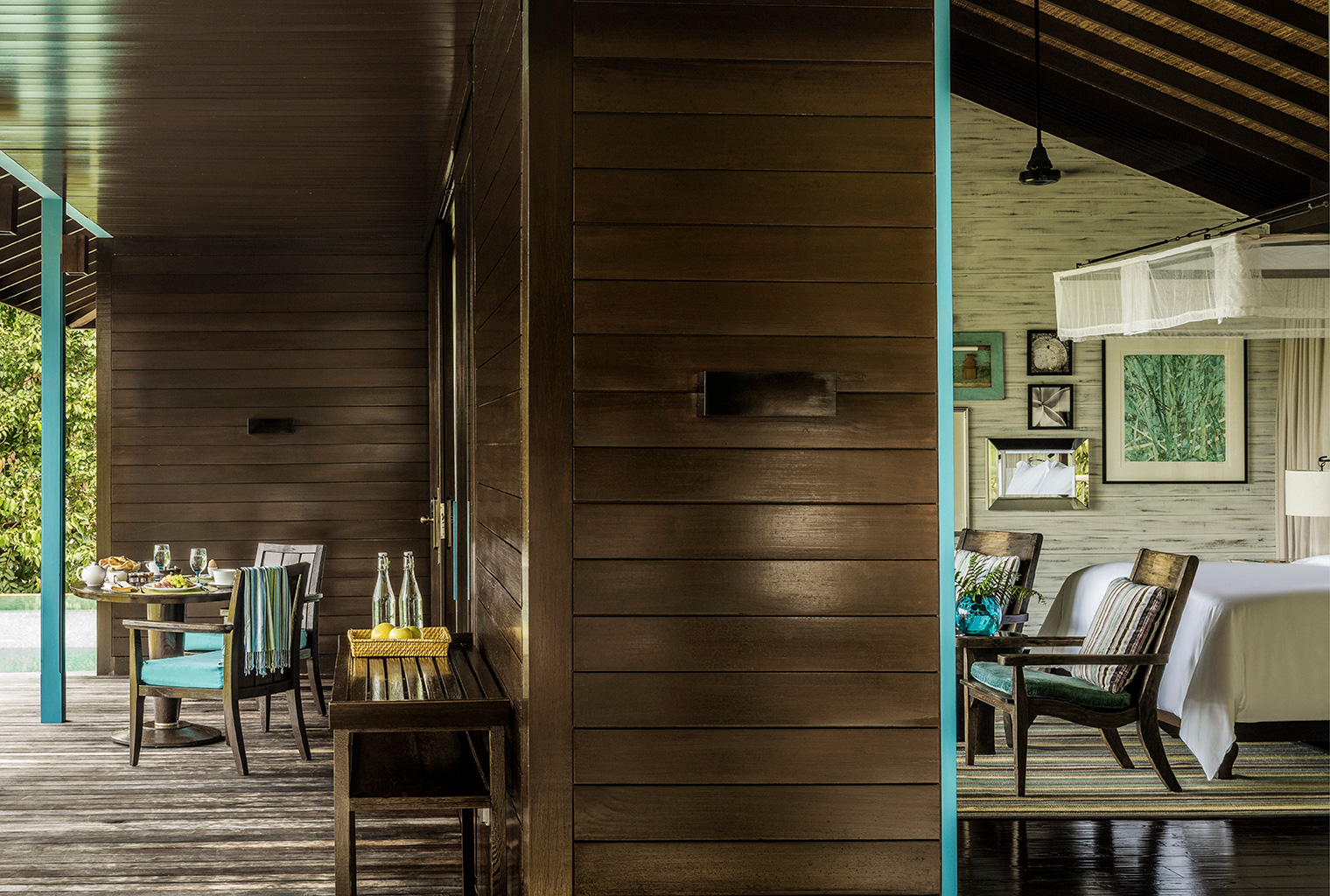 Food & service
While returning guests are yet to favourably compare the food against the very high standards set by the likes of North Island, Four Seasons Seychelles offers a range of cuisines – Creole, international, sushi – at the ZEZ restaurant, and snacks, lunches and cocktails at Kannel. This being an international hotel, and especially given the distance between some of the villas and the restaurants, Four Seasons also offers an in-villa dining service.
Rooms
The accommodation is divided into 62 villas and 5 suites. Depending on the view, the villas are further subdivided into Hilltop, Ocean and Garden. Set on a hardwood platform, and protected by an A frame roof, each includes a viewing deck, plunge pool, double bed and separate bathroom. All natural woods and integrated colour schemes, the villas are marked by striped textiles, the odd photograph or painting and the kind of clean lines reminiscent of Scandinavian builds. A day bed -or extra bed if travelling in groups of three – is available on request, and we would recommend the Garden villas, especially if accompanied by children. The remaining rooms are simply larger – two bedroom or, in the case of the Royal, three – and the Presidential and Royal suites are another step up in terms of luxury.
Activities
Activities include gym, spa treatments, diving, deep sea fishing, sailing, snorkelling and a myriad of beach and surf sports.