4°
17'
57.37'' S
55°
40'
53.27'' E

A Relais & Chateaux flagship destination located on the north-west coast of Seychelles's Praslin island, the wonderfully managed Constance Lemuria Resort – being large, and more international than boutique – is not the sort of hotel we usually promote, except that it comes complete with a championship golf course.
OVERVIEW
Opened for business in 1999, occupying 100 plus hectares of prime sea frontage, straddling Anse Kernal and Anse Georgette, and set on a series of terraces that run down to sea level, Lemuria consists of a bundle of shared areas and 105 sleeping rooms. Situated at the centre of Lemuria Resort's grounds, among a mix of coastal trees and large granite glacis, the main area sits above the pool, which falls away in 3 levels down towards Anse Kerlan. The shared areas include reception, 3 restaurants, 4 bars (with ample seating), a spa, swimming pool, tennis courts, a VIP lounge, conference room, internet and associated business facilities, 2 shops and a children's mini-club.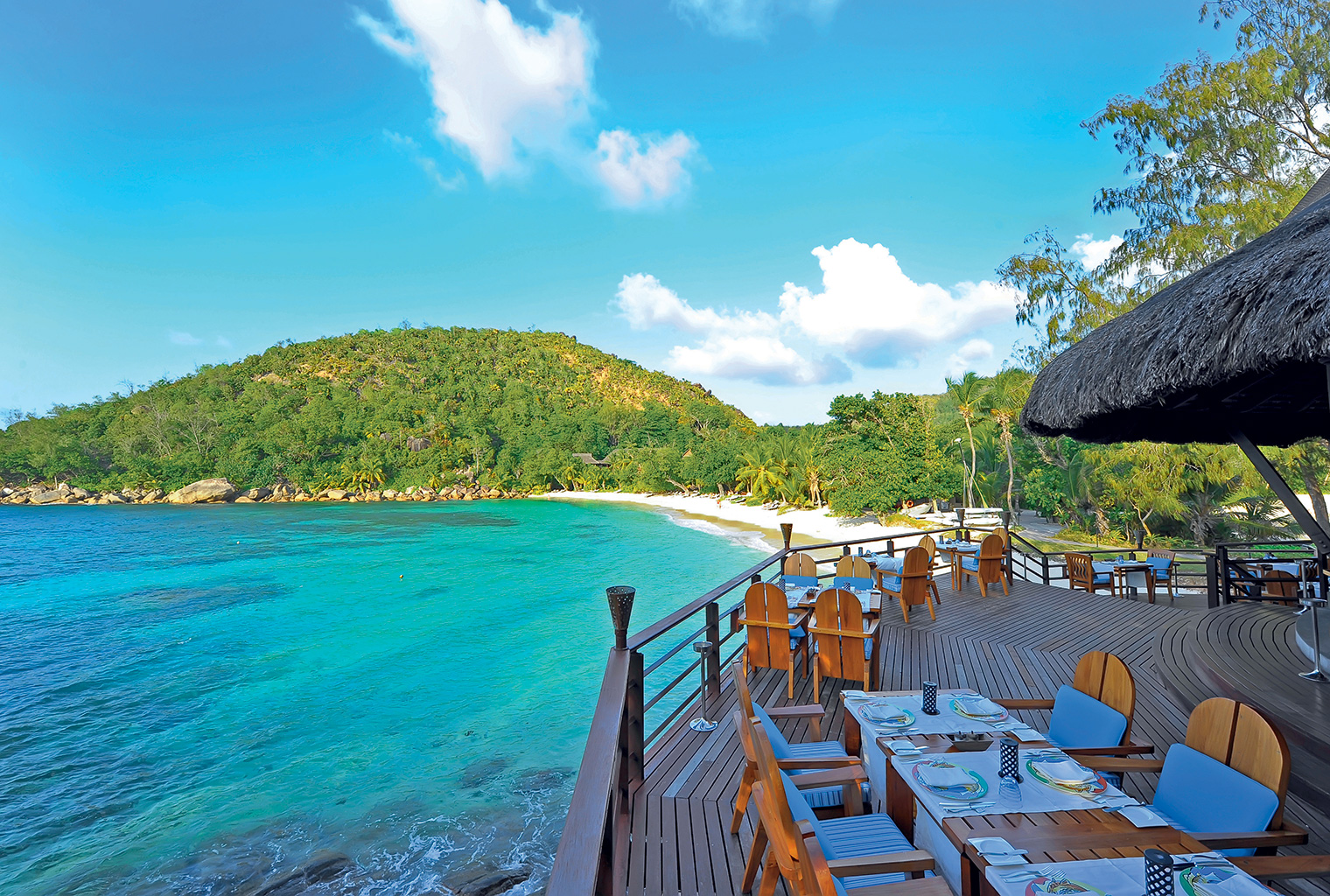 FOOD AND SERVICE
Of the restaurants, The Legend is the largest, and serves breakfast, lunch and dinner (buffet and a la carte); the Seahorse specialises in a contemporary based cuisine; and the Beach Bar & Grill serves a la carte Creole and island based food. Each restaurant comes with a bar and its own seating area. For those who can't make it either down to the beach or up to the main hotel, there is a bar at the pool. The food, drinks and service are excellent, and the environments tasteful, natural (wood, muted colours – browns, whites), the buildings mainly open sided, thatched and cool.
ACCOMMODATION
The sleeping accommodation is divided into 4 classes: junior suite (88), senior suite (8), luxurious villa (8) and a presidential suite. The first of these, the junior suite, is a beautiful room. Consisting of a double bed, seating, a sea view balcony and en-suite bathroom, they are wood and granite constructs, and designed to be as clutter free as humanly possible. Everything about them – from high density mattress to black granite lined bath – is well thought through, and the overall effect is one of efficient comfort.
The senior suites are equally fine, only larger, and come with a separate lounge. The luxurious villas are 2 bedroom, open out onto the beach, and have in addition to the suites' amenities, an en-suite massage kiosk, outdoor bath and shower. Finally, there's the presidential suite, which covers a staggering 1250 sq m, comes with 3 pools, a master suite, 2 other suites, a study, lounge, kiosk, dining room and jacuzzi.
ACTIVITIES
Activities at Constance Lemuria are many and varied. We've already mentioned the golf, and there's also scuba diving, deep sea fishing, tennis, trips to May Valley, water sports, snorkelling, kayaking and mountain biking to be had. Please be advised that some of these activities cost extra.