3°
48'
19.18'' S
55°
40'
3.27'' E

The Banyan Tree Seychelles is located in Intendance Bay, on Mahé Island, 30 minutes by car from Mahé International Airport, and 45 minutes from the capital, Victoria.
OVERVIEW
In the world of hotels, the Banyan Tree brand is about as good as it gets, and Banyan Tree Seychelles is no exception. The main building, a neo-plantation house design, is the main focus, and overlooks Anse Intendance – one of Mahe's whitest beaches. A mixed material build, the hotel consists of a variety of shared areas and 60 villas. Situated among the spread of tropical trees, its policy of building the villas on plots of their own, and working the buildings around – rather than over – the habitat, means travellers often have no idea that the place is catering for 120 plus guests. Shared areas include reception, a host of dining options, multiple outdoor seating areas, swimming pool, lounges and bars.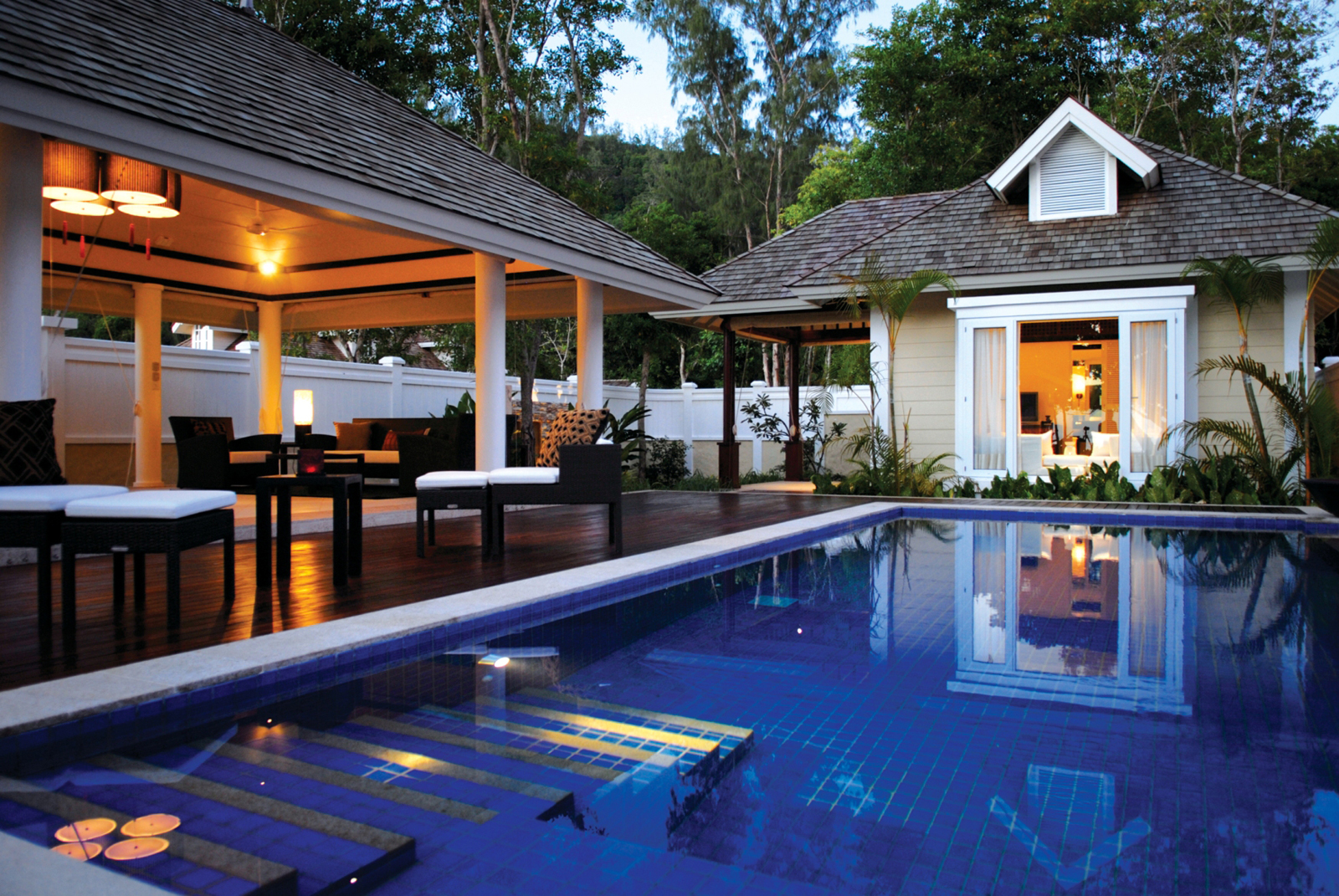 FOOD AND SERVICE
There are three main restaurants. Most formal, and open for dinner only, is the Saffron, which is situated by Plantation House, and features an excellent south Asian cuisine. More casual, open all day, and possessing a glass frontage, stone walls, slate floors and an ocean view, the Au Jardin d'Epices specialises in everything, from breakfast buffets to informal dinners to all day snacks. Finally, for those after local fare, the Chez Lamar's Creole based cuisine is a good spicy option. Snacks and finger food are available at The Banyan Tree's main bar and lounge, La Varangue, and at the Pool Bar.
ACCOMMODATION
The villas are divided into 6 categories, Hillside and Beachfront Spa being the most common, while other options include the 5 Intendance Pool Villas, the Presidential Villa, the Two Bedroom-Double Pool Villa and the Villa By The Rocks. The villas are all excellent, and hardly reflect their somewhat creaky nomenclature. The hill and beachfront villas are all spacious and beautifully designed, with private pools and sun areas to compliment the light and airy bedroom areas.
The hill villas have amazing views out over the sea, while the beach ones allow direct access to Anse Intendance. Each includes a double bed, en-suite bathroom and a selection of amenities – telephone, safe, air-con, mini-bar and internet access. The bathroom – sunken tub, power shower, sink and flush toilet – is a delight. The other classes of accommodation are a step up in luxury, and offer even greater room and privacy. For the adventurous, The Banyan Lagoon 1, a 47 ft catamaran, is also available. Sleeping 4, and staffed by a host and the captain, it includes a lounge and kitchen, and explores the island's coves and hidden beaches.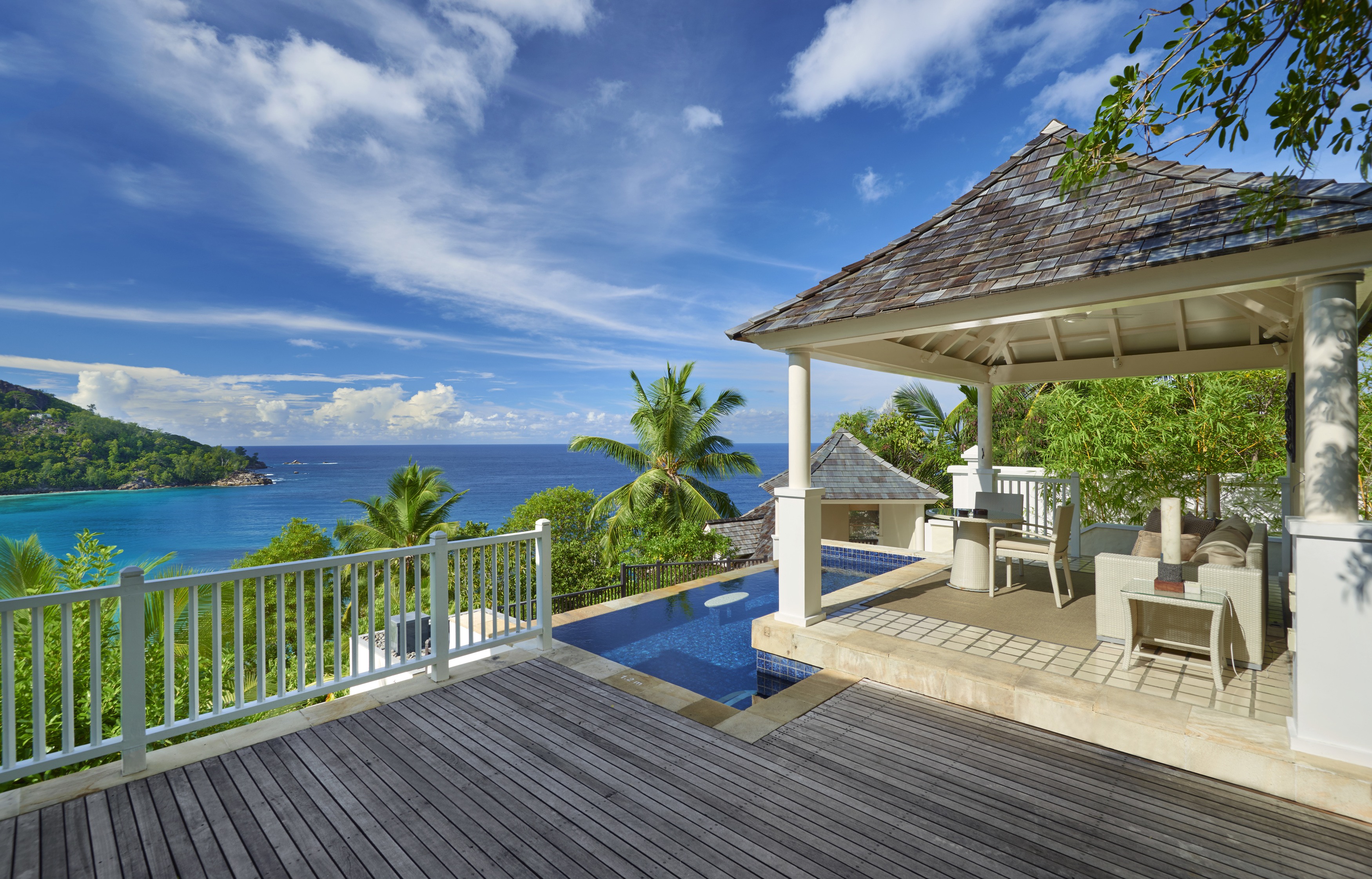 ACTIVITIES
The main activities at The Banyan Tree are based around the spa, the beach and the sea. They include island hopping (by boat or air), helicopter trips, fishing, scuba diving and island excursions.
ETHICs
Conservation 
As a socially responsible business, Banyan Tree was founded with the core value of driving sustainable development:
"Greening Communities: Banyan Tree increased its commitment to tackle the issues of climate change by launching Greening Communities in 2007. Banyan Tree's group wide environmental initiative targeting climate change, Greening Communities challenges our resorts to plant 2,000 new trees per year for the next 10 years.
Turtle and Beach monitoring: Associates conduct regular surveys during turtle nesting season to monitor and report nesting activity to MCSS (Marine Conservation Society Seychelles), helping to ensure protection of turtle habitats.
Reusing and recycling: As a part of the recycling program held in Banyan Tree Mayakoba, we have accomplished to segregate and send to different recycling processes most of our waste, including even some toxic waste; creating this way new jobs for local people and preserving the environment. Banyan Tree Seychelles also recently purchased a Fuelpod 2 to convert used frying oil into Biodiesel.
Community
Education Programs: Three to four times a year local schools are invited to Banyan Tree and Angsana, where they learn about the significance of eco-tourism and marine conservation. These excursions are not theoretical lessons but require hands-on participation in our marine conservation projects.
The Children's House: The Children's House – Supporting 65 children between the ages of 2 to 7 years, The Children's House, Bel Air, is the only Montessori preschool in Seychelles. Banyan Tree built capacities for two teachers by funding distance learning courses to upgrade teaching skills."