Omali Lodge is a boutique hotel in São Tomé City, capital of São Tomé and Príncipe. Located on the outskirts of town and virtually on the seafront, it is also very close to the Portuguese colonial city centre.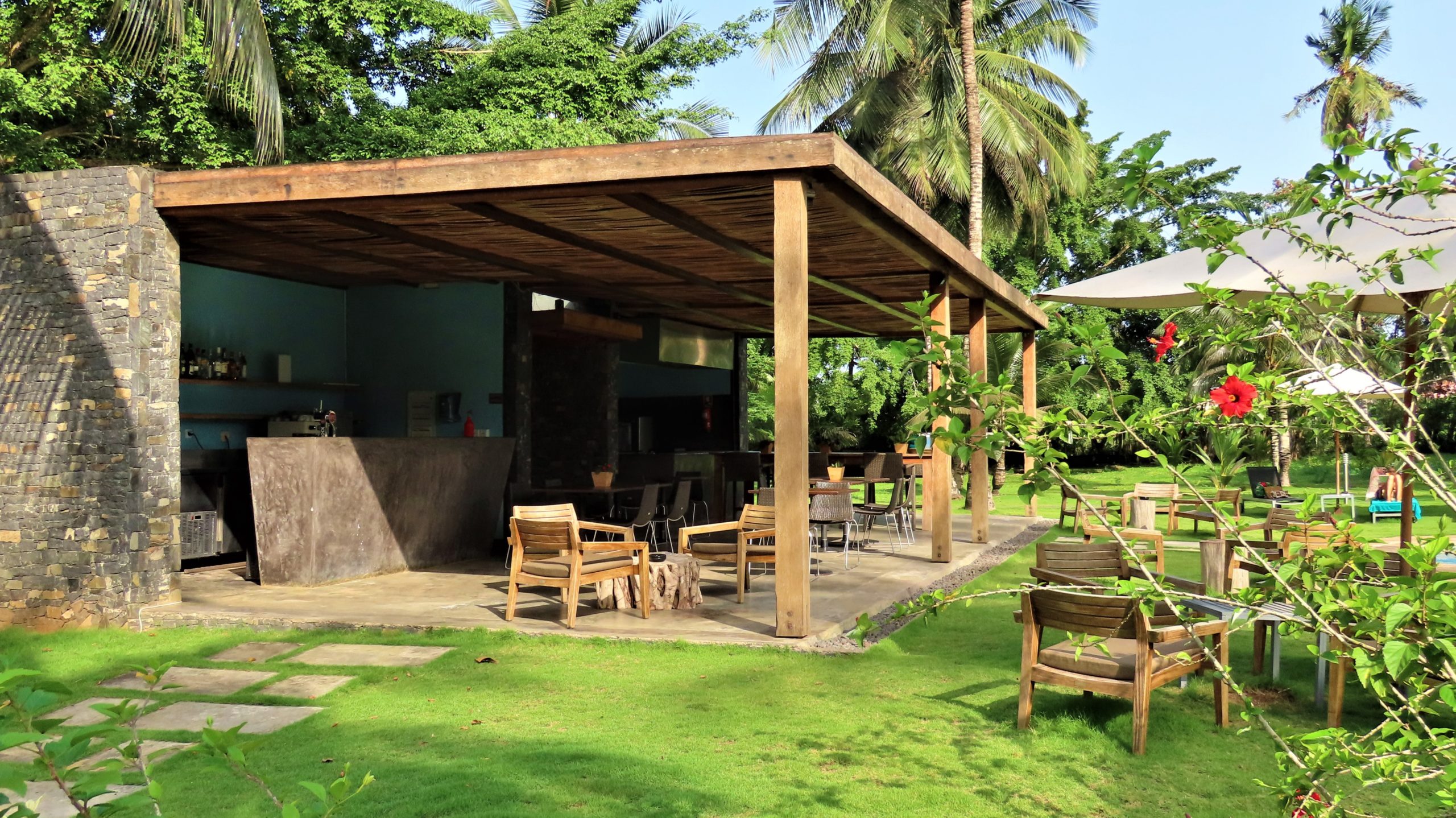 Overview
Open year-round, Omali Lodge comprises a collection of small blocks of en-suite rooms centering on an outdoor pool surrounded by lawns and tall palms. The architecture – concrete chalets with pastel blue and turquoise facades, the pool's arabesque coping – has a stylish early/mid-twentieth-century feel, and there is both a pleasantly lit outdoors deck for sundowners and dinner and a traditional upmarket restaurant indoors. The décor is very much that of a contemporary western hotel with flashes of local colour provided by traditional arts and crafts and wood and stone textures.
Food & service
The quality of the service at Omali Lodge is well-attested: friendly, knowledgeable, attentive. The cuisine too is of a very high standard and offers stylish modern takes on the islands' combination of local and Portuguese cooking – think okra risotto, sea-snail fritters, and pork and clams – as well as conventional fare including pasta and pizza. At breakfast a range of fresh fruits, pastries and juices are on offer, as well as cooked options and excellent coffee.
Rooms
There are 30 rooms at Omali Lodge. All are en-suite, and guests can choose from classical double/twin options as well as larger 'junior' suites, two-bedroom options that sleep four, and a boutique honeymoon suite. All rooms provide a full range of mod cons – television, AC, a safe for valuables, free Wifi and more – as well as a furnished porch, and some also offer a dining-room for self-catering. Interiors have a retro feel that echoes the shared outdoor areas, featuring one wall of colourful local brick, tiled floors with rugs, and wood and marble surfaces.
Activities
Omali Lodge is perfectly located to serve as a first-stop upon arrival in São Tomé and Príncipe before exploring the islands. It also offers easy access to the beautiful city centre and activities such as birdwatching, diving and visits to cocoa and coffee plantations. Within the confines of the hotel itself there are two bars (one pool-side), a fitness centre and São Tomé's only tennis courts.
Impact
There is no specifically 'eco' angle to the hotel's operations, but it's worth noting that any visit to São Tomé and Príncipe contributes to a small but growing tourist industry that, if well-managed, stands to help bring new levels of prosperity to the islands and their communities.