Located in north-west Rwanda, in the Parc National Des Volcans, built and run by the Governor's Camp team (see Little Governor's Camp), and owned by the Rwandanese community trust, SACOLA, Sabyinyo Silverback Lodge is a first rate lodge.
Overview
Set in landscaped gardens, with stunning views of the Virungas, Sabyinyo Silverback Lodge is a stone and tile build, and consists of a main lodge and 8 sleeping rooms. The main lodge, with mustard coloured walls, large Mediterranean style tiling and beautiful windows, is low and exquisitely designed. Fixed to the walls, looking out over the slopes, are giant sized masks, which (as bizarre at it may sound) add a real sense of mystery to the experience. Inside, and characterised by splendidly maintained wooden floors, white walls, low slatted ceilings, a mix of slumber seating, open log fires and African prints, the shared areas include a bar, library, games room, veranda, dining room and seating areas.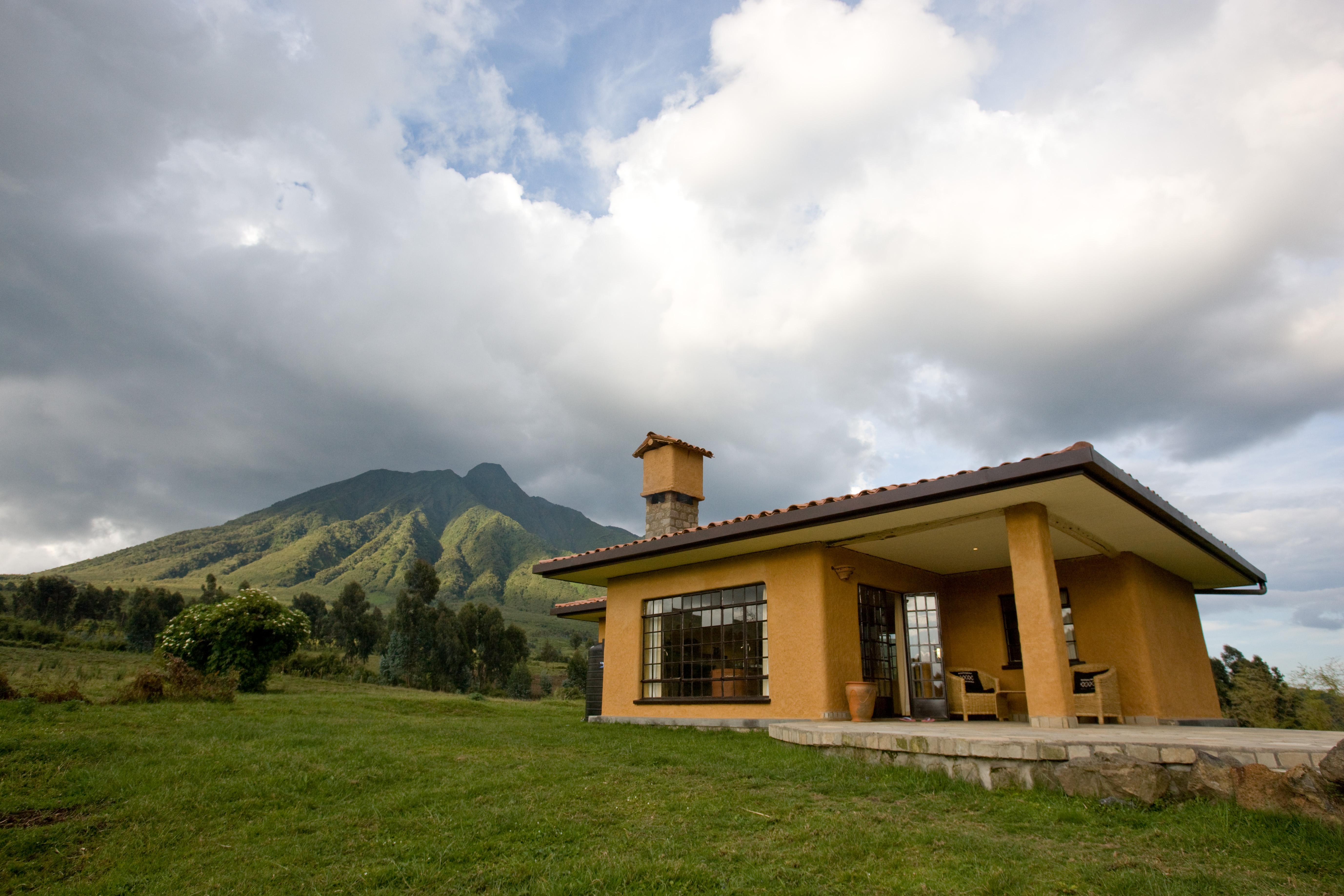 Food & service
Guests are greeted with a cool lemonade and warm smile, and the service – from manager to bartender – is outstanding. The lodge's food is of a consistently high standard, and returning guests often commend the flexibility of meal times.
Rooms
With room for between 16 and 20 guests, the sleeping accommodation is divided into 3 types: cottage (5), suite (2) and a family cottage. Generously spaced, and similar in build to the main lodge, each – irrespective of individual idiosyncrasies – includes 2 private verandas, a separate bathroom and sitting rooms with fireplaces. The rooms come well equipped with large/twin beds, whilst the family cottage has an extra bedroom and bathroom. Although it is difficult to do justice to every room, the overall design of Sabyinyo Silverback Lodge is simple, restrained, and the bathrooms – boasting twin sinks, a flush toilet, large tub, and shower – luxurious.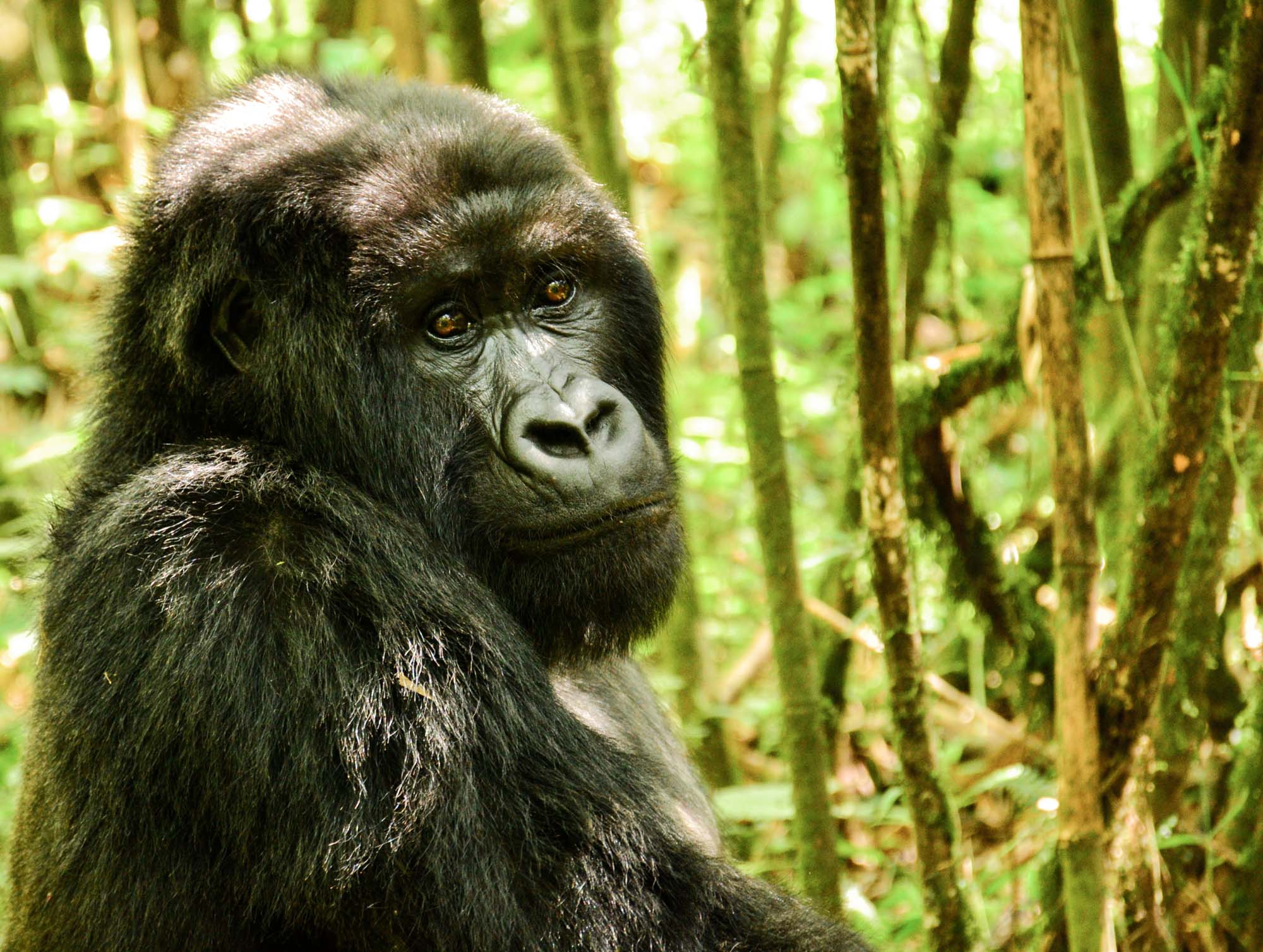 Activities
The lodge is only minutes away from the park's headquarters, from where guests trek on foot to spot gorillas, so activities are mainly centred on trekking. The area is also excellent for its birds, although the abundance of greenery demands patience and a steady pair of binoculars.
Impact
Conservation
Sabyinyo Silverback Lodge is contributing to the wildlife conservation project in Gishwati Forest, a patch of natural forest situated at about 50 km from Volcanoes National Park. They provide technical advice to the Gishwati Forest Conservation Project in the development of eco-tourism activities in the forest and have helped with the creation of two hiking trails through the forest.
The lodge has provided one year of salaries and field costs for one the tracking teams supporting the habituation and field research of a group of chimpanzees in the forest.
Sabyinyo has also provided field cameras to monitor the wildlife in Buhanga Forest (a small protected natural forest situated in Musanze area) and this has confirmed the presence of serval cat in the forest.
Commerce
Sabyinyo is owned by a Community Trust (SACOLA) which was set up specifically to manage rental and other income from the lodge, and to use that income to support socio-economic development and conservation initiatives in the Kinigi area, which is adjacent to the Parc National des Volcans in North-Western Rwanda.
SACOLA's commerce projects have included the creation of vegetable gardens for a community farming project, the setting up of a tourist "Community Walk" which enhances local crafts and businesses, the provision of support to local beekeepers and the creation of carpentry and other micro-enterprise workshops for the community.
Community
Additionally, SACOLA has helped to support a fine range of community projects. These include constructing a local school, roads, a Community Cultural Centre and two villages which now house 126 formerly destitute farmers. SACOLA has also planted a staggering 13,000 avocado trees and donated 250 cows to families in need.