Please note that Virunga National Park opens 1 April 2021. It has been shut the past year in order to protect the mountain gorilla from being infected by Covid-19.  
Set in a eucalyptus forest at the base of the Virunga Volcano Range, One&Only Gorilla's Nest is a strikingly unique accommodation which thrives on adventure-based activities.  
Overview 
Formed of 21 airy guest rooms (14 luxury rooms and 7 suites), a main lodge, plunge pool, fitness room and spa, One&Only Gorilla's Nest is both modern and charmingly rural.  
Food & service
The lodge's main restaurant, The Nest, has a focus on locally sourced, organic food. Guests can expect a hearty morning breakfast, with hot dishes cooked to order. Lunch and dinner options rotate, depending on what ingredients are in season, but Rwandan flavours are always at the heart of the lodge's cuisine. The Nest Bar serves a strong selection of drinks, including eucalyptus infused cocktails and dry South African wines, while another bar next to the spa offers a range of fresh fruit juices.  
Rooms
Constructed using natural materials and coloured in hues of chestnut and beige, the guest rooms – split into luxury rooms and suites – are bright and comfortable. The bedrooms are furnished with soft chairs, sofas, a coffee table, and king-sized bed. Tall glass windows lead directly out onto a veranda (complete with its own sitting area to admire the surrounding forest) while the en suite bathrooms have a standalone bathtub and shower. Although the amenities remain similar, there is some difference in the types of rooms; the Virunga Suite is a self-contained cottage, while the Forest Lodge is ideal for visiting families.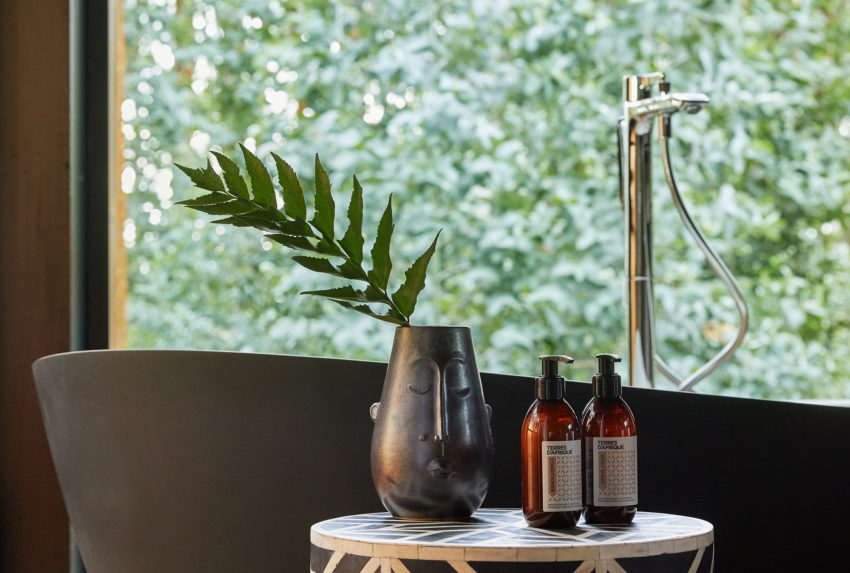 Activities 
The Virunga Volcano Range, naturally, is at the centre of the lodge's activities. Guests are encouraged to explore the region's rich flora and fauna and embark on a hike in search of mountain gorillas. Golden monkey tracking is also a must. The gruelling but rewarding Dian Fossey hike, which takes guests up to the fascinating Karisoke Research Centre, is especially rewarding. An ascent to Crater Lake – a full day expedition – and the Musanze Cave exploration trip are also memorable activities. Within the lodge, the spa offers a wide selection of relaxing massages.  
Impact
Commerce
Coffee beans used at the lodge are sourced from a local women's cooperative, and bags are available to purchase for guests to bring home. 
Community
The lodge offers guests the opportunity to visit Iby'I'wacu, a nearby traditional Rwandan village. Locals, some of whom are rehabilitated poachers, will give visitors a warm welcome, and this trip is a brilliant demonstration of the lodge's close ties with the local community.