Named after the late and much loved patriarch of the Kwitonda gorilla family, Kwitonda Lodge is situated just outside the Parc de Volcanic, in northwest Rwanda, and is a superb eco-luxury lodge.
Overview
A mixed material build of local stone, tiles, clay, and wood, Kwitonda Lodge is set in its own 180-acre highland wilderness, possesses excellent views of three of the park's volcanic peaks, and consists of a main lodge, eight suites, and a family villa. The main lodge includes multiple lounges and dining areas, a signature Singita interactive kitchen, a viewing deck, garden, and nursery, a boutique and gallery, a bar, and a wine cellar. Designed to grow out of its natural habitat, the lodge's look and feel is inspired by its surrounds, the partially matted ceilings, the dark woods, exposed brickwork, terracotta vases, and wooden floors all well-judged nods in the direction of the area's geology and flora. A central fireplace and sumptuous seating adds further warmth. Wi-Fi is available.
Food & service
In keeping with the bar set at its sister lodges in the likes of Tanzania and South Africa, the food and service at Kwitonda Lodge is exemplary. From restaurant floor to room care to guiding, the style of service is engaging, knowledgeable, and beautifully judged. As per the Singita way, an open plan kitchen is on permanent view, and guests are positively invited into the chef's domain, enjoying an area normally considered back-of-house. The menu changes every day. Locally sourced fruit and vegetables are the norm. South African wines abound, as do a wide selection of gins.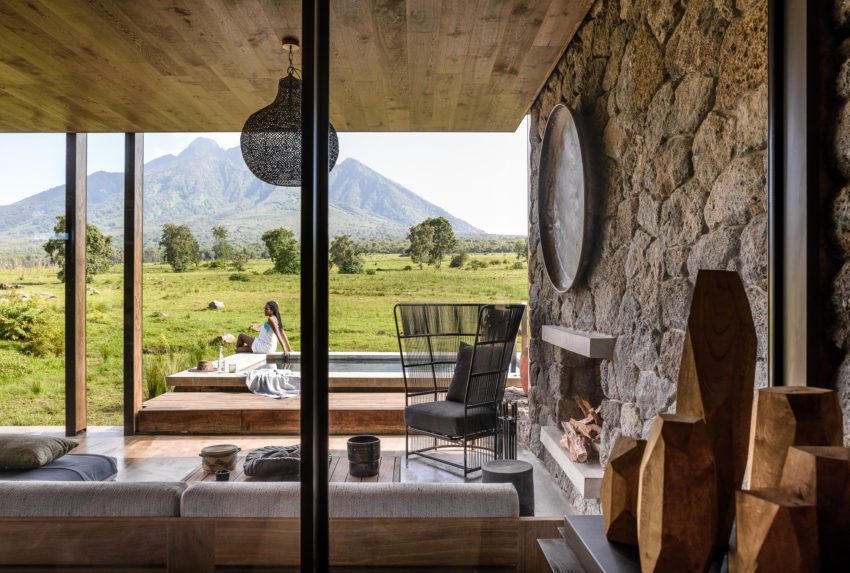 Rooms
Approached by means of stone pathways, accommodation at Kwitonda Lodge consists of seven one-bedroom suites, a two-bedroom suite, and the family villa Kataza House. Designed to sleep two, each of the one-bedroom suites includes a double bed, seating and informal dining areas, veranda, plunge pool, and en-suite bathroom. The two-bedroom suites are similar, only bigger, and designed to sleep four, while Kataza House sleeps eight, has even more space, and includes a media room. All accommodation possesses floor-to-ceiling windows, which look onto a vista of mountain foothills and the three volcanic peaks. Similar in look and feel to the main lodge, outside and inside fireplaces provide warmth, while the design, colour palette and choice of materials is once again reminiscent of the lodge's habitat. Amenities include Wi-Fi, Netflix, and minibar. Whatever the choice of accommodation, it's a very comfortable stay.
Activities
Activities at Kwitonda Lodge include trekking, hiking, and massage. Please note that the lodge provides guests with trekking equipment and clothing.
Impact
Conservation
As is the case with Singita as a whole, Kwitonda Lodge works to give much more than it takes from the environment and its host community. A tree nursery is planned, with a view to encouraging a return of fauna lost through deforestation. Ultimately, rehabilitation of the 'biological integrity of the land' aims to increase the range and number of mountain gorilla and benefit the local community.