Rwanda's only 5 star hotel outside of Kigali, Lake Kivu Serena offers itself up as a first class piece of accommodation. Located in Gisenyi on the shores of Lake Kivu, it possesses, in the nearby Virungu volcanoes and in the lake itself, one of the finest settings any hotel could hope for.
Overview
Overlooking a private sandy beach, just 20 minutes flight from Kigali (a lot more, obviously, by car, and don't let anyone tell you different), and set in a lovely garden, Lake Kivu Serena is a 3 storey construct arranged in 2 sections around the hotel's swimming pool. Consisting of the main hotel and 72 sleeping rooms, it includes a restaurant, 2 bars, lounge area, health club, business centre, conference room and gift shop. With an attractive light blue tiled roof, and strikingly blue umbrella shades around the pool and up on the shared balconies, the exteriors are very much about sun, relaxation and fun, while the interiors are characterised by pale walls, dark wood panelling, white tile floors and plenty of light.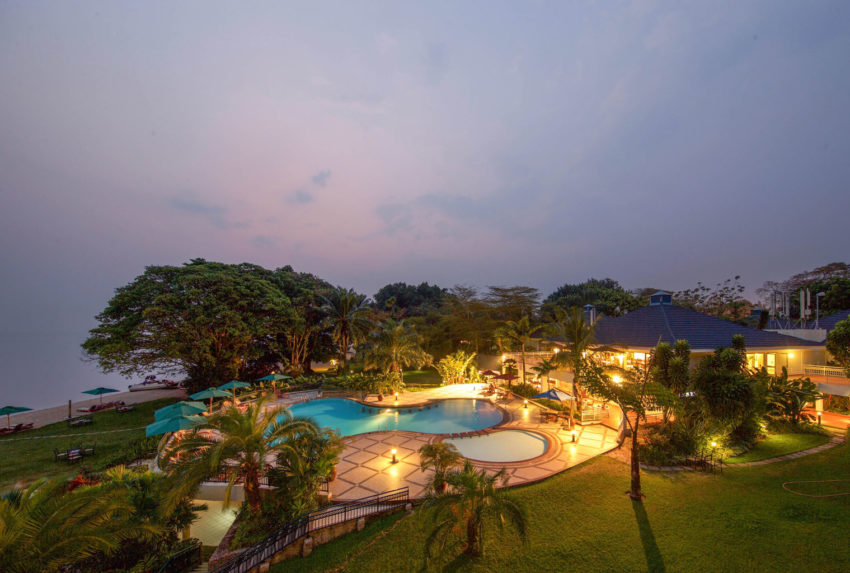 Food & service
Food is available at both the Kiyaga restaurant, which features Rwandese, African and International cuisine, and the Ziwani beach cafe, where food is available throughout the day.
Rooms
The rooms of Lake Kivu Serena are divided into 2 classes: standard (66) and luxury suite (6). With a queen-size double or twin bed, a balcony, a couple of easy chairs, a writing desk and separate bathroom, the standard room is cosy, comfortable and very clean. The luxury suites are almost double in size, have an extra lounge and much larger balconies. Amenities include a mini-bar, Wi-Fi, TV and hairdryer.
Activities
Activities at Lake Kivu Serena include fitness and martial art classes, sauna, massage, excursions to Volcanic National Park and Gisenyi volcanic springs, kayaking, windsurfing, boat trips and tennis.