Located just outside Odzala-Kokoua National Park, in the Ndzehi Forest, and one of three Odzala Wilderness Republic of Congo-based accommodations, Ngaga Camp is a wonderfully engaging eco-luxury camp.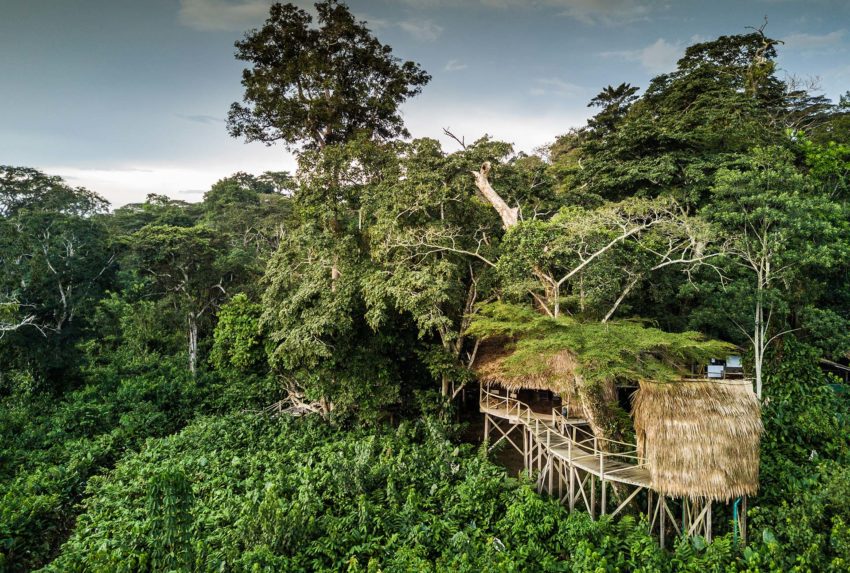 Overview
Situated overlooking a forest glade and stream, and surrounded by primary rainforest, Ngaga Camp is a wood-and-thatch build and consists of a main area and six sleeping rooms. The shared areas including lounge, bar, dining area, decking, and fire pit. Raised on a wooden deck, one side open and leading out to a viewing deck, the domed and low-hanging roof constructed using raffia palm panels, the main building borrows from traditional ba'aka building designs, and is characterised by polished floors, comfortable seating, a large and beautiful blue rug, a dining table made from reclaimed wood, and ornately carved dining chairs. There is no Wi-Fi. A laundry service is available.
Food & service
A great deal of attention is paid at Ngaga Camp to not just the quality of food, but also to the dining experience, which is relaxed, communal and unhurried. Early pre-trek breakfast consists of range of European and cooked breakfasts. Lunch is buffet, so salads, pastas and a range of meats. Dinner's a three-course affair and the recipient of much praise from returning guests. Private dining is available. The service is wonderful, the guiding especially so.
Rooms
Approached by means of a raised walkway, sat high on a wooden platform, the sleeping rooms at Ngaga Camp use the same traditional design-and-build methods as those used for the main area, and include a double or twin bed, private veranda, shower and plenty of storage. With palm panels for walls, wooden floors, and the use of materials like wood and brass for the likes of the sink and shower, they lack fuss, feel very natural, and possess real character.
Activities
Everything at Ngaga Camp centres around trekking three groups of Lowland gorilla, whose territories intersect the camp's location. Neptune and Jupiter are habituated, while a third non-habituated group is observed for research. Other activities include visiting the nearby village. Please be aware that the camp does not accommodate children below the age of 15.
Impact
Conservation
Sabine Plattner African Charities (SPAC) aims to empower children, women and men at the Republic of Congo's Odzala-Kokoua National Park to advocate for a sustainable future. SPAC encourages local communities to become protectors of their own families as well as of the rainforest – their shelter – and its animals.
Furthermore, vital research on the region's native lowland gorilla has thankfully protected them from extinction.
Commerce
The salary of a single SPAC staff member can feed up to 20 family members; this is essential for a region where hardly 10% of the population have a regular income from paid labour. Apprenticeships and additional jobs such as eco-guards and administrative work also provide a meaningful alternative to poaching and deforestation.
Community
SPAC's excellent work is exemplified by the construction of the community centre – 'Sanza Mobimba' – in Mbomo in late 2013. The centre offers a kindergarten which supports around 60 children daily. Active participation – including sowing seeds in the community garden and helping to cook lunch – is promoted, and language courses enable the children to communicate in a variety of dialects.
After school activities range from the healthy – dance and sports – to 'life skills training' about health, hygiene, and nutrition.