Located in Odzala-Kokoua National Park, on the banks of the Lekoli River, Mboko is the largest of Odzala Discovery's three Republic of Congo-based luxury eco-camps.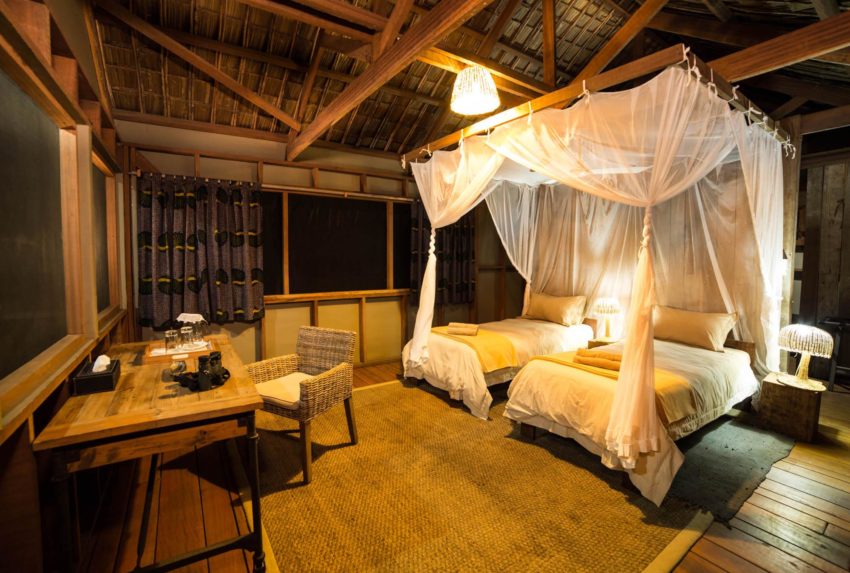 Overview
Situated overlooking an extensive and wildlife-populated bai (floodplain), Mboko Camp is a beautiful wood-and-thatch build, and consists of a main area and 12 sleeping cabins. Raised and set on polished wooden floors, its sides largely open to the elements, its peaked thatch roof most unlike the domes of its sister camps Ngaga and Lango, the main area includes a lounge, dining areas, decking and fire-pit. Characterised by comfortable seating, sisal rugs, a small library and a variety of well-chosen places from which to view the comings and goings of the local wildlife, the look and feel is one of muted colours, smart and welcoming.
Food & service
Sourced from locally or in the main from Brazzaville, with any imports coming from France, the food at Mboko Camp is excellent. Breakfast is served early – giving guests time for an early wildlife drive, walk or boat – and includes cereal, breads, eggs and fruit. Served at 11, lunch is a buffet of salads, pastas, fish and meats. Dinner is always a three-course affair, and delicious with it. The service from restaurant floor to guiding is friendly, knowledgeable and professional.
Rooms
Spaced along the river, overlooking the bai, and backed by riverine forest, Mboko Camp's sleeping cabins are raised on wooden platforms, and include private veranda, four-poster double bed, seating, luggage space, and en-suite shower and sink. Inside the polished floors and panel-and-plank walls provide a chic-rustic backdrop to a restrained look and feel, one marked by a lovely writing table, a lightweight chair, a sisal rug and lanterns for light. Super atmospheric, especially during downpours.
Activities
Activities at Mboko Camp include wildlife drives, guided walk-and-wades, and boating and kayaking the Lekoli River.
Impact
Conservation
Sabine Plattner African Charities (SPAC) aims to empower children, women and men at the Republic of Congo's Odzala-Kokoua National Park to advocate for a sustainable future. SPAC encourages local communities to become protectors of their own families as well as of the rainforest – their shelter – and its animals.
Furthermore, vital research on the region's native lowland gorilla has thankfully protected them from extinction.
Commerce
The salary of a single SPAC staff member can feed up to 20 family members; this is essential for a region where hardly 10% of the population have a regular income from paid labour. Apprenticeships and additional jobs such as eco-guards and administrative work also provide a meaningful alternative to poaching and deforestation.
Community
SPAC's excellent work is exemplified by the construction of the community centre – 'Sanza Mobimba' – in Mbomo in late 2013. The centre offers a kindergarten which supports around 60 children daily. Active participation – including sowing seeds in the community garden and helping to cook lunch – is promoted, and language courses enable the children to communicate in a variety of dialects.
Afterschool activities range from the healthy – dance and sports – to 'life skills training' about health, hygiene, and nutrition.