One of Africa's oldest parks, Odzala-Kokoua National Park is located in north-western Congo-Brazzaville, covers 13,500 km2, was initially protected in 1935, made a biosphere reserve in 1977, and was officially designated in 2001. It is managed by African Parks and the Ministry of Forest Economy, Sustainable Development and the Environment, and its tourist concession is managed by the Congo Conservation Company (CCC).
Sitting plumb centre of the Congo Basin, Odzala-Kokoua National Park is an important part of the world's second largest rainforest. The park itself is home to 4,500 plant and tree species, and is composed of several ecosystems, including wet and dry forest, and savannah habitats. The forest is largely open canopy Marantaceae, though it includes closed canopy Marantaceae and terra firme forest. Home to over 100 mammals, to 440 species of bird, and to many species of reptile, amphibian, fish, and insect.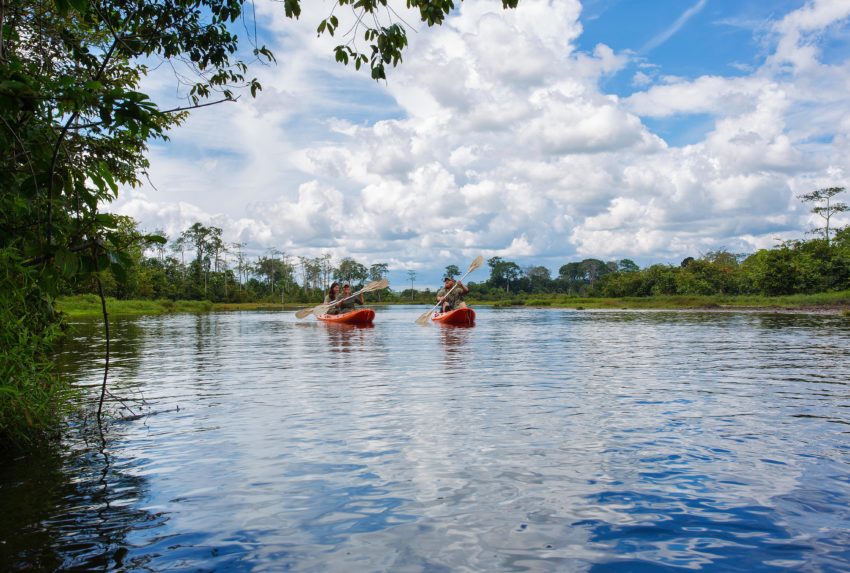 While in relatively fine fettle today, Odzala-Kokoua National Park has had something of a mixed ride. It suffered through lack of protection in the late 1990s, during the Congo Civil War, and its gorilla populations have been periodically decimated by Ebola. These and other factors contributed to its neglect and so to a rise in ivory and bushmeat poaching. Since African Parks took over in 2010, it has made a significant recovery. Working in partnership with local communities, a policy of education, conservation employment opportunities and animal habituation has resulted in a decline in bushmeat poaching, and in a small but steady rise in the number of people visiting the park. This said, and despite the work of 100 eco-guards, poaching continues to be a major problem, with elephant in decline.
In terms of the life it holds, Odzala-Kokoua National Park is known for its diversity, and in particular for being home to an extraordinary number of primate species. As well as the western lowland gorilla, for which it is famous, these include: chimpanzee, Angolan talapoin, two species of mangabey, moustached guenon, Dr Brazza's monkey, crested mona monkey, and mantled guereza. Other prominent species of mammal include forest elephant, bongo, buffalo, two types of forest hog, several types of antelope, and sitatunga. Less abundant species include leopard, spotted hyena, serval and African golden cat. Birdlife is absolutely legion.
Access to the park is usually by air, a two-hour flight from Brazzaville, though the super-adventurous may want to try the 15-hour road trip. Tourists are accommodated at the park's three camps, all of which are excellent, and provide base for a range of different experiences. Ngaga Camp is also home to the pioneering gorilla research of Dr Magda Berejemo and German Illera. All in all, it's a wonderful park, and very much worth the eco-visit.
See below for accommodation in this area.