Located in Brazzaville, overlooking the Congo River, and close to Maya Maya International Airport, Radisson Blu M'bamou Palace Hotel is exactly what one would hope for of a top drawer short city stay: a hotel that lives up to its 5-star billing.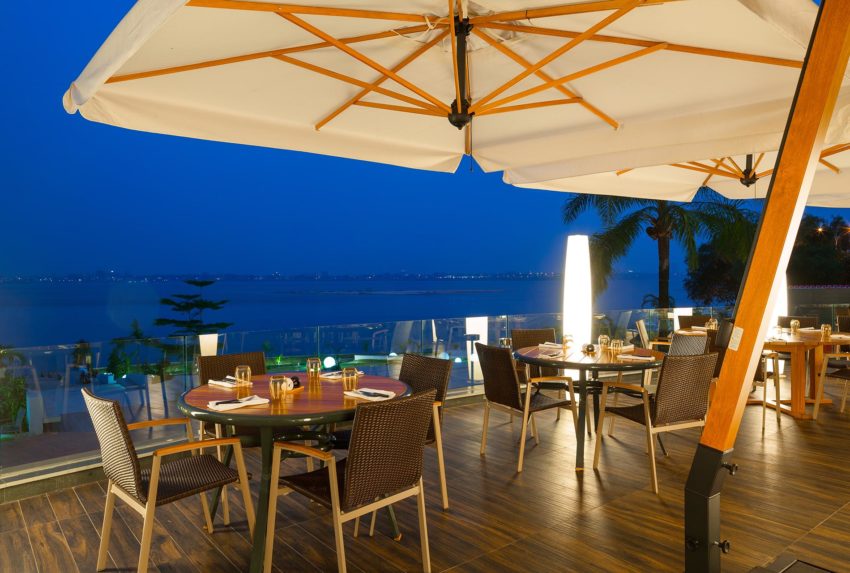 Overview
Set in tiered gardens and designed to cater for families and groups almost as much as it does the business-orientated traveller, Radisson Blu M'bamou Palace Hotel is a largely multi-storey build consisting of 178 rooms and a plethora of amenities, including several bars and restaurants, a variety of lounges, a wellness centre, a magnificent pool, and enough event space to swing many large cats. The look and feel is crisp, clean and modern. Wi-Fi is fast and available throughout.
Food & service
Something of an embarrassment of riches, eating options at Radisson Blu M'bamou Palace Hotel include the M'Bamou Larder, the lobby-based M'Bamou Lounge, Le Feu des Saveurs and Il Taglio. The Larder offers a range of international dishes, the standard of its breakfast buffets much commented on by returning guests. The Lounge is much more a cocktail bar and coffeeshop than it is restaurant. Le Feu des Saveurs specialises in grill dishes, and is situated away from the main hotel, with views across the river. Il Taglio is the pool bar, so think snacks and fast food. From reception to restaurant floor to room care, the service is excellent.
Rooms
There are eight classes of suite at Radisson Blu M'bamou Palace Hotel: standard, business, junior, executive, diplomatic, presidential, royal and penthouse. The standard suite consists of a double bed, seating, en-suite bathroom, and balcony, and comes with a clutch of amenities, including Wi-Fi, mini-bar, safe and access to the hotel's fitness centre. The further up in class, the bigger the rooms, the more the area in which to lounge, the longer the list of amenities and complementary services. While the hotel's marketing materials speak of a design marked by African flair, the look is actually very international, and is designed to appeal to its largely corporate clientele. All in all, and whatever their class, the suites are extremely comfortable.
Activities
Away from the spa treatment, fitness centre, pool, bars and lounges, activities Radisson Blu M'bamou Palace Hotel include trips into the city, all of which can be facilitated, and in various ways, by the hotel.