Located on Namib Tsaris Conservancy, The Nest @ Sossus sits at the edge of an escarpment that opens out onto an oasis valley within an otherwise desert landscape, home to natural waterfalls and pools almost year round.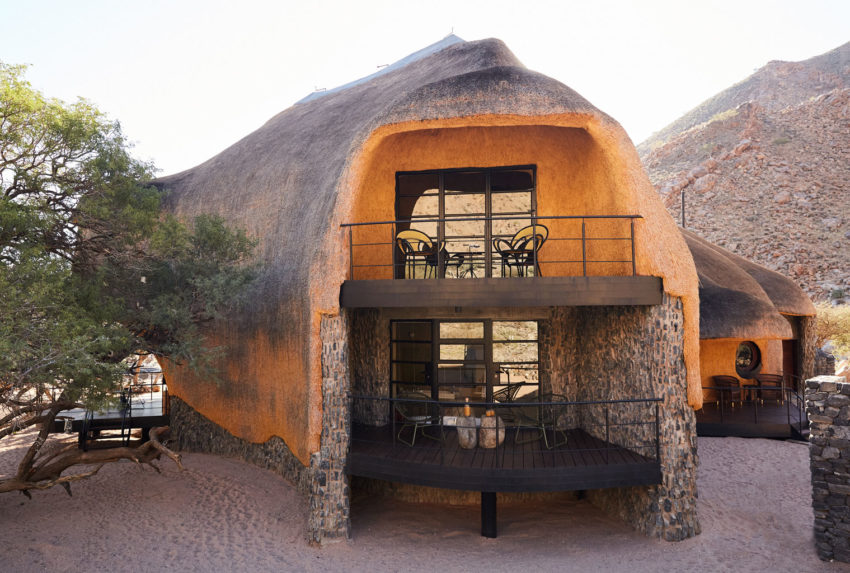 Overview
Funded by conservationist Swen Bachran, designed by architect, Porky Hefer, the vision for The Nest was spun using the structure of a weaver's nest as inspiration to achieve an extraordinary biomimicry, utilising a thatched structure to fit into the landscape. Such innovation has been recognised by Wallpaper Magazine, which selected The Nest @ Sossus as the winner of its Design Award for Best Private House.
It consists of a shared area and three main bedrooms. The shared areas – outdoor and indoor lounge and dining areas, a study, and an open-plan kitchen – are spacious. The wood burning stoves, granite dining table, beautifully treated kitchen doors, shelves and worktop, rocking chairs and the large central sofa have all been picked out by the designer to match the theme of being in a cosy nest. The strange and thought-provoking sculptural art installations in the outside area are hard to miss. There is also a children's playground, large pool, and various seating areas in and around the ancient camelthorn trees that surround the property.
Rooms
The Nest @ Sossus's en-suite bedrooms accommodate six adults. There is a children's room. Each adult suite sits under thatched roof stretching all the way to the dark wood floor and contain varying designs of king-size beds made from Namibian wood. Other minimalistic features – a rocking chair, desk and a giraffe skull – add to the ambience. The design of the windows – small, round – underline the nest theme. The glazed plaster children's room contains a number of bunk beds, taking on the form of small nests, and comes with a desk, shelving and en-suite bathroom.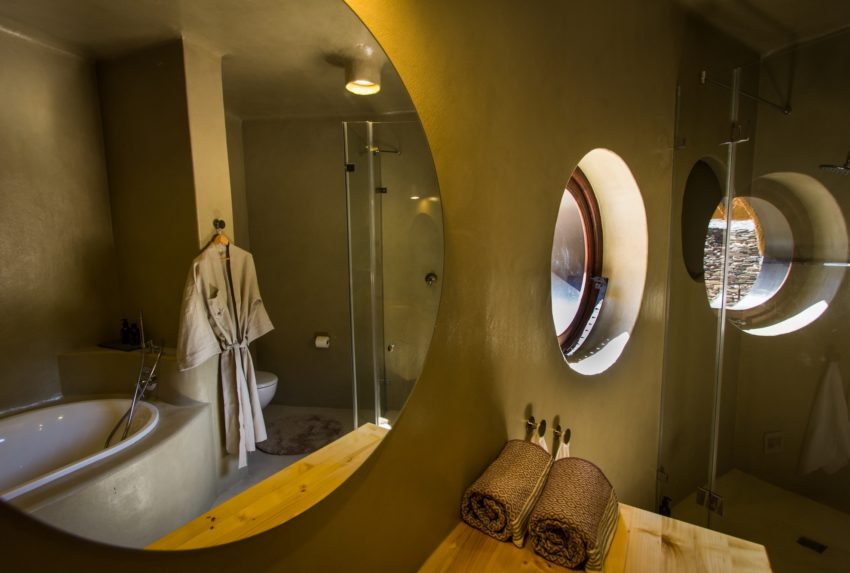 Activities
The Nest @ Sossus is host to many animals, including leopard, cheetah, giraffe and spotted hyena, who come from miles around to the nearby waterhole. Activities include the chance to take walks and drives through the desert landscape to spot large mammals or to simply enjoy the environment of the lodge under the care of the chef and butler. The lodge is a 45-minute drive away from the Sossusvlei gates, where guests can visit the famous Sossusvlei dunes and Deadvlei. Scenic fixed-wing, helicopter and hot air balloon flights can also be arranged at an additional charge.
Impact
Conservation 
Bachran has already transformed the Namib Tsaris Conservancy by removing 120km of fences and opening up wildlife corridors. He has aspirations to reintroduce rhino and potentially re-seed the area.