Opened as of June 2018, Skeleton Coast Shipwreck Lodge in Namibia is set at the mouth of the Hoarusib River in the Skeleton Coast National Park.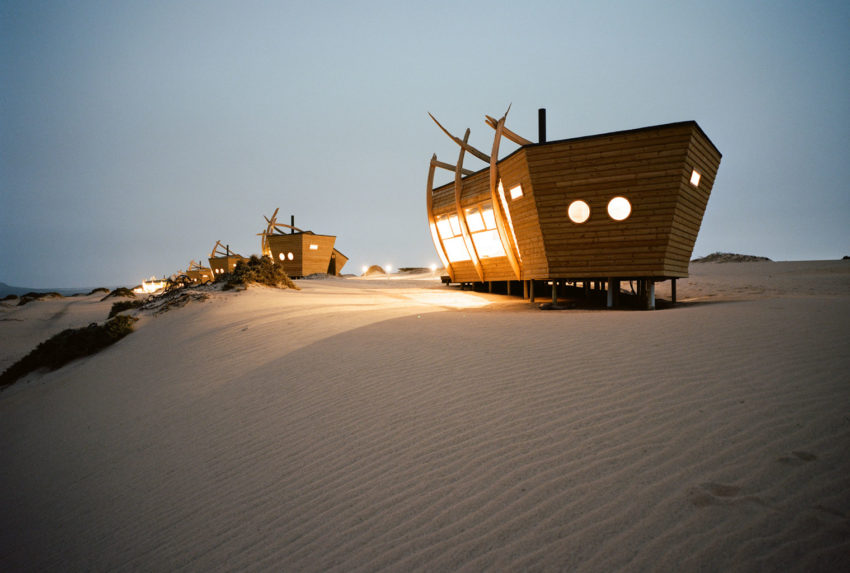 Overview
Staying at Skeleton Coast Shipwreck Lodge is a real wilderness experience, as the area can experience extremes of weather such as cold nights, foggy mornings and evenings, high winds and scorching sun in the day. Yet this modern building, made from wood and glass and resembling a ship wrecked in the sand, offers a comfortable retreat. The main area has a restaurant with a deck and incredible views over the desert, as well as a swimming pool, sun loungers and bar. There are ten rooms including two family rooms, but note that because of the location, the lodge may be more suitable for children over 12. Free Wi-Fi is provided.
Food & service
All meals and drinks are included at Skeleton Coast Shipwreck Lodge. The lounge and restaurant have a wide deck with uninterrupted views out to the wild Atlantic Ocean so are ideal for sunset dining.
Rooms
All rooms at Skeleton Coast Shipwreck Lodge have an en suite shower, toilet and washbasin as well as tea and coffee making facilities. Each room is designed to look like the famed shipwrecks of the area and offers excellent views over the area. Inside, each has a wood-burning stove and an ocean view, while outside is a small deck with seating.
Activities
Skeleton Coast Shipwreck Lodge runs several activities including full-day 4×4 excursions to the Möwe Bay seal colony, with a chance to see the remnants of the Suiderkus and Karimona shipwrecks and the abandoned Westies diamond mine en route. Elephants, lions and hyena can be spotted on a wildlife drive through the parks, as well as the famous Clay Castles, remarkable cliff-like structures carved from the desert by the Hoarusib River. Enjoying a sundowner from the top of the dunes is also recommended.