Located north of the Hartmann Valley, on the banks of Kunene River and a stone's throw from Angola, Kunene  Camp is the last of the Skeleton Coast's collection of fly-in safari camps.
Overview
With the airstrip some distance from the camp, the approach – a spectacular 4×4 drive – runs up the Hartmann Valley and along the Kunene River. The Camp itself is beautifully situated on a set of enormous boulders. The contrast here between the desert and the river habitat couldn't be starker. Behind the camp lies rock, gravel plains and sand dunes, while in front and below is an oasis of green. Kunene is, like all the Skeleton Coast's fly-in camps, a simple, beautifully run camp.
Food & service
A wood, stone and reed construct, the camp consists of a mess area – open sided dining and seating area, bush bar and veranda – and 4 thatch roof dome tents. The shared area is well equipped, the food nourishing, and the service is relaxed, friendly and attentive. Much relies on the guests in terms the ambience of the place, as its size makes for a familial, cosy and joyous atmosphere. In our experience, guests positively love the responsibility, the freedom, the opportunity to help set the camp's tone. The view on to the river and beyond is fabulous.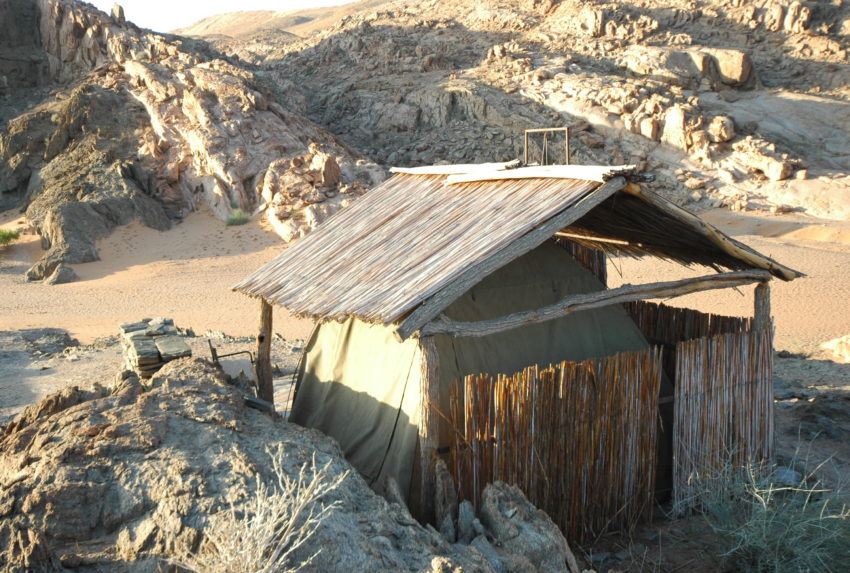 Rooms
The sleeping tents are similarly austere in terms of design. Each possesses twin beds, a night time chemical toilet, bedside table, bucket shower, large battery powered lamp and assorted toiletries. Two flush toilets can be located in a separate building, and hot water can be provided on request. This is real adventure, an remarkable immersion into a truly unique environment.
Activities
Activities include bird watching, guided walks, wildlife viewing, river excursions and photographic excursions. The camp is on extremely good terms with the Himba people, and their expertise is invaluable when it comes to understanding the area. Please note that, due to scheduling flights, stays at Kunene Camp are normally just overnight unless guests are travelling in a group and have made prior arrangements with the camp's owners.
For further information, please see Skeleton Coast Safari accommodation. Please note that while Kunene is included in the Skeleton Coast Safari package, it is in fact located in Kaokoland.