20°
27'
16.35'' S
16°
39'
52.51'' E

Located west of the Waterberg plateau, among the Omboroko mountains in Okonjima (a 55 000 acre reserve first set aside for the express purpose of saving and rehabilitating injured and displaced cheetah), Okonjima Plains Camp is the area's oldest and largest piece of luxury accommodation.
OVERVIEW
The Hansen family's original home, the lodge's core building is a converted farmhouse and consists of a lounge (lapa), open fire place, bar, dining area, extensive decking, and a swimming pool. A multi-peaked wood, stone and thatch build characterised by leather sofas, large photographs, masks and an Africana library, the lapa is exactly what it should be: an ideal place to gather and share stories.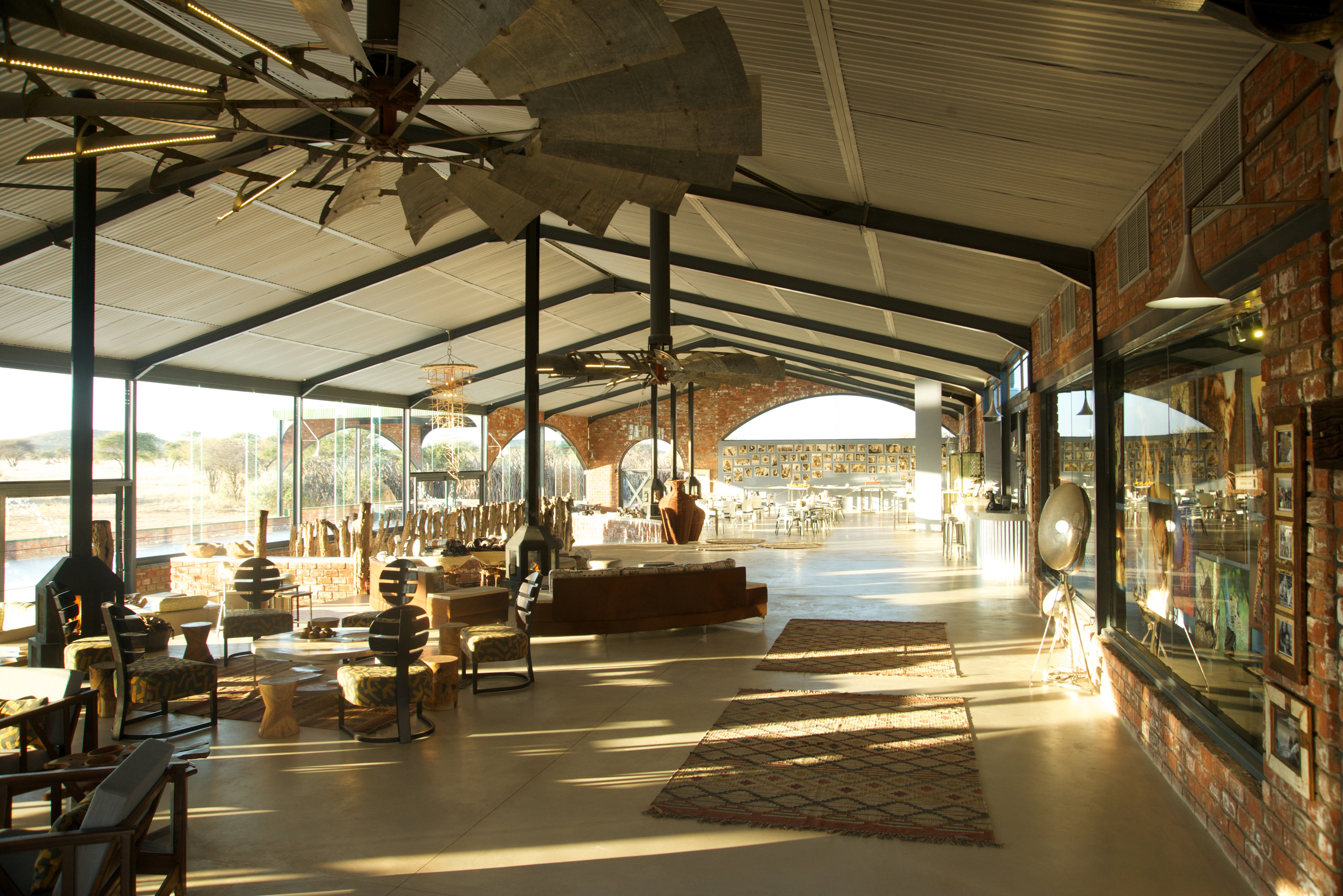 FOOD AND SERVICE
The service is excellent, as is the food, and specific dietary requirements are easily accommodated. Early morning breakfast is coffee and muffins, followed by an expansive brunch; porridge and cereal alongside cooked eggs and meats. Grazing possibilities are available throughout the day, and the day's offerings conclude with afternoon tea and, finally, a 3 course meal in the evening.
ACCOMMODATION
The sleeping accommodation is divided as follows: 6 garden rooms, 10 bush/mountain view rooms and, for a large group, the exclusive use of 3 twin tents and 4 single rooms. The garden rooms are a stone and reed thatch build, and are set in blocks of 2 or more. Each room includes a double and single bed, a table, seating area, a veranda and an en-suite bathroom. The bathroom is compact, and contains a sink, shower and flush toilet. The newer rooms are better spaced, and situated overlooking either the bush or the mountains. Each includes a double bed, veranda, wheelchair friendly access, separate bathroom, fan and safe. The Meru style tents are similarly furnished, although where in the garden suites there is room for sitting inside, the tents make more of their verandas.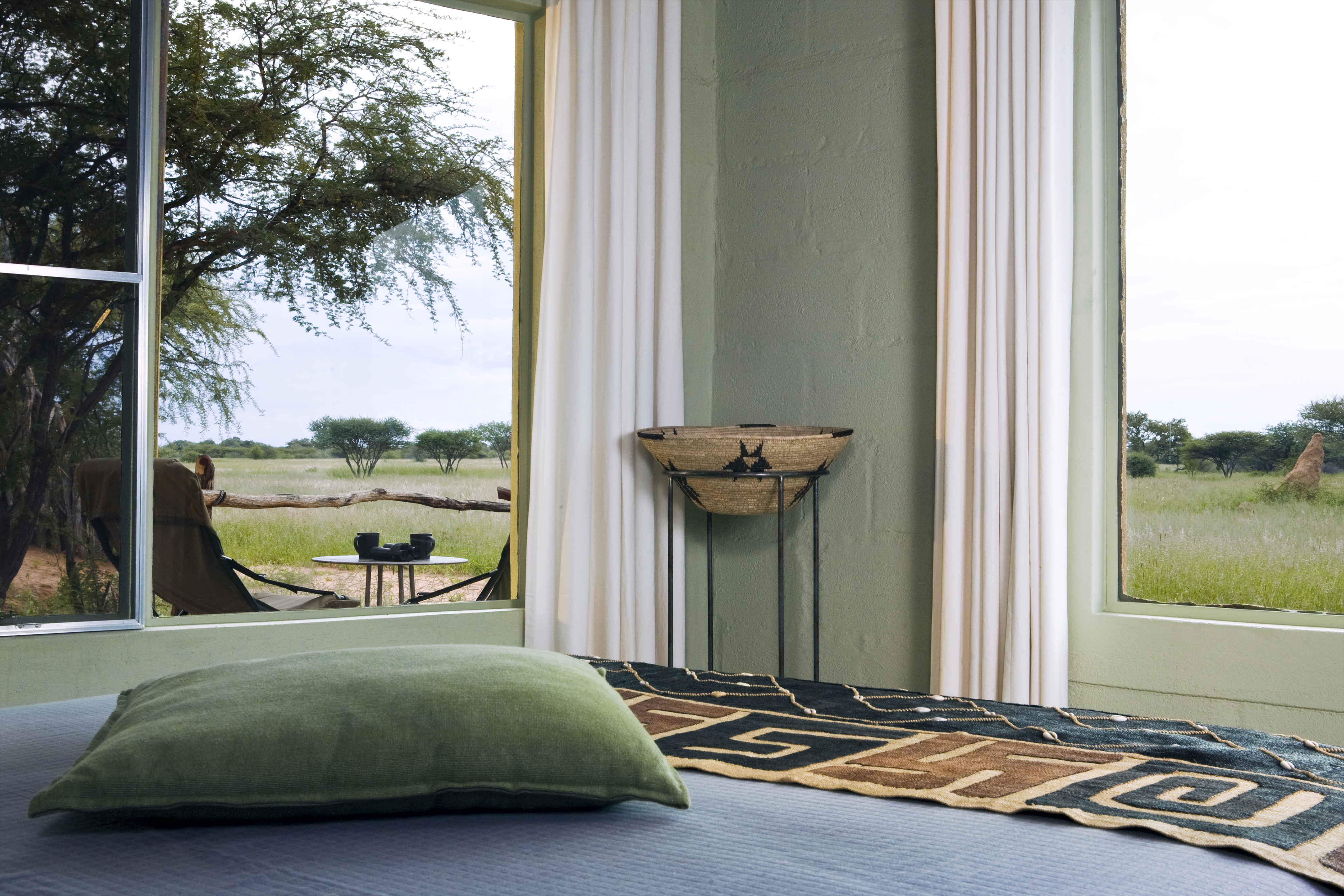 ACTIVITIES
Activities include leopard viewing, cheetah and brown hyena tracking, visiting and learning about the Africat Foundation, bushman trails, bird viewing and nocturnal wildlife viewing.
ETHICS
The Africat Foundation is committed to the long term conservation of Namibia's large carnivores. As they explain:
"Rescue and release
AfriCat works closely with communal and commercial livestock farmers, assisting in alleviating losses from predator intrusion by providing a rescue-and-release and relocation programme.
Since 1993 AfriCat has rescued over 1000 cheetahs and leopards on Namibian farmland.
Over 85% of these animals have been returned to the wild.
Human wildlife conflict mitigation & community support
AfriCat supports commercial (free-hold) and the communal farming communities of northern Namibia, specifically those bordering the Etosha National Park, in dealing with human/wildlife conflict issues and predator intrusion. In general, instead of predator removal as a method of conflict mitigation, AfriCat now offers farmers a variety of effective farm-management techniques to better protect their livestock.
Research
AfriCat supports an ongoing collaboration with researchers, scientists and the conservation authorities by working closely with farming communities, allowing for constructive research to take place in support of the long-term conservation of Namibia's predators.
Welfare
AfriCat provides a home, food and care for young, orphaned or injured animals until they can be rehabilitated and released back into the wild.
Education
The AfriCat Environmental Education Programme aims to inform and empower Namibia's youth about large carnivores, conservation and the Namibian environment.
The objectives of the Environmental Education Programme, based on the 1997 UNESCO-UNEP Environmental Education objectives, are as follows:
 Awareness: an appreciation of and sensitivity towards large carnivores, all living things, the environment and their associated problems.
 Knowledge: to include knowledge of large carnivores, environment and basic ecology. To include knowledge of social, economic and political natures related to environmental problems and alternative solutions.
 Attitudes: To raise concern about problems, values, personal responsibility and willingness to participate/act.
 Skills: To include critical thinking skills and problem solving skills.
 Participation: To include personal and school based involvement in environmental issues.
The Perivoli – Okonkima Country School
This private Perivoli Okonjima Country School should form the basis for future mobile and stationary play-and pre-school as well as lower primary systems, in support of the rural child.  When pre-school preparation is adequate, more children will be able to adapt to the ever-increasing demands of the Namibian school curriculum.
We shall ensure that our school will not only be an academic platform but a sound foundation for environmental education. This will create a balance of understanding and contribute to long term wildlife conservation through inspired leaders."