Located in southern Namibia, on the NamibRand Private Reserve, Wolwedans Private Camp is a part of the highly respected Wolwedans portfolio, which includes Dune Lodge, Dune Camp and Boulders.
Overview
Self-contained, built on stilts, a largely wood build, and consisting of just two en-suite chalets and a shared lounge, outdoor sala zone, dining area, library and kitchen, Wolwedans Private Camp is a wonderfully luxurious stay, an ideal family option for those in search of privacy and attentive service.
Like Wolwedans' other properties, the decor is restrained, the furnishings well chosen – storage chests, leather chairs and sofas, handwoven rugs – and there is an emphasis on making fine provision for simple things: a good read, excellent food, fantastic views. Bookable on an exclusive basis, a stay at Wolwedans Private Camp would suit either two couples or a family of four.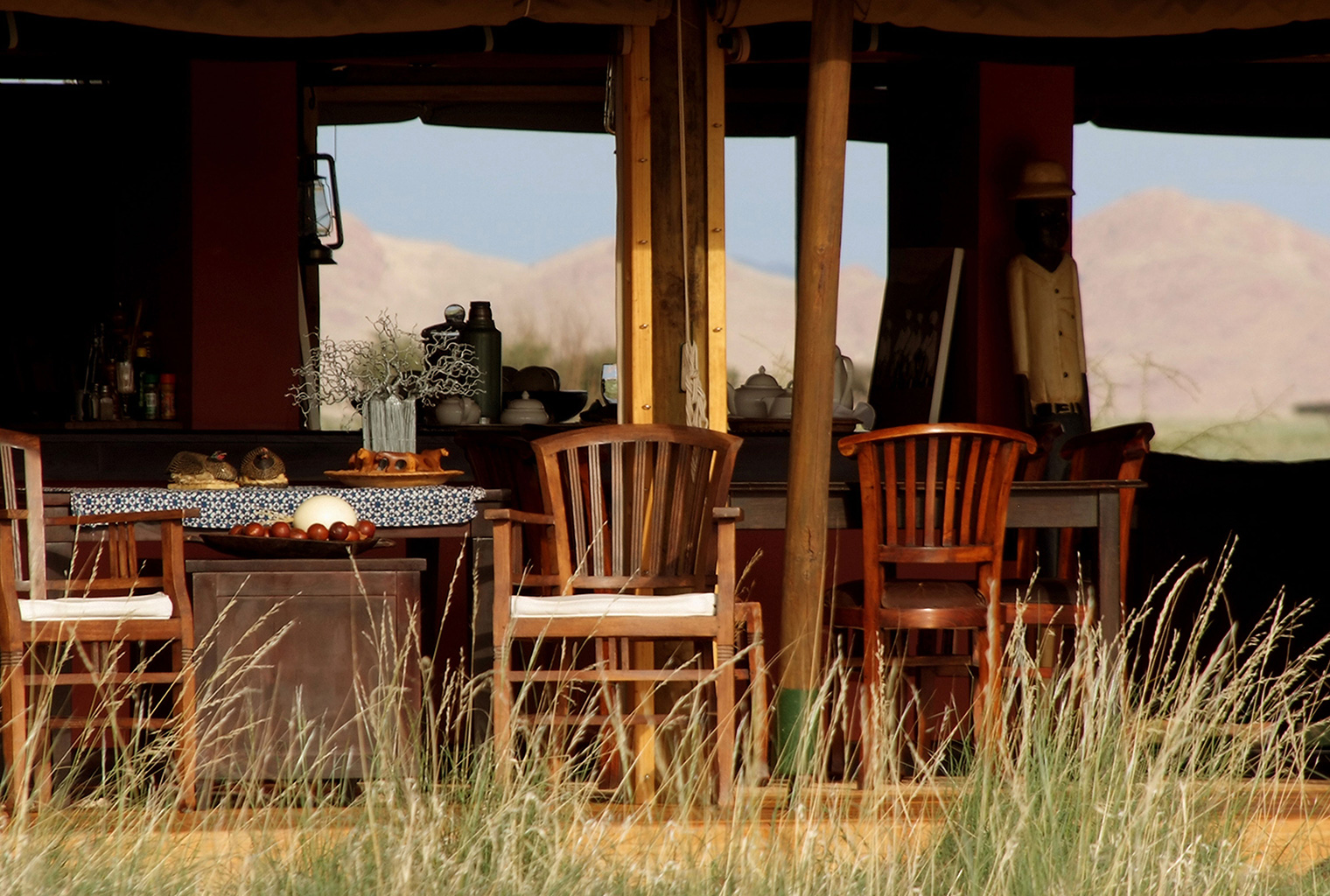 Food & service
With its own private butler and chef, the service and cuisine are of the highest standards.
Rooms
Like the shared area, the rooms are simple, luxurious and beautifully designed. Open plan, canvas walls can be rolled up to reveal 360 degree views. Each room possesses pushed together hand-carved twin beds, a separate bathroom, and an extensive wrap around veranda. The furniture is beautifully restrained – a well-made armchair, an antique chest of drawers, a low polished side table – and the soft furnishings consist of just a couple of well-chosen throws, some cushions and not much more.
Activities
Activities include day and night wildlife drives, guided walks, and scenic flights. For those wanting some variety, hot-air ballooning can be arranged!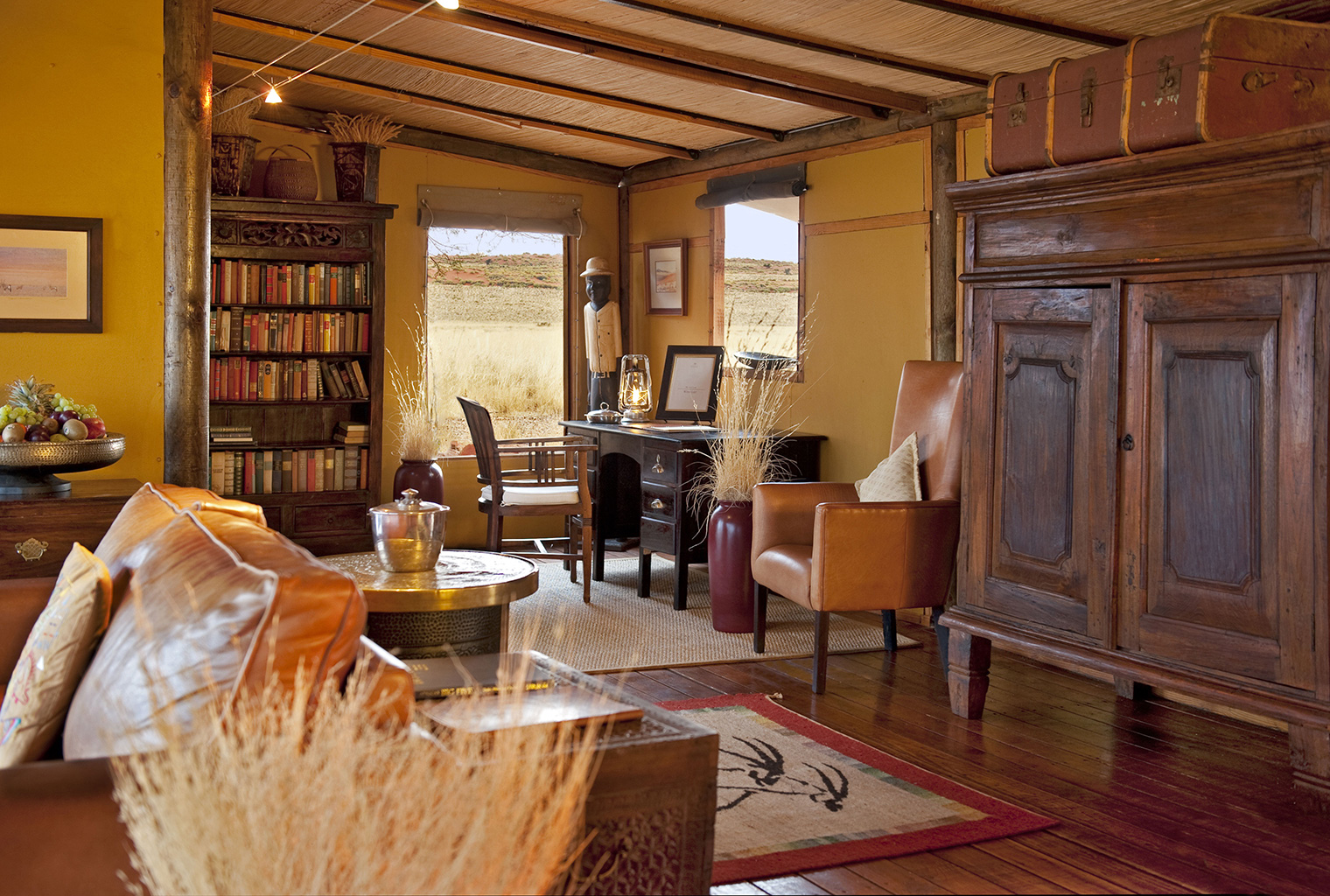 Impact
Conservation 
The Reserve is a member and contributor to the Southern African Avi-Faunal Atlas and the Large Carnivore Atlas of Namibia. Local outreach efforts focus mainly on predator-livestock management on neighbouring properties.
The aims of the Nature Reserve are:
To conserve for the benefit of future generations and to protect the sensitive and fragile environment and its rich biodiversity
To create a nature reserve with a healthy and functioning ecosystem, providing a sanctuary for flora and fauna and to facilitate seasonal migratory routes in partnership with neighbours (National Parks, etc.)
To promote sustainable utilisation through ecologically sustainable and high quality level tourism products and other projects
To achieve a commercially viable operation to ensure continuance and financial independence
Commerce
There is a ongoing development of a horticultural project to grow indigenous medicinal plants for commercial production, creating local jobs and earning funds for conservation.
Community 
The Wolwedans Desert Academy: Now in its first term, the Desert Academy was created in co-operation with The Namibian Tourist Board (NTB) and the National Training Authority (NTA) to raise the skills level of the local tourism workforce and therefore the quality of national hospitality product to a worldwide standard.
Vocational Support Programme: This Vocational Support Programme has been set up to support employees in their vocational aspirations by providing a 'bursary' style of funding for further education.
The Namibian Desert Environmental Education Trust (NaDEET): NaDEET is a non-profit making Namibian Trust established in 2003, situated on the NamibRand Nature Reserve. It believes in environmental education to not only increase awareness and knowledge but also in developing eco-friendly attitudes and skills in Namibia's youth.