A luxury offshoot of the renowned Mushara Lodge, and designed by Heidrun Deikmann, Villa Mushara is located just outside Etosha National Park's eastern border. It remains one of Namibia's premier private houses.
Overview
Divided into a shared area and 2 sleeping villas, Villa Mushara is an elegantly designed mixed material build. Set in a maturing garden, the shared area consists of a lounge, dining area, reception area and swimming pool. Carpeted, furnished with antique armchairs, sofas and tables, the lounge is beautifully styled with muted wall colours, an open fire, select books and large, simple windows, providing guests of Villa Mushara with a public space within which to meet.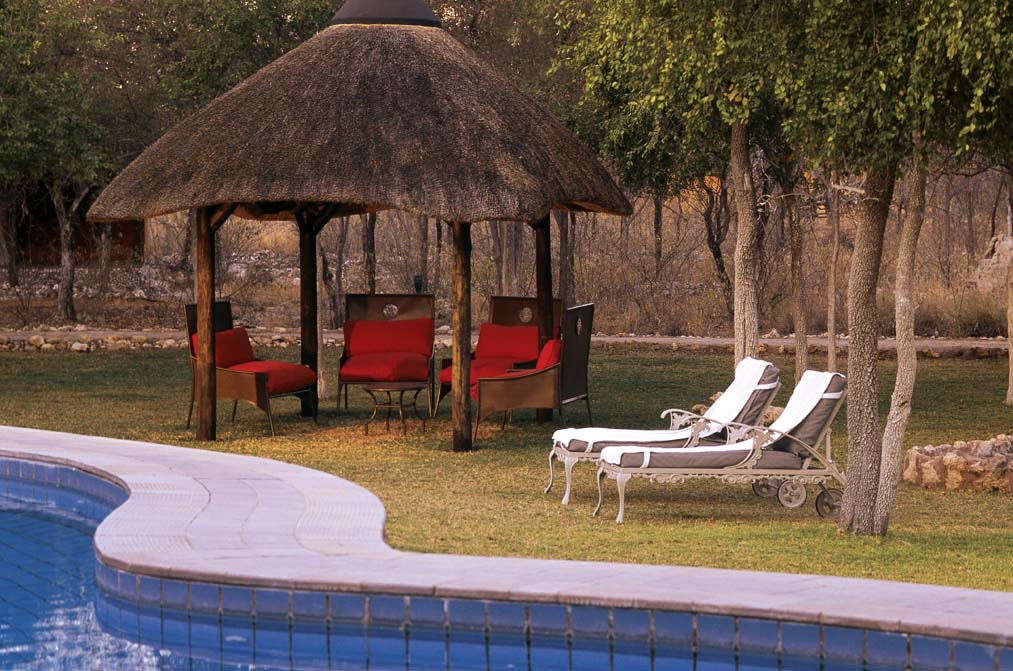 Food and service
Meals can be taken in the lounge as well as in the privacy of one's own villa, and the cuisine – European and African – is held in high regard by guests.
Rooms
Set some 60 yards apart, on 140 metres squared plots, and consisting of sleeping rooms, a lounge, dining area, library, veranda and multi bathrooms, each villa is styled slightly differently, and the emphasis is on making provision for guests who enjoy contemporary amenities in a post-colonial setting.
Each air conditioned bedroom comes with a four poster double bed and en-suite bathroom. With brass fittings, stone basins and standalone baths, the bathrooms are a testament to the villas' overall designs. Each villa comes with its own staff, guide and driver.
Activities
Activities at Villa Mushara include Eshota wildlife drives, guided walks, bush picnics and sundowners.