Set among a cluster of enormous granite boulders, and possessing the most extraordinary of views, Mowani Mountain Camp is located in southern Damaraland, near Twyfelfontain, between the Huab and Ugab rivers.
Overview
Characterised by thatched dome buildings, the camp consists of a main area, 12 sleeping tents and a luxury suite. The main area includes a reception, bar, dining room, lounge, deck and swimming pool. The dining room and lounge are joined together under two attached structures, below which are the decking and pool. Incredibly well chosen, the location is one of a kind, and the views across a rock strewn landscape, and onto the gravel plains of Damaraland are something else – especially at sunset.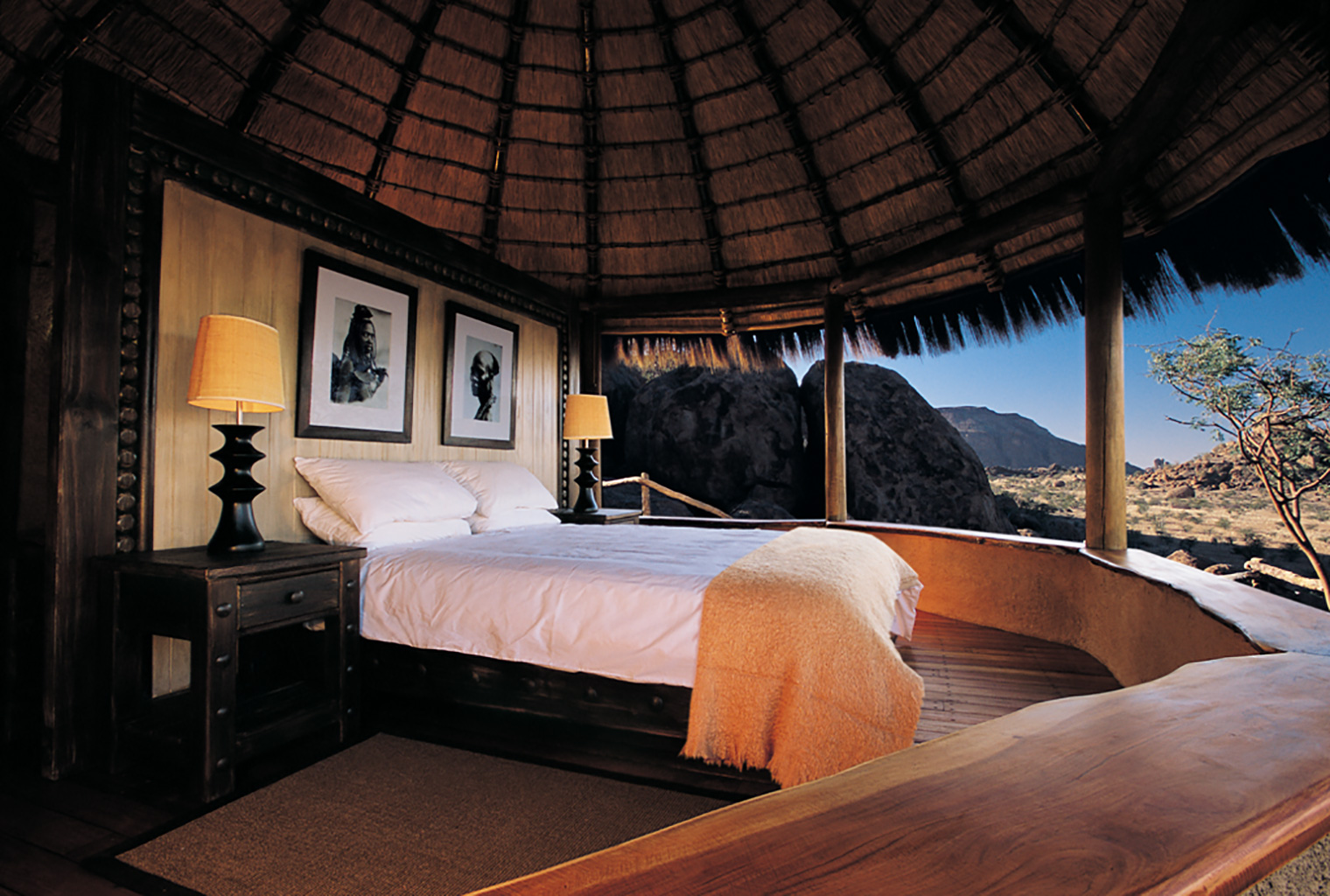 Food & service
With a premium placed on the quality of its service, and on its food, Mowani Mountain Lodge does well to maintain its reputation for being one of Namibia's stand out lodges.
Rooms
The sleeping accommodation is divided into standard and view, the only difference being that view tents occupy- naturally – prime viewing spots. The standards are actually beautifully located, and the camp as a whole makes excellent use of the location's natural contours. A canvas, thatch and wood build, each tent consists of a double bed, veranda, separate bathroom, a seating area and room to change in. The style is simple, with polished floors, one or two artefacts, African throws, and everything (from toiletries to lighting) is well thought through. The luxury suite – bar, dining facilities, indoor and bush bathrooms, large veranda and personal butler – is a step up, and the view is mindbogglingly good.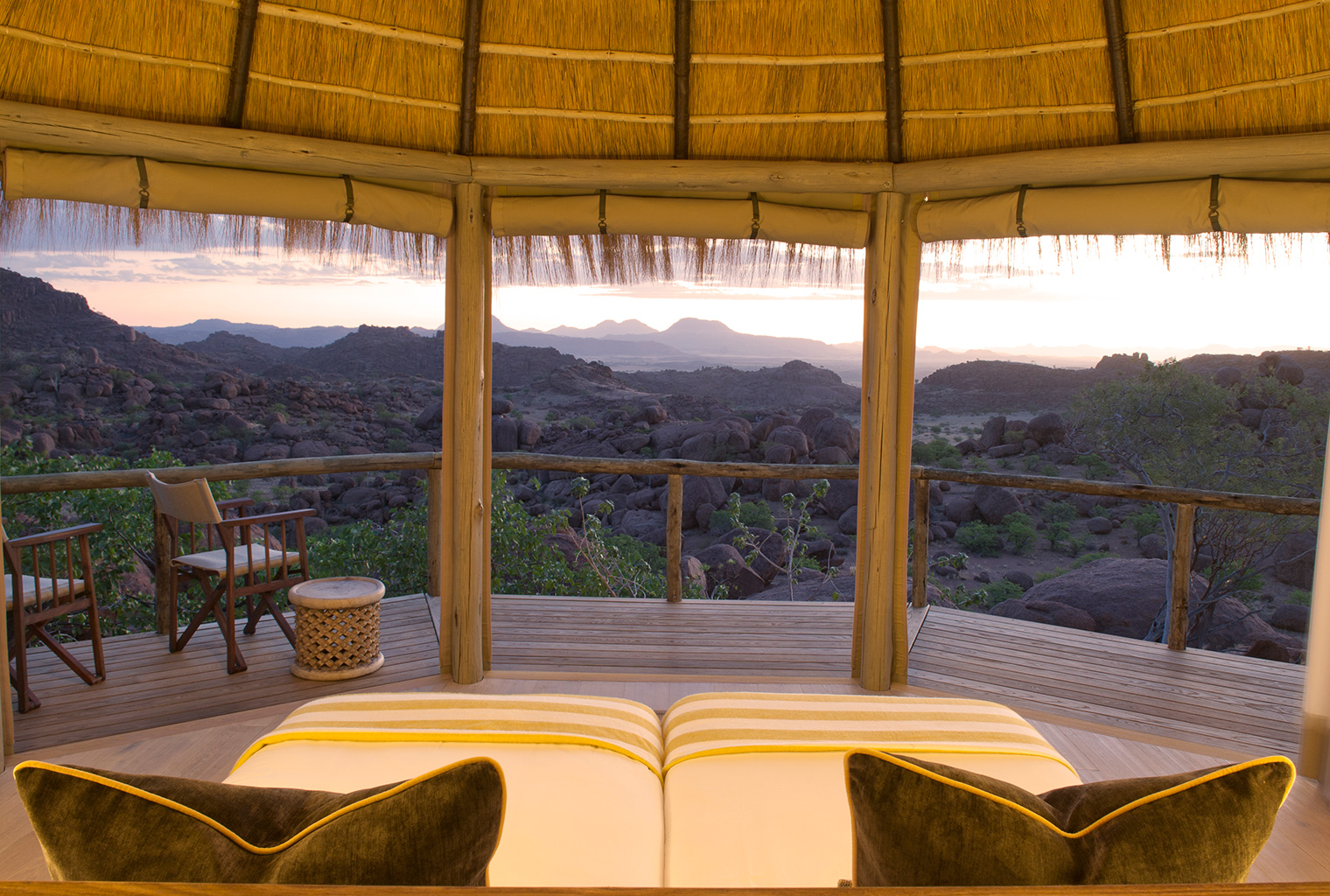 Activities
Activities at Mowani Mountain Lodge include nature drives, guided walks and excursions to see the rock art at Twyfelfontain. Please note that the camp's location makes for areas that are potentially unsafe, and that unaccompanied children are vulnerable to falls.
Impact
Conservation
Mowani have recently established a working relationship with IRDNC (Integrated Rural Development and Nature Conservation), AfriCat, EHRA (Elephant Human Relations Aid) and the Uibasen (Twyfelfontein) Conservancy to increase their conservation footprint in Damaraland. Moreover a meeting was held with Garth Owen Smith to continue the current support of the desert lion project whereby Mowani pay the salary of one of the two game rangers (even though it is outside our conservancy). Furthermore the waterhole has been expanded to provide a local elephant herd of 18 (including 2 calves under 6 months old) with enough water when they visit the lodge.
Commerce
Mowani has started their own herb garden which is maintained by the chefs. This garden is being expanded to grow a variety of vegetables as well. In addition, Mowani purchases vegetables from Dimab, a community based vegetable garden and assists with
empowering the locals to manage the project successfully.
Community
Mowani assists local farms by fixing waterholes damaged by elephants. They also support the Winter Knights and the Medic Rush where doctors and nurses are transported into Damaraland by Round Table Namibia to provide medical support to the local community.