Located in Damaraland, Namibia, on the Torra Conservancy, in the Huab river valley, Damaraland Camp is an award winning community-owned eco-luxury camp.
Overview
Owned – in partnership with Wilderness Safaris – by a Torra Conservancy community initiative, Damaraland Camp opened in 1996, is run entirely by native Namibians. It has gained a stellar reputation for its levels of service, knowledge of the land and for the care it takes to introduce guests to a wildlife experience that includes tracking the area's elusive but rewarding desert elephant.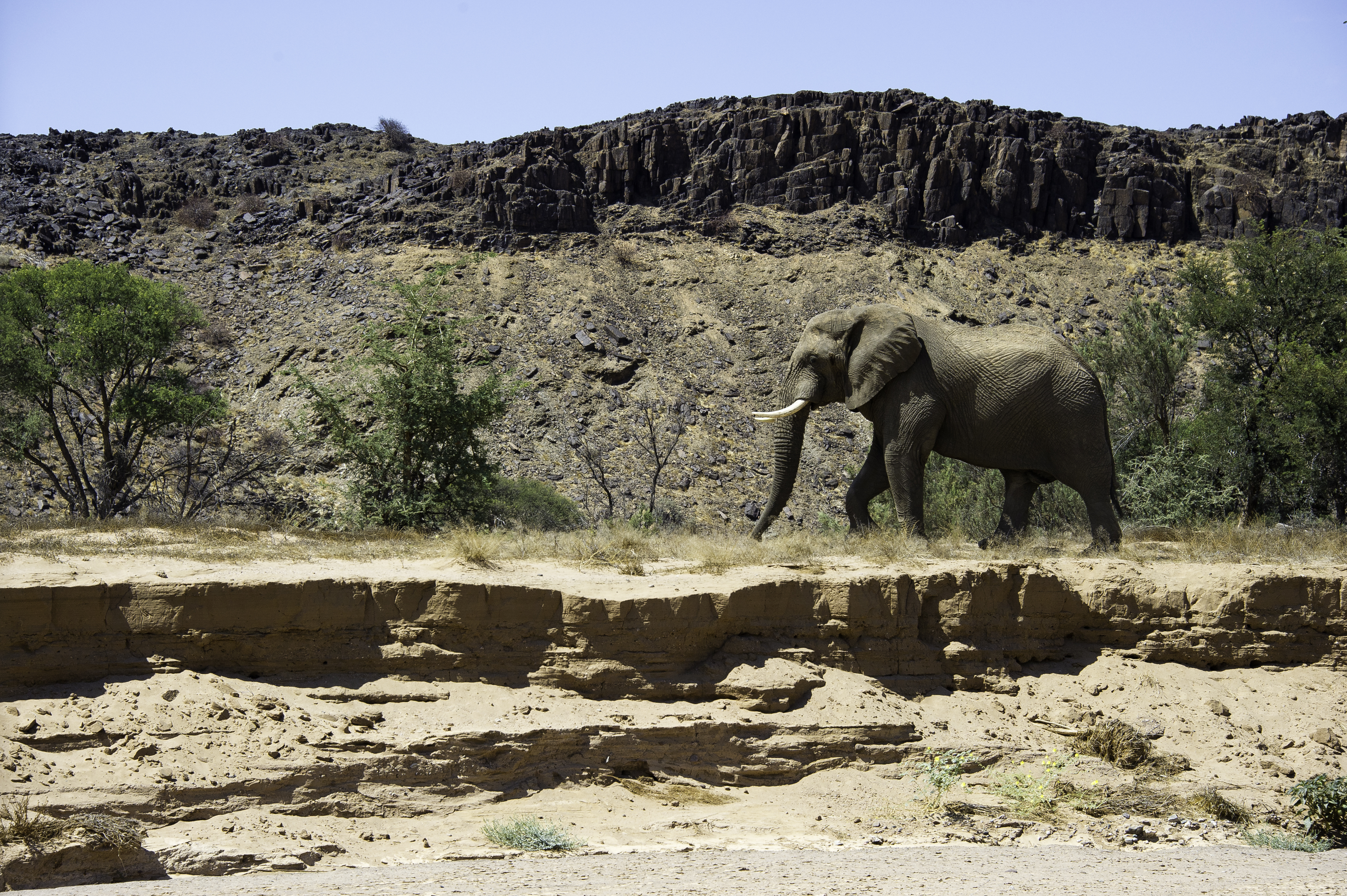 Food & service
The cuisine is local and international and the service is lovely. Meals can be taken both in and out.
Rooms
A mixed build, upgraded in 2008, the main lodge is constructed from stone, and includes a bar, dining area, veranda and swimming pool. The 10 sleeping tents – chalets – are raised on wooden platforms, and sheltered by thatch roofs. Furnished in a style that would not look out of place in an Italian showroom, the main lodge is characterised by low seating, a mixed material floor (wood and polished stone), and looks out onto the Huab valley's sparse wildernesses.
The en-suite sleeping tents of Damaraland Camp possess a comfortable double bed, a walk-in changing area and a small veranda. The bathroom consists of a basin and shower. With the temperature regulated by both the thatch roof and a built-in fan (and space to sit, relax and enjoy the view in the privacy of one's own company) the tents are a welcome refuge from the midday sun.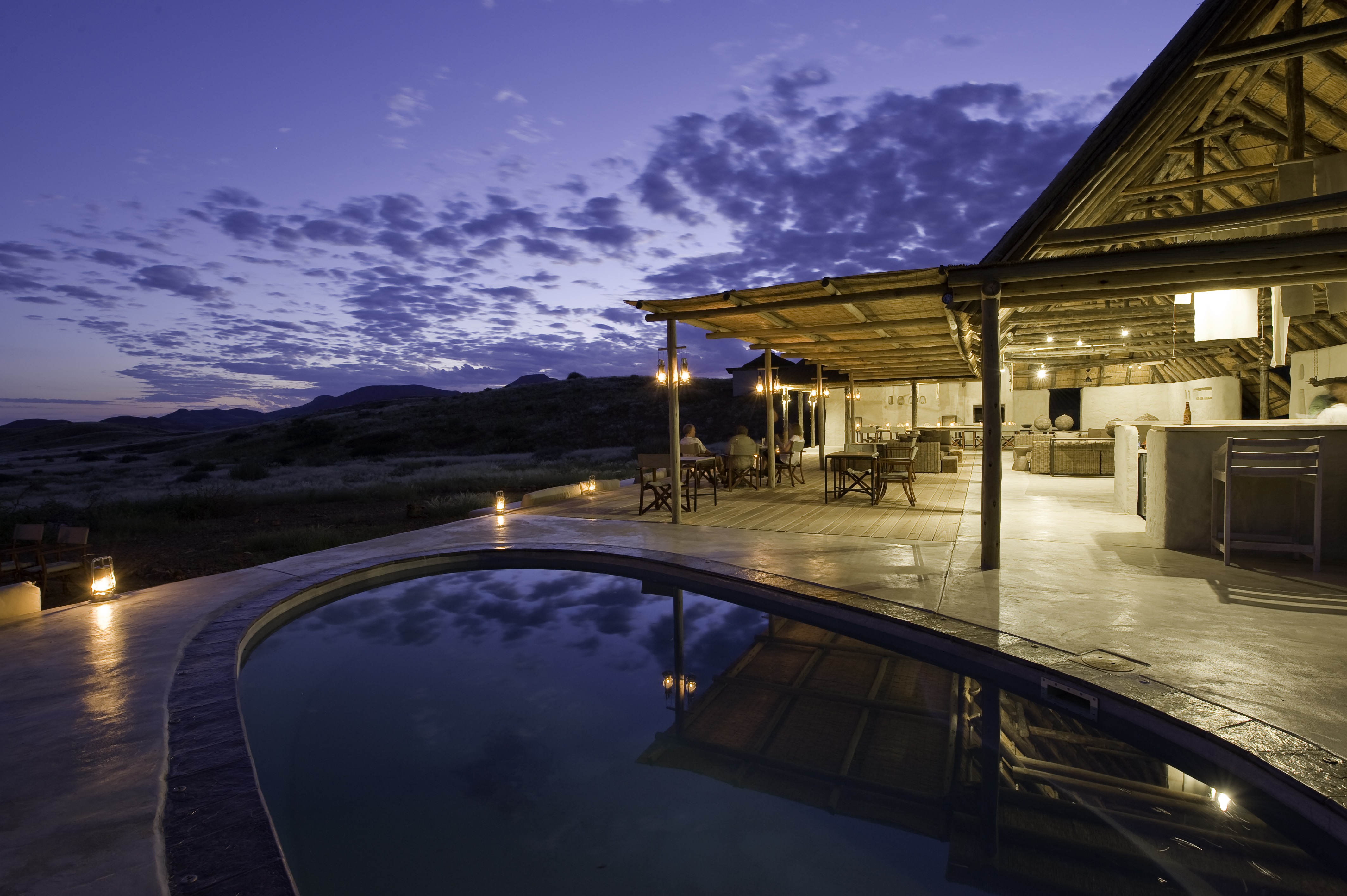 Activities
Activities at Damaraland Camp include nature drives, guided walks, sundowner drives, mountain biking and excursions to view the rock art of Twyfenlfontein. Please note that the area is semi desert, and that consequently the wildlife is sparser, and spread across a larger area than it is in the likes of the Maasai Mara.
Impact
Conservation
Wilderness Safaris and the Torra community in Damaraland have formed a mutually beneficial partnership, with the community acting as the region's landlord.
This subsequently resulted in a 352 000-hectare (869 000-acre) conservancy being founded; wildlife is flourishing, and poaching has decreased substantially.
Waste water is treated on-site in a Trickle Plant, ensuring that the water is clean before being allowed to enter the surrounding natural environment. To reduce use of bottled water at the lodge, reverse osmosis filtration is done on site to provide guests with high-quality drinking water.
Commerce
The conservancy has established an emergency fund to help members in times of drought or wildlife-related accidents.
Community
The camp has helped to support social projects, including securing school equipment and the development of a community hall. The conservancy is also a proud member of Pack for a Purpose, an initiative that encourages guests to bring school supplies with them when visiting.