Colina Verde is located in the Machangulo peninsula in southern Mozambique and neighbours the Inhaca Island in the Bay of Maputo. Set on a hilltop with 360° views of forest and ocean, the lodge has a homely feel with every design detail thoughtfully considered.
Overview
A small lodge consisting of a shared area and seven sleeping rooms, Colina Verde's thatched roofs, wooden floors, and stonework combine to create a space with a chic-rustic quality. Shared spaces include a study, games room, dining room, and lounge.  Decking wraps around the building on two levels, with ground-floor terraces accommodating a hot tub, swimming pool, and alfresco dining area. The property is booked on an exclusive basis. WiFi is available.
Food & service
Staff at Colina Verde are mostly from the local villages of Santa Maria and Mapanga, are experts in everything they do, and have a keen eye for detail. Excursions are led by guides, while specialist practitioners lead massage and yoga sessions. The excellent in-house chef offers a variety of cuisines, made with locally sourced produce, and only fish caught on Colina Verde's fishing trips are served up at meal times. The South African wine list has been specially selected for the lodge.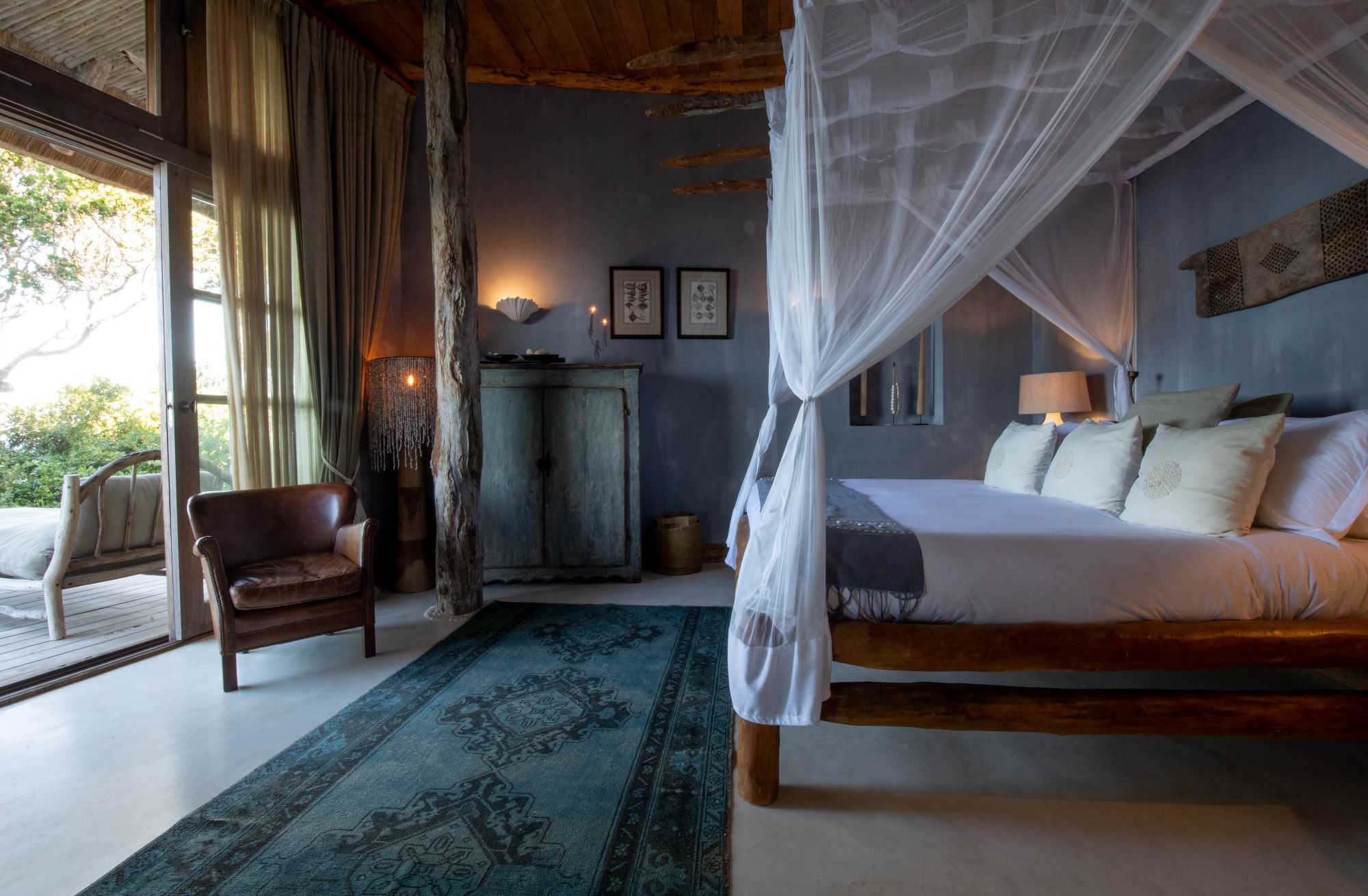 Rooms
The seven bedrooms at Colina Verde are all unique, both in layout and in views each offers of the surrounding landscape. At the same time, all share the running theme of natural, understated charm. Each room includes a large four-poster bed plus a mosquito net, a freestanding bath, and a private decking area. Other features such as floor-to-ceiling windows, mezzanines, and outdoor showers add to each room's distinctiveness.
Activities
Colina Verde offers a truly impressive variety of activities. Deep-sea fishing, whale-watching, traditional dhow sailing, kayaking and free-diving courses are all options. Both Machangulu and Maputo Reserves can be explored by helicopter or via land safaris. Visits to local villages or nearby Inhaca Island can also be arranged. Within the lodge's vicinity, tennis, sandboarding and beach bike rides are available. Indoor pursuits include pool and table tennis, as well as yoga and spa treatments.
Impact
Community
Colina Verde plays an active role in community development, such as subsidising monthly government healthcare visits to local villages for the past five years. They have also funded the installation of ten computers at a local school, used for both child and adult education.
Conservation
Deep-sea fishing trips are an integral way for the team to contribute to two marine conservation programmes. This includes tagging and releasing important species such as the Giant Trevally. The lodge is also involved in monitoring efforts of loggerhead and leatherback turtles which nest along Machangulu's shoreline.