Owned and operated by Robin Pope, Mkulumadzi Lodge offers luxurious and genuinely distinctive accommodations in the Majete Wildlife Reserve, Malawi's only big five wildlife reserve. Approached over a rope footbridge suspended over the Mkulumadzi River, the lodge is situated within 7,000 hectares of private concession at the heart of the 70,000 hectares of the reserve itself.
Overview
A wood and thatch lodge, Mkulumadzi comprises of a shared area and eight sleeping rooms. Surrounded by wild mango and giant leadwood trees and built using the the reclaimed trunks of these very leadwoods, everything about the lodge is designed to give one a sense of being at one with the surrounding nature: throughout, borders between the well-appointed interiors and the world outside are almost invisible. The shared are includes a expansive wooden decking, restaurant, lounge, bar, curio shop and swimming pool, all providing spectacular views of the two rivers which meet below the lodge. .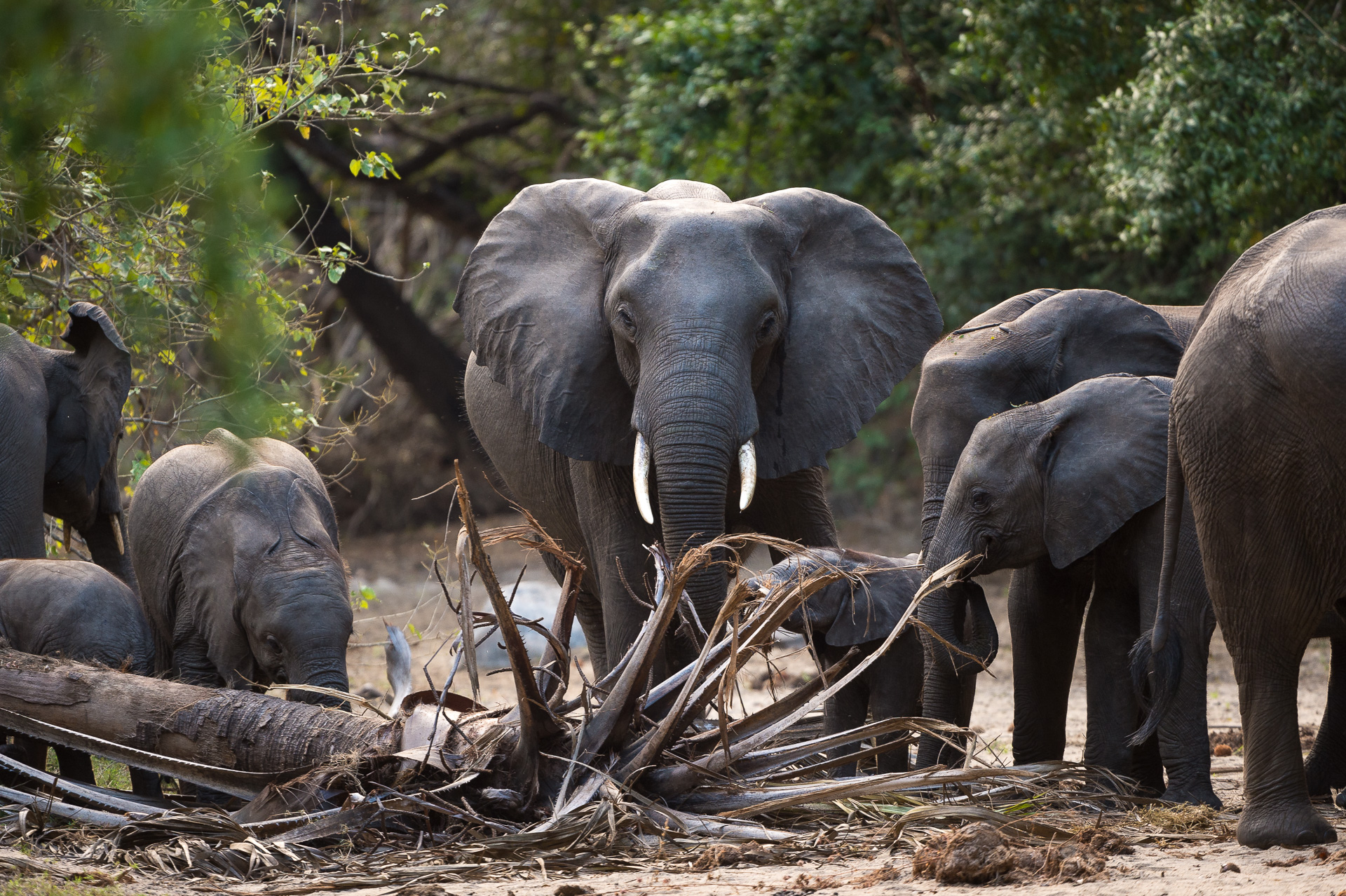 Food & service
The restaurant that offers private tables. In-room dining can also be arranged. Afternoon tea is served on the terrace and – a recurring highlight for guests – evening dinner is served beneath the stars. Service is wonderful.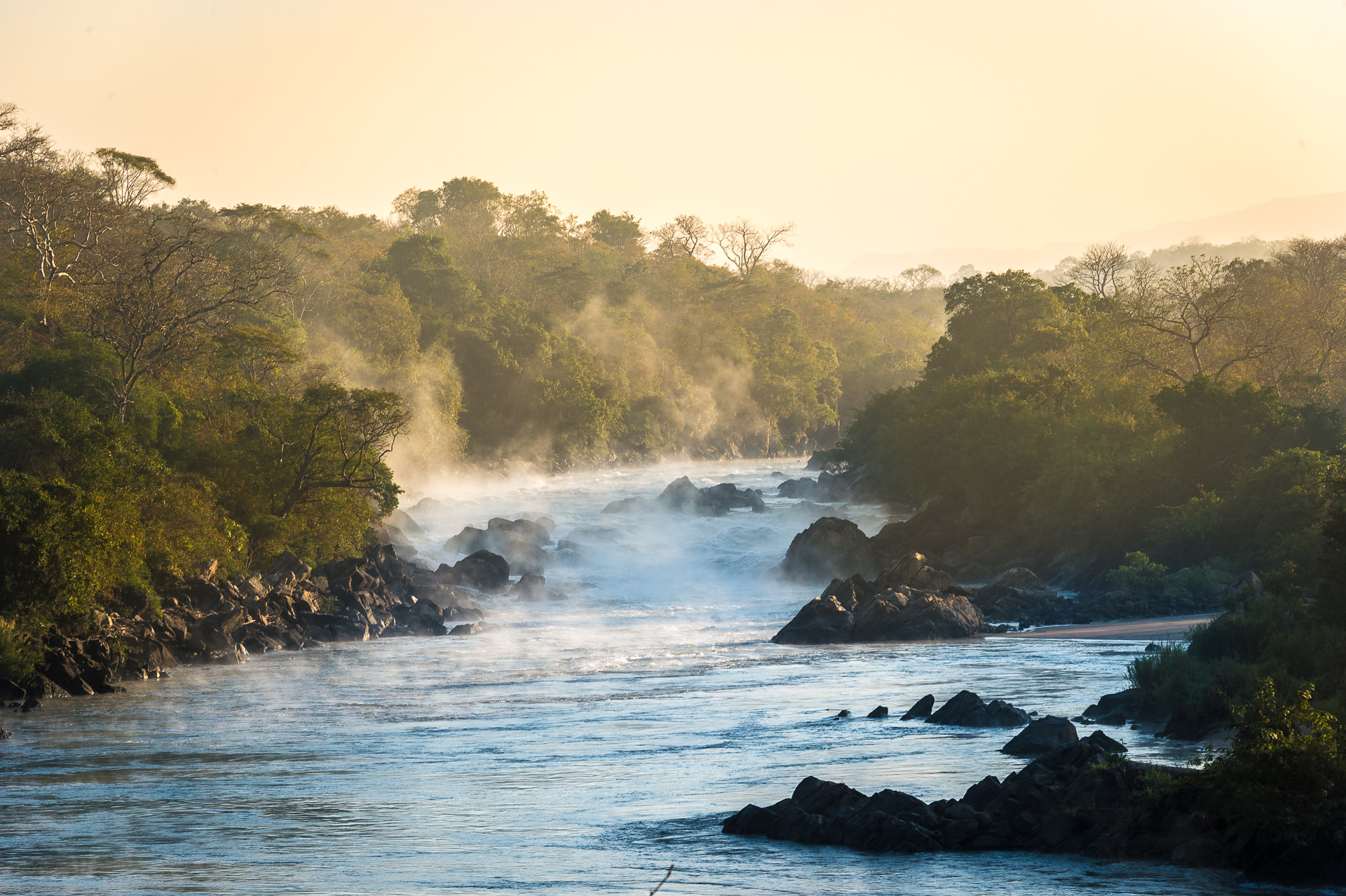 Rooms
The sleeping rooms at Mkulumadzi Lodge comprise of eight chalets, two of which (those adjacent to the main area) are suitable for either a family or two couples travelling together. The decor is contemporary and fresh, with depth of character provided by the profusion of local touches: colourful cushions, walls of local stone, various textures and hues of local wood and tasteful lighting. Again, great care has been taken to blur the borders between in and out, so that expansive and uninterrupted views can be appreciated from the comfort of the bedroom itself. All the chalets have en-suite facilities with private outdoor showers, a lounge and a large deck with river views.
Activities
Mkulumadzi Lodge is the perfect jumping-off point for a range of activities including expert walking and driving tours as well as boat-trips to the nearby lake just above the Kapichira Falls.
Impact
Robin Pope Safaris prides itself on responsible tourism and development, explaining in their own words what makes Pumulani such a fine example of a community and conservation focused lodge:
Conservation
Responsible Tourism In Action: "We take our responsibilities towards the human and physical environments in which we operate very seriously and are critically aware of the negative impacts that tourism can potentially have on the environment, wildlife and local communities neighbouring our properties. It is therefore very important to us that we strive continuously to reduce our negative footprint and increase the positive impacts of all of our safari/beach operations. This we achieve through the implementation of our published Responsible Tourism Policy that addresses the three pillars of sustainability, namely our economic, environmental and social responsibilities.
In addition, we have contracted the services of a specialist Responsible Tourism practitioner to our team to advise us on how to integrate best practice in sustainability into all areas of our operations. In Malawi, we promote the protection of local fish species along the shores of our lodge in Lake Malawi National Park."
Ecotourism: "Responsible wildlife viewing will ensure that wildlife is not disturbed and that the environment is not impacted on negatively by wildlife viewing activities. To facilitate this our guides are trained and regularly monitored against best practice responsible wildlife viewing etiquette."
Community
Development: "Robin Pope Safaris operates with respect for indigenous culture and supports social development initiatives, whilst considering the impacts tourism is having on the communities in which it operates. We take pro-active steps to ensure that local people benefit both financially and in terms of their quality of life from our operations and that any socio-cultural impacts are minimised. We have for many years been very pro-active in working with our local neighbours to bring about sustainable development initiatives in the community."