A slow and lazy trip along the Tsiribihina River, which heads west eventually into the Mozambique channel from inland Madagascar, this trip is a chance to go off grid spending time going back to basics, floating down the river in the day and fly-camping around a fire at night.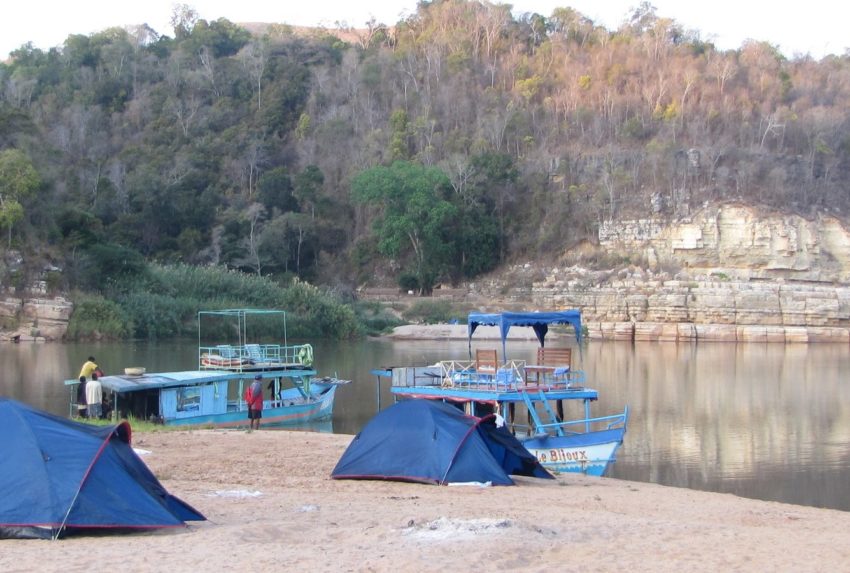 Overview
Comprised of a small cruise boat with enough space for a family of six, its crew and all of the camping gear to accompany, the journey is simply made up of cruising from source to mouth over three days and nights, with intermittent stop-offs at local villages and to see the local flora and fauna. Since the river journey is run by a number of different operators, each boat looks different, but basically holds a kitchen, a downstairs deck area to shade from the midday sun and an upstairs deck area perfect for watching the world go by or, for the more daring, to dive from.
Food & service
The food at Tsirbihina River Journeys is basic but delicious, largely made up from local produce and what is generally available at the time. As each operator is different, the service cannot be comprehensively commented on, but on the whole is extremely friendly, courteous and understanding of guest needs. Please note that no Wi-Fi or laundry are available and that the main wash facilities are natural streams, springs and waterfalls. It's a real back-to-nature operation.
Rooms
Accommodation at Tsirbihina River Journeys is off-boat and consists of small, two-person tents in which guests sleep on a mattress on the floor. Basic and comfortable, the tents are pitched on a picturesque location along the riverside. Evenings are spent around the campfire, and usually include the chance to partake in locally-infused rum, lots of talk, and listening to one or more of the hosts playing traditional Malagasy folk tunes on their guitar.
Activities
Aside from having space to watch the world go by from the boat's deck and soaking in the spectacular and varied scenery, activities include fishing off the boat side, stop-offs into the wilderness either side to view the flora and fauna, bathing under the waterfalls of the river's tributaries, and visiting village markets to stock up on food and drink.
Impact
Conservation 
All food and drink used is produced locally, minimising carbon emissions and supporting the local Tsribihina economy.