Starred member of the Relais & Chateau Association since 2004 and located on the northwest coast of Madagascar in one of the most isolated spots on the island is Anjajavy, a top-notch luxury lodge.
Overview
Set on the edge of Anjajavy reserve with ocean views in front and Tsingy, mangroves and vine-scattered forest behind, the lodge is made up of 24 villas and a restaurant each made of local rosewood with views of the ocean and a swimming pool for guests to relax and soak in the sun. The 'oasis' is also a key feature to the lodge. Designed by Camille Miller, a Parisian landscape gardener, this tranquil garden is meticulously planned with a lily-strewn pond surrounded by tree ferns, creepers and endemic water birds.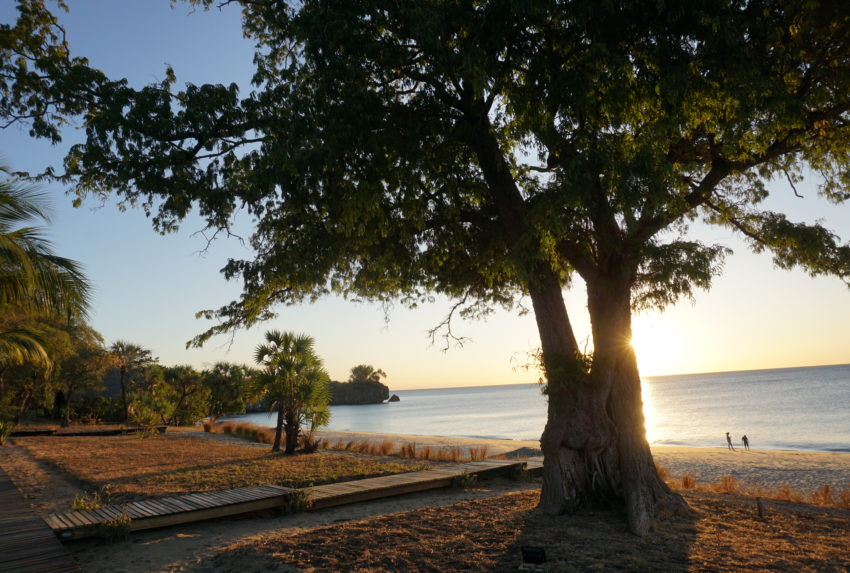 Food & service
The restaurant at Anjajavy includes the a la carte menu, which changes with the seasons and therefore availability of produce. This means that all ingredients is fresh from local sources. Staff are friendly and welcoming and enjoy hearing about stories from guest's adventures. Private dinners can be organised by staff on the verandah, poolside or on the beach. A laundry service is available to all guests and free Wi-fi available throughout.
Rooms
Each villa is simply designed with a two-story rosewood build and faces out to sea, designed with enough space between each villa and precisely the right angle to give each guest maximum privacy. Lemur viewing from each of the 24 guest rooms is the norm and guests can spend time relaxing on the varandah reading under the shade of palm trees overhead.
Activities
Anjajavy Reserve has many species of flora and fauna as yet undiscovered by scientists and is therefore is perfect for walks through the forest and to the little fishing villages along the coast. Guides are available but not obligatory. Boat trips and fishing are also available from the lodge and for the more daring, a nearby opening to a cave network with millenia old formations as well as bats.
Impact
Commerce
There are craft markets from the local areas whose income from tourism contributes towards the local economy.
Community
Nearby, in the village of Anjajavy, is a school that was started off by the NGO, Ecole de Monde, which is contributed to by the lodge.