Located on a remote low-lying promontory separating the Indian Ocean from a small lagoon on Madagascar's southwest coast, Olobe Lodge is a charming and laid-back property.
Overview
Olobe Lodge has a shared area and seven rooms spaced throughout endemic shrubland, all with incredible views of the ocean or lagoon. The principal shared area is designed as an open-air, wood-framed structure with thatched roof and sculpted walls painted in sandy pinks and sage greens. The furniture is made of natural, textured materials. The space includes a bar, restaurant with an open kitchen, and two terraces, as well as an outdoor pool. WiFi is available throughout.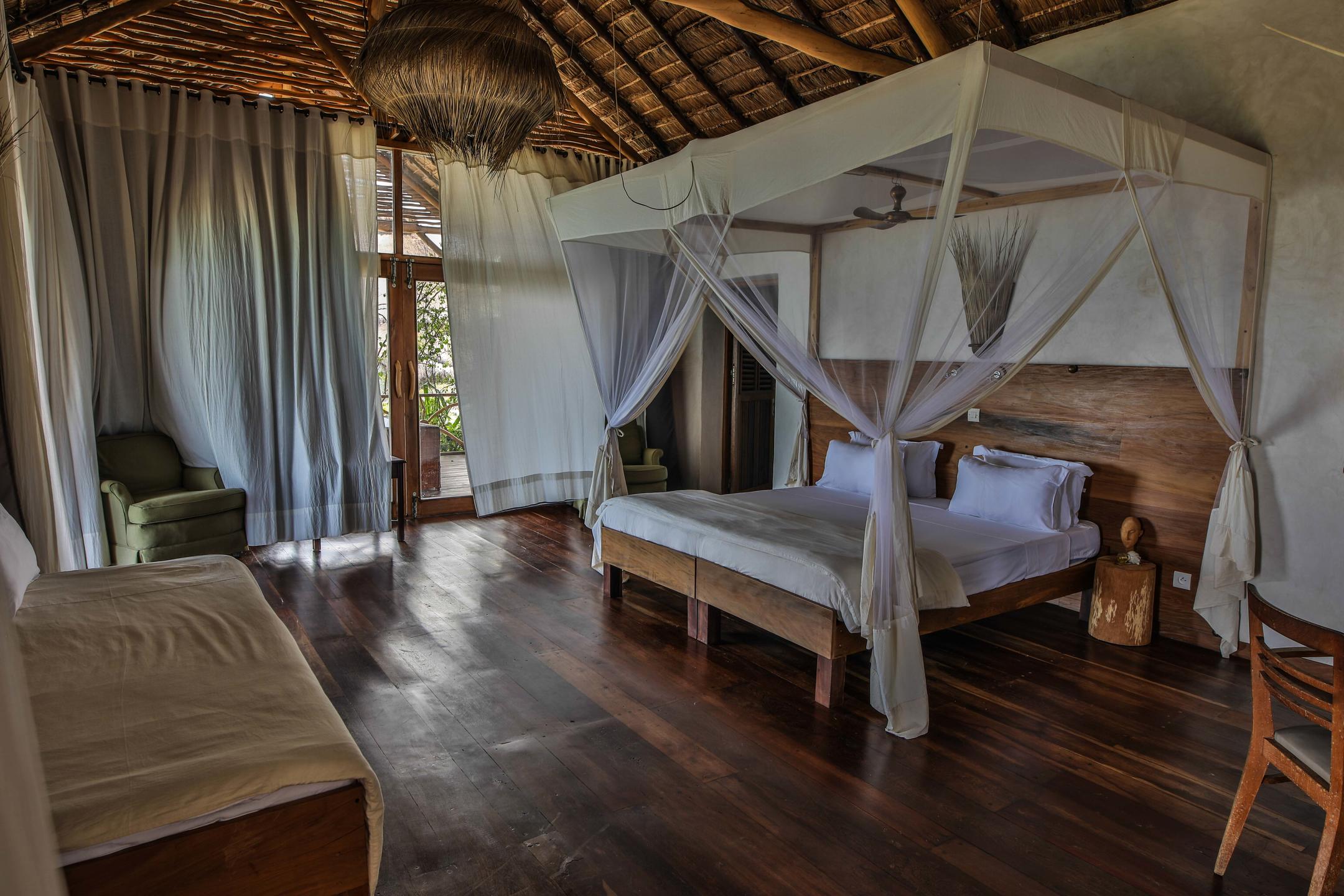 Food & service
Both service and food at Olobe Lodge are rated highly by guests, with many commenting on the excellent quality of dishes. Fish and seafood are the star attraction and are bought fresh daily from local fishermen. The well-stocked bar offers a variety of beers, wines and cocktails concocted by the lodge's friendly and accommodating staff.
Rooms
There are three bungalows, two standard rooms, and two suites. The bungalows and standard rooms each have a king-sized bed and en suite with an outdoor shower, seating and a private balcony. The main distinction is that the bungalows offer more generous living areas. The two suites enjoy many of the same features again but with the added benefit of an outside bathtub on the veranda. All rooms are constructed of natural materials such as wood and thatch, and make the most of the lodge's panoramic ocean views.
Activities
The waters surrounding Olobe Lodge are some of the most pristine in the region, making watersports such as snorkelling, kayaking, and deep-sea diving absolute highlights of any stay here. Other excursions include boat trips to the mangrove forests of the nearby Bay of Assassins, sailing on a local pirogue, and exploring otherworldly baobab forests by 4×4. At the lodge itself, guests can enjoy table tennis, table football, petanque or billiards.
Impact
Olobe Lodge's affiliate village of Andavodoaka is a founding member of the award-winning Velondriake Locally Managed Marine Area (LMMA). The area now boasts some of the healthiest coral reefs in the region and exceptionally rich marine biodiversity as a result. The lodge also runs much of its operations on solar power.