Located on the hot and dry southwest coast of the of Madagascar, overlooking the Mozambique channel, and just 800 metres short of the Tropic of Capricorn, Bakuba is a first-class boutique lodge.
Overview
Bakuba is made up of six guest accommodations and a small restaurant with a cocktail bar on the roof, which overlooks a sizeable infinity pool. The design of the lodge has taken inspiration from the Catalan modernist artist, Antoni Gaudí, in its curvaceous architecture.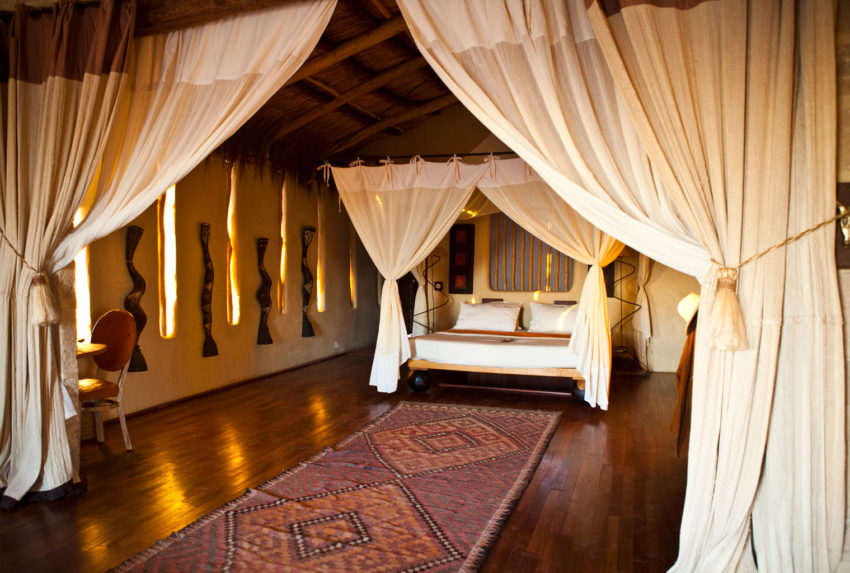 Food & service
The service and food at Bakuba Lodge has often been commented by returning guests as excellent, particularly considering its remoteness. The food, which is served on the terrace, is often based on availability of local produce at that time of year and largely revolves around fresh seafood and locally sourced fruit and vegetables, the cooking ranging from traditional Portuguese to a fusion of oriental-style dishes. A number of cocktails are available at the bar. Look out for recipes using Malagasy rum infused with local spices.
Rooms
There are six guest accommodations available at Bakuba Lodge: three standard rooms, two large 70m2 suites and one 200m2 suite. Design-wise, each sleeping room is quite different, though not so as to not fit with Gaudi-inspired look of the main lodge. Each room is either garden-facing or overlooks the sea.
Activities
Activities can range between anything from a guided walk or cycle with the lodge's free-to-use bicycles to relaxing on the beach, snorkelling through the clear waters of the Mozambique channel or canoeing up the nearby Onilahy River for a day's expedition inland.
Impact
Conservation 
Food at Bakuba is all locally sourced thereby reducing carbon emissions.