Set on the outskirts of the town of Anakao, on a mile-long stretch of white sandy beach, with no other accommodations in sight, sits Anakao Ocean Lodge, a typically wonderful Malagasy beach accommodation in southern Madagascar.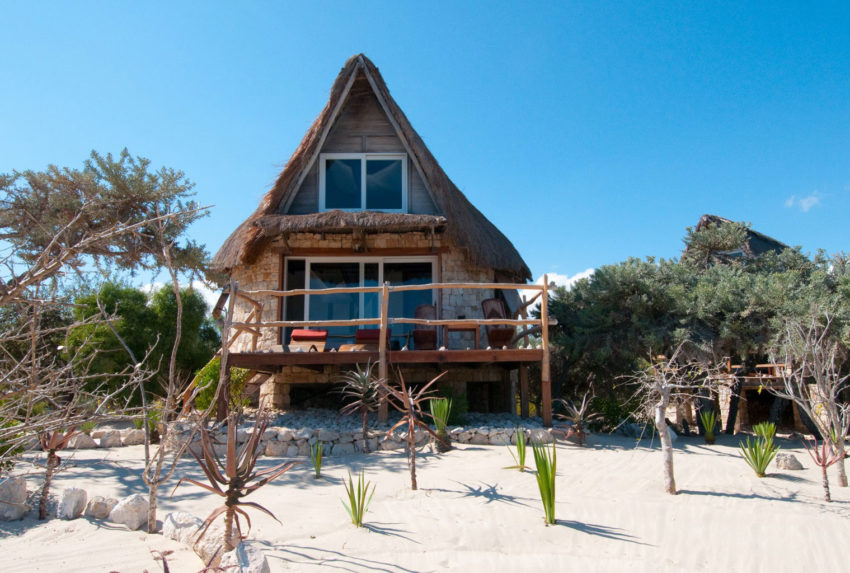 Overview
Made from local Malagasy limestone under a thatched roof supported by palisander wooden beams and pillars and sat in a garden of plants typical of this arid region, Anakao Ocean Lodge's communal area incorporates a restaurant, bar and spa, the last of which sits in a separate building is of similar design. The overall look and feel is one of relaxed barefoot luxury. Please note that the Wi-Fi is limited to the restaurant and bar and a laundry service is available to all rooms.
Food & service
The food at Anakao Ocean Lodge is largely a French-Malagasy fusion in style and incorporates freshly caught seafood bought from local fisherman straight off the boat. Please note that whilst returning guests have often commented on the service and food as being top-notch, there are no choices on the daily menu. It is, by all accounts, a one-pot wonder. Even so, the lodge will cater for dietary requirements with enough advance notice.
Accommodation
Anakao Ocean Lodge is made up of 25 separate accommodations spread out along the beach. They include: one-bedroom bungalows with either twin or double beds; two-bedroom (one-up-one-down) family bungalows; and a family suite with all of the above plus a large lounge. Each is fully equipped with air conditioning, a small bathroom tucked away at the back with a walk-in shower, a safe and a minibar. The exterior design reflects that of the main communal areas while the interior design is minimalistic and fresh.
Activities
The area around Anakao and the southwest coast is renowned for its water sports and as a result, Anakao Ocean Lodge offers anything from kayak rental, whale watching and boat barbecues to kite surfing, wakeboarding and jet skiing. Tsimanampetsotsa National Park is also an hour and a half away, it's alkaline lake and wetlands is considered one of the most biologically important national parks in Madagascar.