Located on the south side of the island Nosy Ambariovato, a halfway between Nosy Be and mainland Madagascar, and one of National Geographic's Unique Lodges of the World, Tsara Komba is a first-rate luxury ecolodge.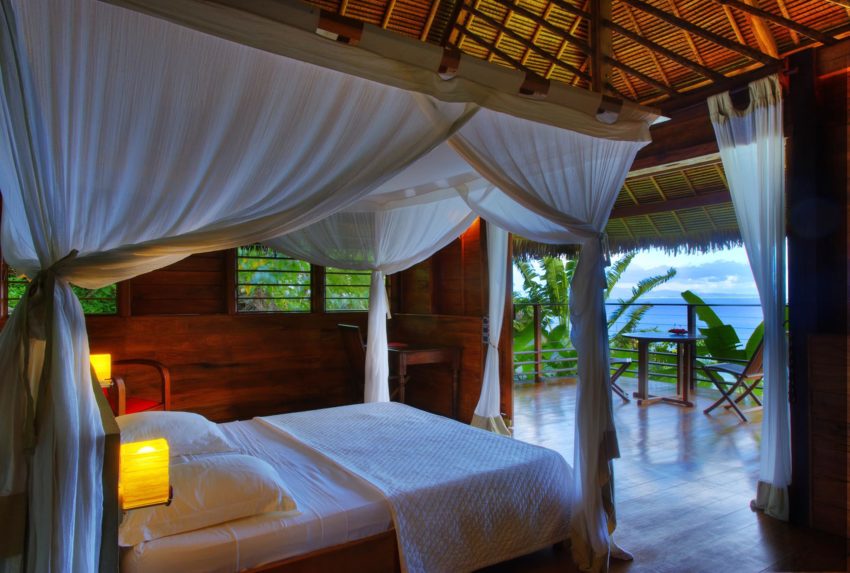 Overview
Set high hill overlooking the sea, Tsara Komba itself consists of eight guest lodges and a main lodge – called The Divine House and which houses the restaurant, lounge area and four separate terraces. The on-site plant nursery (complete with baobabs) backs onto a private nature reserve with multitudes of endemic species. Guests have access to Wi-Fi and a daily laundry service is available.
Food & service
The food here is completely made up of freshly caught seafood bought from local fishermen and fruit and vegetables grown in the lodge's garden. It has been commented by returning guests as outstanding and some of the best on Madagascar, as is the service, which is staffed the staff by the local community. With enough notice, the lodge can cater for different dietary requirements.
Rooms
Set on a steep hill and surrounded by leafy vegetation, all eight lodges at Tsara Komba enjoy a perfect sea view from their verandas. Each of the six standard-sized suites come with a large bathroom and sleeping area with four-poster bed. The two family-sized suites come with a large lounge area. Each lodge is constructed from local rosewoods and sohihy and the roofs are thatched form local ravinala trees. In terms of their interiors, each lodger is slightly different from the next, the furniture having been sourced from Madagascan crafters, artists and antique dealers. Overall, the look and feel is very rustic-chic.
Activities
Scuba diving is available at Tsara Komba – as are kite-surfing, snorkelling, canoe trips and fishing from the shore or boat. The lodge also has access to beach racquetball, badminton and volleyball and guests can visit the craft workshops at the local village. Aside from this, the island is a good place to explore the forest, which, due to being on the site of an extinct volcano, is extremely fertile, giving rise to great diversity of endemic species.
Impact
Conservation 
As well as a number of other awards, Tsara Komba also won the Best Initiative in Sustainable Development and Social Responsibility at the 2012 World Hospitality Awards. Moreover, all food is produced and caught locally, thereby reducing the lodge's carbon footprint.
Commerce
It's policy of employing local has a direct impact on the economy of the local villagers, and in the past it has supported local villagers under threat of eviction.
Community 
The lodge also supports community groups such as women's craft groups that keeps local traditions alive and provides jobs.