Bordering on Parc National d'Andasibe-Mantadia and three hours drive from Antananarivo, Vakona Forest Lodge is situated within the bowl of a forest surrounded by plants and spectacular birding opportunities.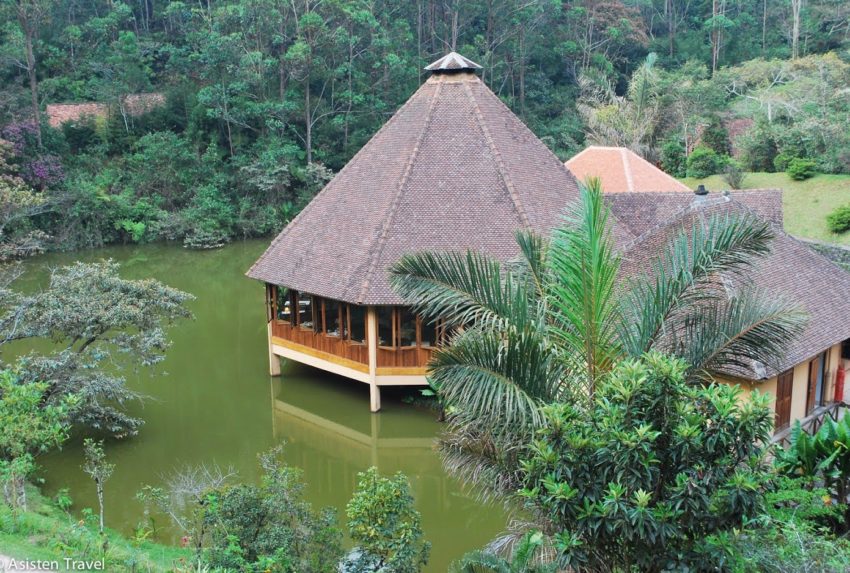 Overview
The hill that Vakona Forest Lodge sits on is covered by tall trees and slopes down towards a small lake. The lodge itself is made up of 28 bungalows scattered around the hotel's gardens, and includes a reception area, a dining room with a log fire, which gives the lodge the look and feel of a cosy highland lodge throughout the cold season, and a swimming pool.
Food & service
The food at Vakona Lodge is delicious. The restaurant is located at the centre of the hotel and leads out onto a veranda with views of the lake and forest. Wi-Fi and a laundry service are both available.
Rooms
Each of the 28 bungalows in Vakona Forest Lodge are spread out among the hillside, are built and decorated in a traditional Madagascan style (usually rectangular build, with a steep roof supported by a central pillar), and have three different sizes – standard, deluxe and family. Each of the bungalows are comfortable but simple, with mosquito net-covered beds, a minibar, en-suite bathroom with a hot shower and private terrace.
Activities
Excursions can include walks through the forest and down to Indri Island where guests can experience seeing lemurs at close quarters. As well as lazing about the pool, guests can enjoy the hotel's games room, which include a snooker table and table tennis.