Situated in the Sera Community Conservancy in northern Kenya, and base for tracking the critically endangered black rhino, Saruni Rhino is an excellent community-owned safari lodge.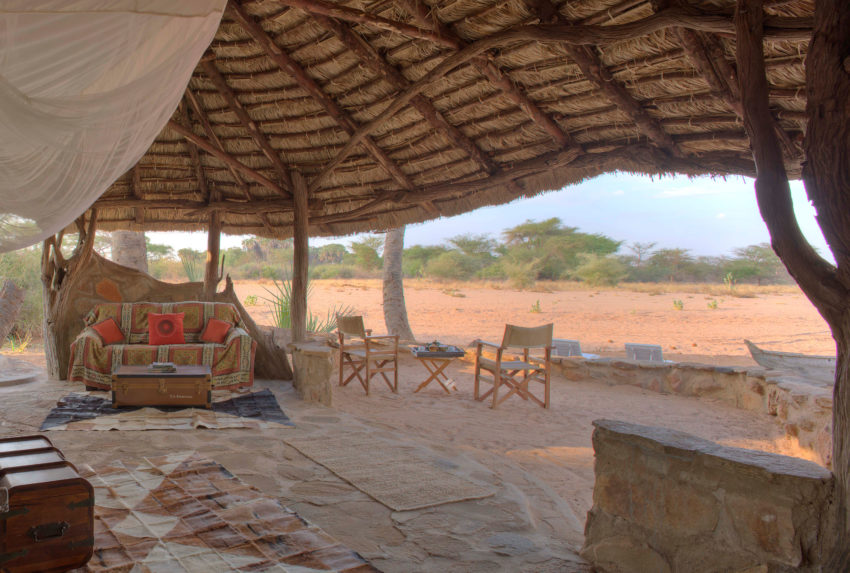 Overview
Saruni Rhino consists of a shared area and three bandas. The shared facilities consist of a lounge, dining-area with a table and chairs and sofa, a separate kitchen that includes a solar-powered fridge that works most effectively if food and drink arrives pre-chilled, and an outside area into which furniture can be moved for stargazing at night. The comfortable shared lounge – a stone-walled thatched structure open on one side and surrounded by doum palms – emphasises local materials and traditional crafts.
Food & service
The service at Saruni Rhino is friendly, attentive and unobtrusive. The Italian-inspired food is excellent. Breakfast offerings include fresh fruit and bacon and eggs. Lunch includes a choice of salad, pizza and other light offerings. Dinner is is a three-course hot dinner in the evening. Meals are often served in the dry river-bed that runs along the edge of the camp.
Rooms
Consisting of stone-and-thatch structures situated overlooking both river bed and waterhole, Saruni Rhino sleeps 8 guests in three bandas. Bandas 1 and 2 come with twin beds that can be combined to make a double. The two-bedroom, family-sized Banda 3 has four twin beds that can also be reconfigured according to the individual needs of each party. The beds are comfortable and covered in traditional print, sofas and rugs, and outside tables and chairs. Bandas 1 and 2 have a bathroom with shower, mirrors, twin basins, hot water and flush-toilet – though only one is technically en suite. Both bedrooms in the family-sized banda are en-suite. Please be aware that Wi-Fi is non-existent and cell-phone coverage unreliable; the solar power is sufficient for batteries, but not for appliances such as hairdryers.
Activities
Activities include rhino tracking, wildlife drives, and guided walks on the lugga, and trips to perennial springs to view the massive flocks of sandgrouse.
Impact
Conservation
Saruni Rhino provides the Sera Conservancy with a vital source of commercial income and is a tourism partner of the Samburu community. As a result, Saruni Rhino is the only company to operate black rhino tracking in East Africa, and the income generated gives the community a financial incentive to continue the conservation project's fantastic work.
Commerce
Saruni Rhino paid the local community US $30,000 in conservation fees in 2017 and has pledged to make this $60,000 in 2018. Saruni is one of the founding members of Mara North Conservancy (MNC) and is also a member of the Northern Rangelands Trust (NRT) – two pioneering community-owned wildlife conservancies in Kenya. The camp also employs 80% of its staff locally and contributes to the training of rangers in the region.
Community
The Northern Rangelands Trust contributes generously to crucial healthcare and education projects, while the camp itself supports 'Pack for a Purpose', an indicative which encourages travellers to donate clothes, school supplies and medical items.
Do have a look at this video to see what a day of rhino tracking incorporates.