Located in northern Kenya, on the much feted Kalama Wildlife Conservancy, and embedded in the upper parts of forested valley, Saruni Samburu Safari Camp represents sustainable tourism at its most elegant and built seamlessly into a mountain top.
A mixed materials construct, it has been designed to follow the natural line of the side of the mountain, and makes clever use of the rock face, which forms the back wall of both the suites and the common areas. Mobile beige canvas walls and roofs merge seamlessly with locally sourced woods, and polished, multi-tiered floors end in thin air, creating sunlit spaces that serve to connect Saruni Samburu directly with wild Africa.
The shared areas include a large and open lounge with dining area and fire fit, a Saruni Wellbeing space (where massage, spa and relaxation therapies are conducted overlooking the valley), two wonderfully contorted swimming pools and a safari shop. Being intimate, and designed for couples and family sized groups, there is no indoor shared lodge space but caters to everyone and children of all ages.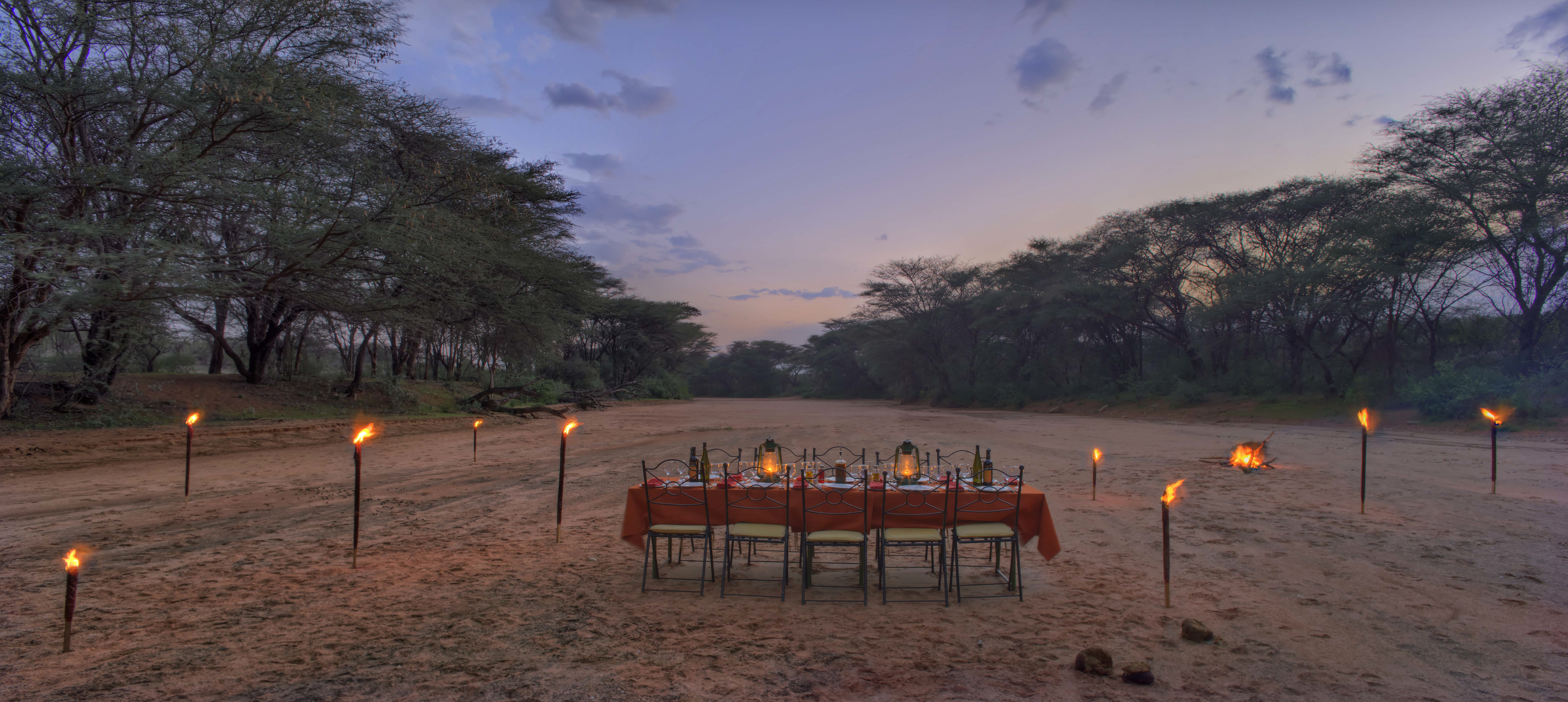 There are six suites at Saruni Samburu. All suites offer views over the conservancy, are very private with zip fronted canvas, and consist of large lounges, dining areas, terraces and large bathrooms with inside baths and outdoor showers. The family suites have two bedrooms, two bathrooms with large lounges and terraces. While each possesses its own idiosyncratic delights, the suites' main features are similarly minimalist, similarly well chosen. The four poster wrought iron doubles are beautifully dressed, and are positioned so as to give guests the impression that they go to sleep, and wake up, with Samburuland for a facing wall.
Saruni Samburu is situated just outside Samburu National Park, has its own waterhole, and is based on land that is home to increasing numbers of otherwise endangered wildlife species. Activities include game drives, guided walks, a warrior initiation programme, cultural visits to a local Samburu village, bush breakfasts and dinners, sundowners and, uniquely, drawing safaris.
With the local Samburu community benefitting directly (through programmes and employment), Saruni Samburu – with its exquisite design, its first class service, and its commitment to low impact tourism – is exactly the kind of camp we do our best to support.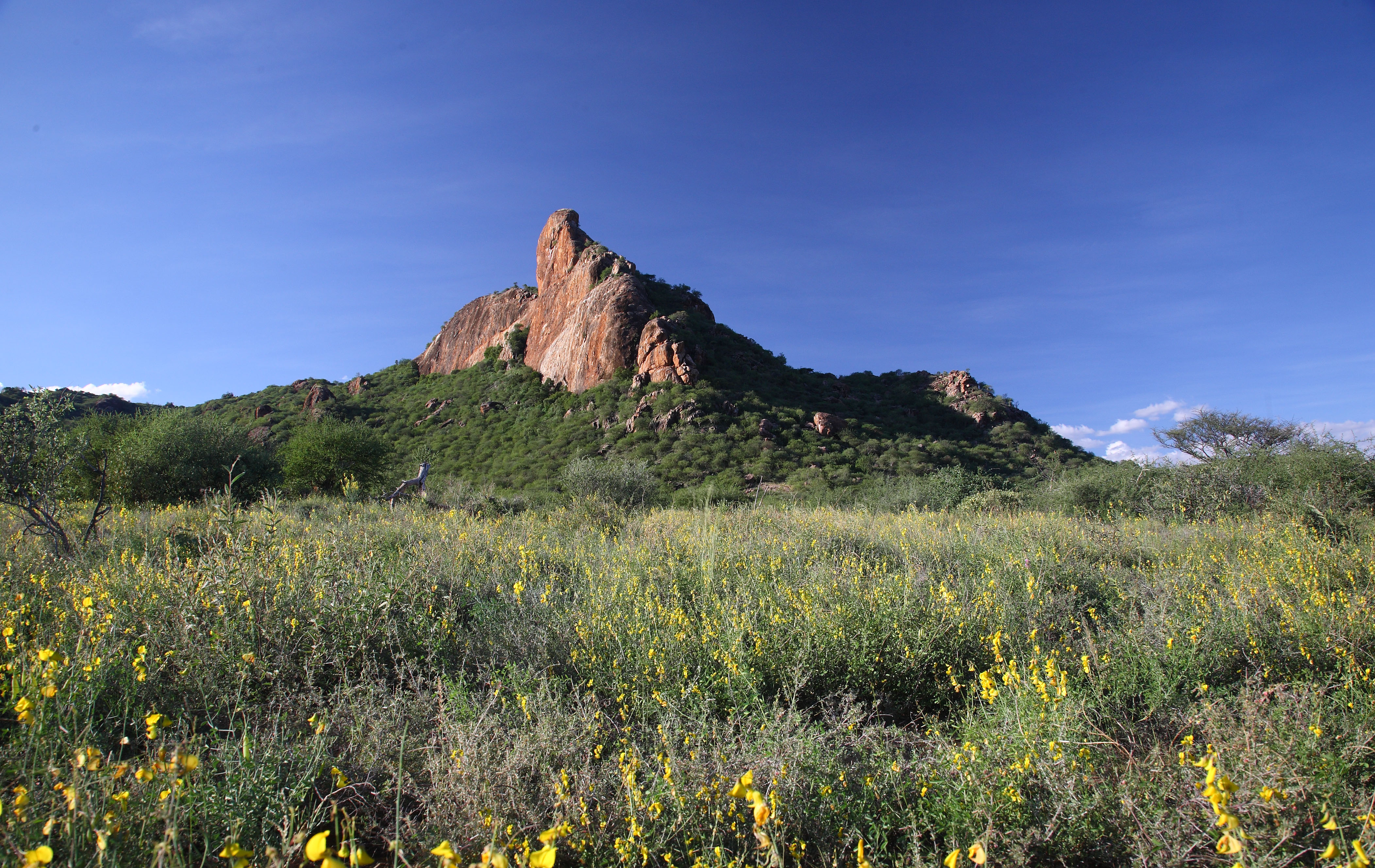 Ethical Information
Saruni Samburu is located inside Kalama Community Wildlife Conservancy, one of the "new" conservancies that have been started in Northern Kenya by Northern Rangelands Trust (NRT), an extension of Lewa and an amazing organization headed by Ian Craig. So, being part of Kalama and being the sole producer of income for the Kalama community is the big factor for us. Saruni Samburu provides jobs (30, so 80% of our employees) and park fees about (US$40,000 per year, but the amount is increasing) to a community that never had any benefit from tourism until 2003 despite the fact that they owned a huge tract of land next to Samburu National Reserve. In doing so, we encourage them to protect and preserve the nature and the wildlife inside the 220,000 acres-large Kalama Conservancy. We also help directly some communities, assisting them to sell their art and craft to our guests and with donations to their school in the Kiltiman village, but our main role is to provide the conservancy with sufficient income generated by tourism.
Included in the price of your stay is a conservation and bednight fee, which ensures that by visiting this community conservancy, you are directly contributing to the community' s conservation efforts whilst supporting vital community initiatives such as school bursaries and water propjects.
Elephant Migration
Historically, wildlife moved freely across these landscapes. But in the 1970s and 1980s, they were forced into smaller pockets, which were simply not viable for growth. Subsequentlz, after the ivory ban was put inplace in 1989 and now with conservancies and communities keeping their land safe for wildlife, they are once again re-establishing old migration routes and are moving across vast pieces of land.
Improved Security
In a historically volatile region where ethnic conflict was a regular occurrence, the establishment of the conservancies has resulted in improved security for both people and wildlife.
Enterprise Development
NRT is working with over 600 women to develop micro-enterprises. NRT provides assistance to these women through micro-credit, enterprise and skills training, and product design and marketing. Women's enterprises are a means of empowering women, enabling them to supplement family income and improve their standard of living.
Translocation
In order to restore species that historically occurred in these areas, NRT is slowly reintroducing species such as giraffes and impala with plans to reintroduce black rhinos.
The Grevy's Zebra Trust was established to conserve Grevy's zebra in collaboration with local communities.
The Hirola antelope is critically endangered and faces an extremely high risk of extinction. The Ishaqbini Conservancy now presents an exciting opportunity and community platform from which to launch effective and sustainable Hirola conservation efforts. The Conservancy scout team carries out vigilant anti-poaching operations and collects wildlife monitoring data that is shared with NRT and other conservation stakeholders.