Located in northern Kenya, in the Laikipia, on a bluff overlooking the Ewaso Nyiro river, and run and partly owned by safari veteran Verity Williams, Sabuk sits on 1,500 acres of prime wild land.
Verity began guiding 25 years ago, and, with a son who has spent some time in Ethiopia on a wolf project, comes from a family that has invested a great deal of time and energy in helping conserve eastern Africa's wildernesses. Renowned throughout the industry for the quality of her guiding, she has established in Sabuk a lodge that is both personal and luxurious.
Consisting of a main lodge, 8 rooms and a cottage, Sabuk is a stone, wood and thatch build. Solar powered and built from locally sourced materials, there is an emphasis here on leaving as light a carbon footprint as humanly possible. Designed to merge with their natural surroundings, all the buildings open out over the plains, and on good days provide views of Mt Kenya.
The shared area consists of a lounge, dining room, bar, verandha and pool. The style – stone floors marked by swirling designs, walls that follow the natural contours of the land, fallen woods, low furniture, handmade throws, colourful cushions, viewing platform – is open plan, homely, and the food / service is first rate. When fine, guests tend to take their meals outside, around a long table.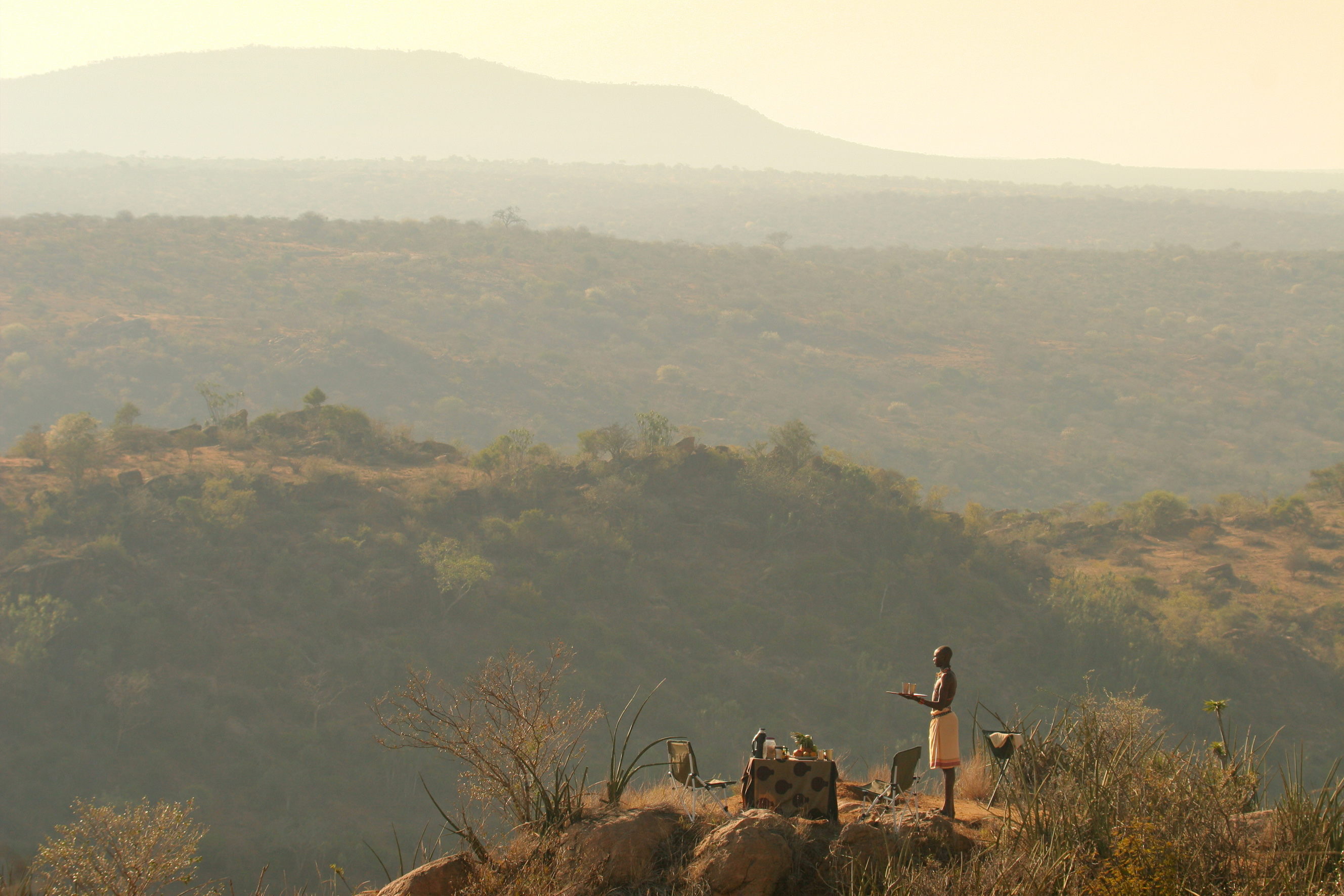 Each bedroom is en-suite, contains either a large four poster bed or two very comfortable singles, a verandha and room enough to change and sit in. Each, however, possesses its own style, with some having exposed rock faces, while others espouse a design that is much more minimal. Two have star-beds, and two are large enough to host families. Eagle Cottage has two bedrooms – one double, the other twin. All are excellent.
Guests are actively encouraged to take advantage of local Samburu knowledge of the land and its animals, and activities include camping, guided walks, tracking, game drives, river swims and camel treks. Please note: from Sabuk it is possible to go on weeklong camel treks or, as many clients seem to prefer, take a night or two out to 'fly camp' with the camels and a team of guides along the banks of the Ewaso Nyiro. One of the fly camp sites is set on a small bank, at the foot of a huge bend, and must rate as one of the prettiest camp sites in Kenya.