1°
8'
44.4" S
35°
21'
26.4" E
Designed and built by Mark Glen, Saruni Mara is located on a private concession just outside Maasai Mara Reserve. Accessed by scheduled flights from the Samburu, Laikipia, Nanyuki and Nairobi, it is built into the side of a forested valley and offers its guests a first class safari experience.
overview
Consisting of Kuro House and 6 cottages, Saruni's dominant style is one of thatched roofs, mixed material walls (canvas/wood) and spacious, wood-strong interiors. Kuro House – where guests meet, eat and read in the presence of a large fireplace – is broken up by an elegant dining table, Persian rugs, low functional seats and well sourced Maasai art. There is also an extensive library of Africana literature, and the overall impression of Kuro House – with its highly polished floors, stunning views and easy going nature – is one of informal excellence.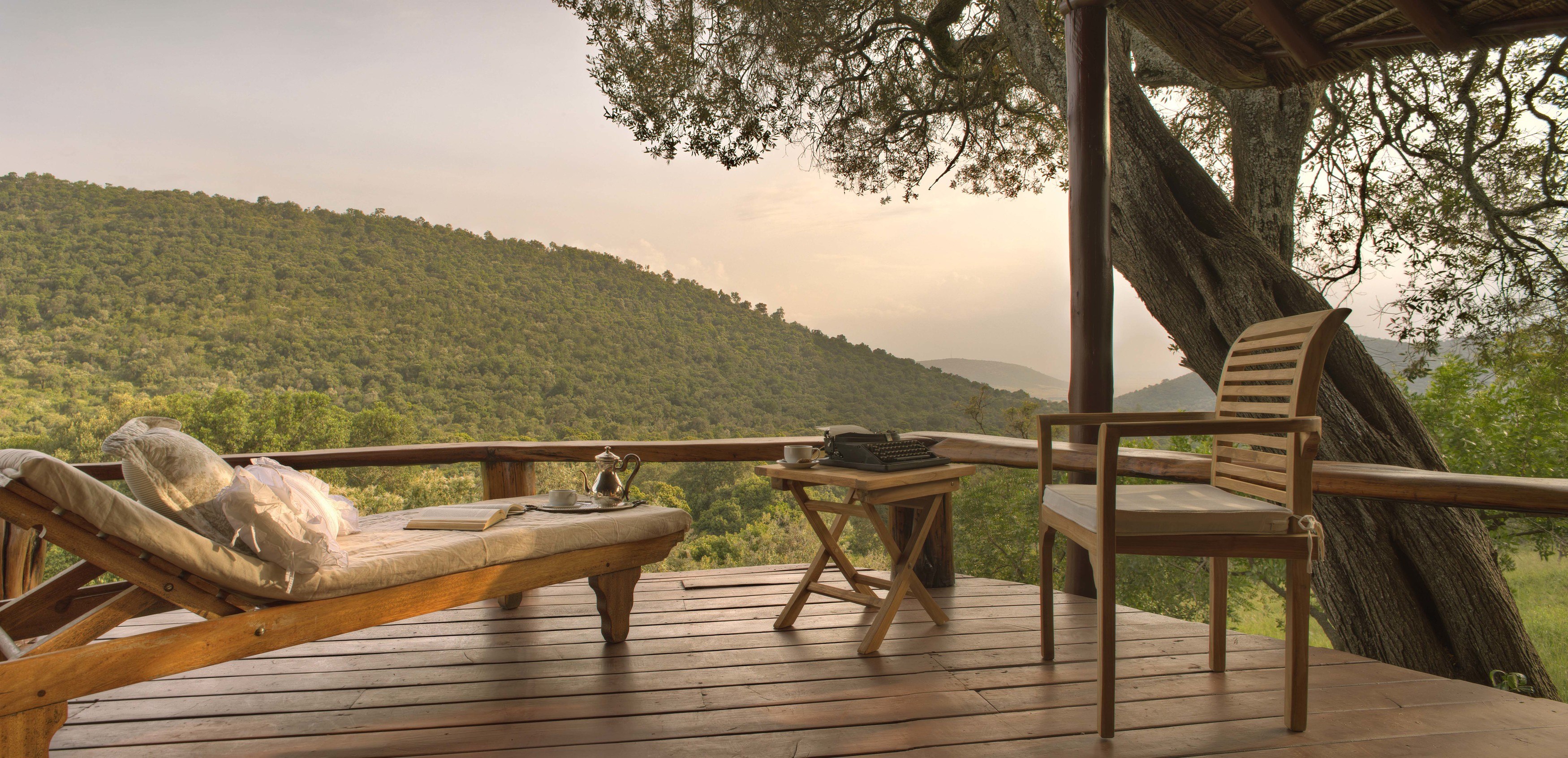 food and service
Organic, locally produced food is beautifully cooked, and the service is excellent.
accommodation
The cottages of Saruni Mara are just as good. While each has its own large Italian fittings bathroom, king-size double bed and private veranda, all 6 interiors have been individually designed, and, like Kuro House, make intelligent use of an eclectic mix of soft furnishings. For those that so wish, private dinners can be taken on their verandas. Wi-Fi is available across the lodge.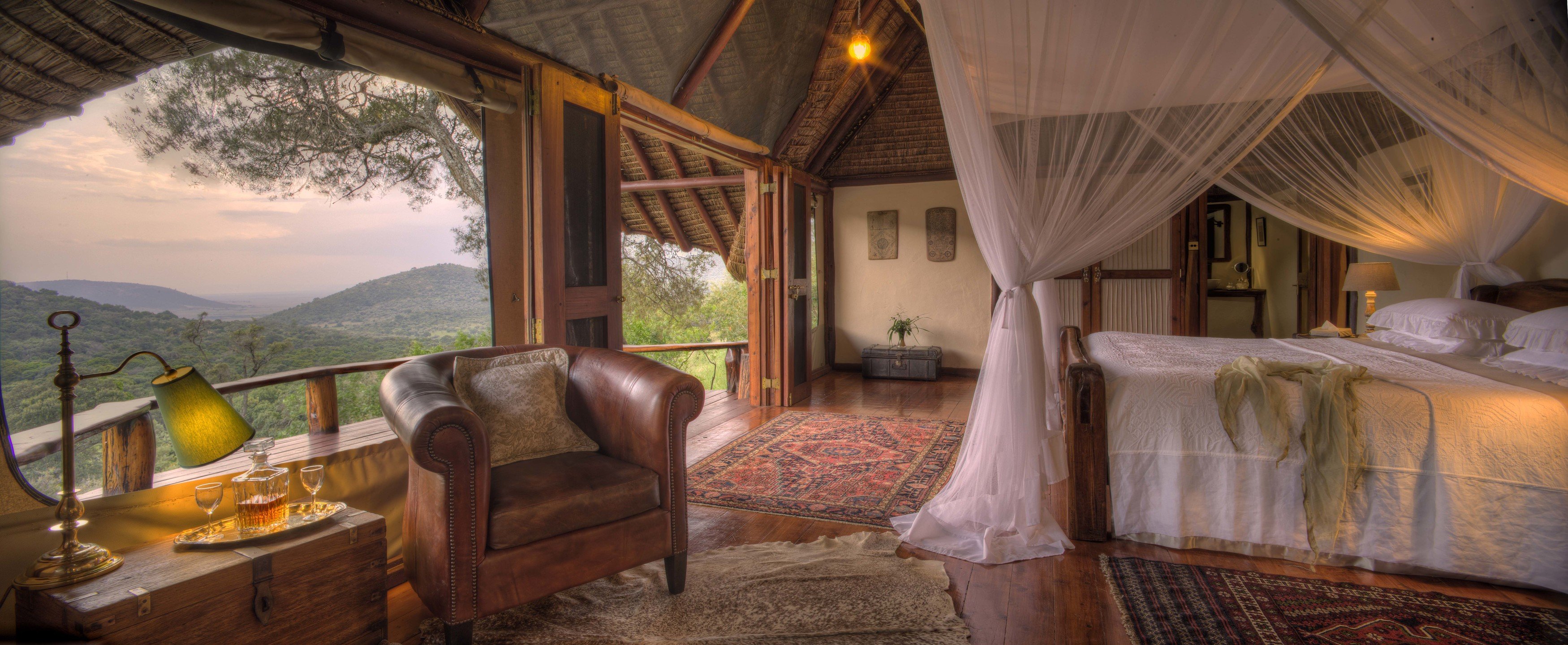 The bathrooms themselves are fitted with a custom built canvas wall, which, when drawn, affords showering guests an open air view across the valley. Attentive and thoughtful, Saruni is known for these delightfully idiosyncratic touches, and their discovery adds something extra special to a traveller's journey.
activities
Saruni Mara is situated on ranch land belonging to the Maasai, and is heavily involved with the local community. Being privately owned, the activities on offer are generally more extensive than those found in protected areas. They include bespoke wildlife drives, guided walks, bush picnics and Maasai village and wedding ceremony visits. Extras include massage (there is a separate spa – a Maasai well-being space) and trips to Lake Victoria.
ETHICS
Conservation 
Since its inception in 2003, Saruni has identified and nurtured a close connection with the indigenous communities who own the territories where fauna and flora thrive as the key element of its conservation policies. Saruni's choice to invest in Kenya was in fact influenced by the tradition of community-based tourism in the country and by the cultural element that differentiates a safari experience in Kenya from other safaris in the rest of Africa.
Commerce
Saruni believes in ethical creation of wealth. This is the way forward for Africa, and for conservation: the protection of wildlife and of nature based on distribution of income and jobs to its stakeholders. Saruni are part of the founding members of Mara North Conservancy (MNC) and also part of the Northern Rangelands Trust (NRT) – two leading community-owned wildlife conservancies in Kenya, which demonstrate the vital connection between communities and conservation, a relationship fuelled by tourism.
Community
Saruni Mara is a proud member of Pack for a Purpose, an initiative that allows travellers to make a lasting impact in the community at their travel destination. In regards to Saruni Mara guests here support Ngoswani School, Masai Mara, which serves 178 children from ages 5 through to 13 years old. The school has grown significantly over the past four years and aims to keep growing and inspiring others to aspire for education, especially young girls.