Located on Sands River, between the Masaai Mara and the Mara Triangle, and well placed migration-wise, Sala's is a proper tented camp, its reputation for both guiding and atmosphere well earned.
Overview
Purposely simple, a pole and canvas build, Sala's Camp consists of a mess tent and 7 sleeping tents. Green and white and (during the day) open sided, the mess tent includes a lounge, bar, veranda and dining area. Surrounded by hammocks, little seating areas and even a trampoline, the general feel here is at once homely and campaign-chic, the interior's overwhelming functionalism – canvas director chairs, communal dining table, wicker furnishings, cold boxes – softened by Persian carpets, silk cushions, feathers and the odd piece of sculpture. Perfect as a means of escaping the midday sun and for exchanging safari notes with fellow travellers, the mess tent serves as both escape and meeting place.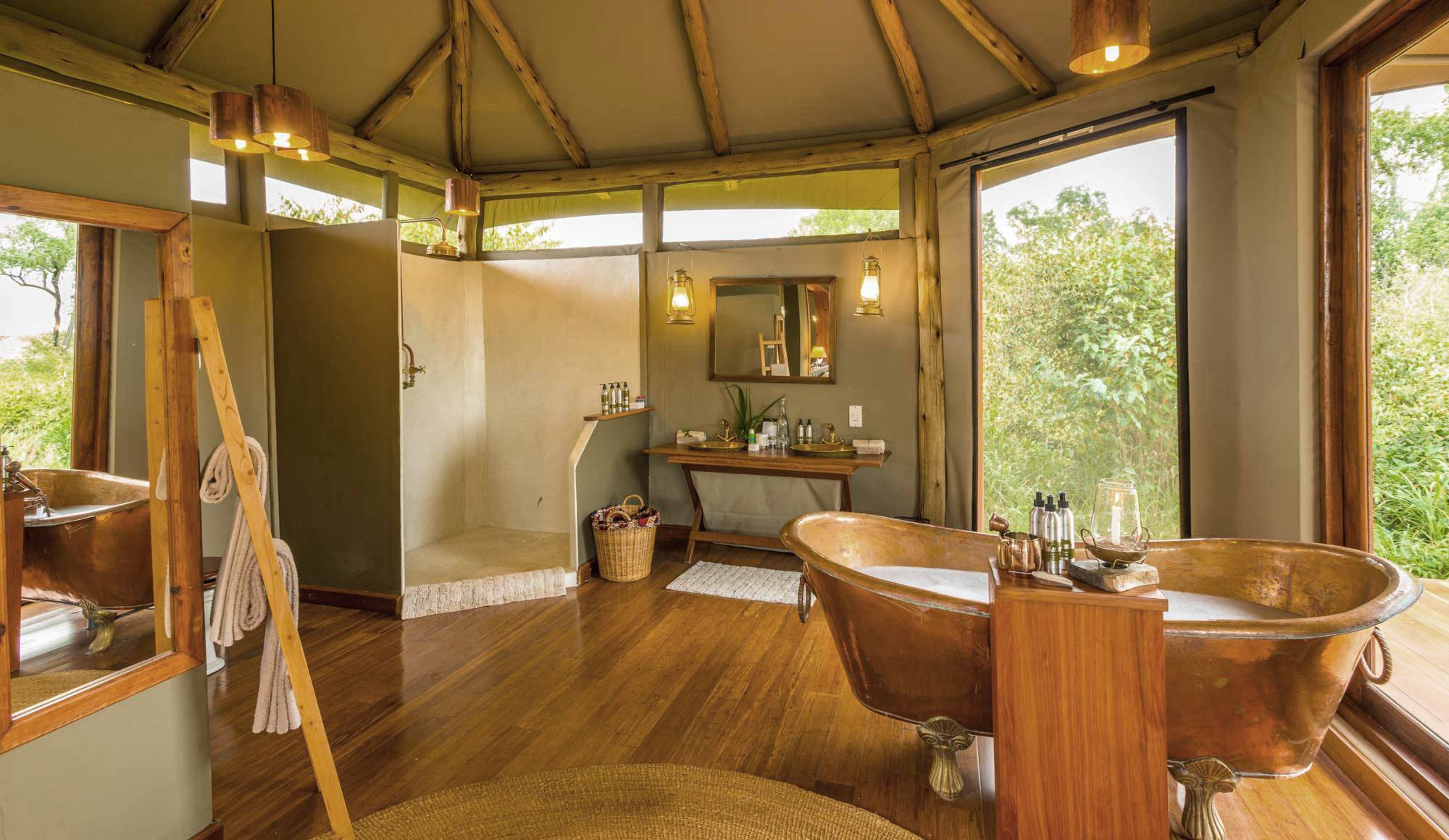 Food & service
Recipient of unrelentingly fine feedback, the service and the food at Sala's Camp is excellent. Breakfast, bush picnic, lunch buffet or silver service dinner, everything is beautifully thought through, the general air of friendly professionalism – from restaurant floor to room care to guide – palpable. This is both a relaxing and exciting place to be – a rare combination.
Rooms
Just as fine, the sleeping tents at Sala's are spread about the camp, their old and slightly worn look very much in keeping with idea that this is indeed the real deal. Approached by means of a path, lit at night by hurricane lamps, each tent consists of a double bed, private veranda, seating area, writing desk, wardrobe and en-suite shower.
Like the mess tent, the look here is simple and considered, the dark and chunky bed frames fashioned from found wood the centrepiece, the brass basins, old chests and rugs just enough to take the edge off what would otherwise be overpoweringly all about the canvas. A very comfortable stay.
Activities
Activities at Sala's Camp include wildlife drives, bush picnics and sundowners. Please be aware that because Sala's is situated within the reserve, there is no scope for guided walks.