1°
26'
31.74" S
35°
12'
55.01" E
Located north of the Maasai Mara Game Reserve, in eastern Koiyaki, on a bluff overlooking the II Supukiai river, Ol Seki Camp is a luxury eco-lodge whose commitment to the environment and to the area's host communities has won it much praise.
overview
Ol Seki is a beautiful wood and canvas build, and consists of a shared area (dining and library tents, bar, fire pit), 6 Nina tents and 2 recently opened suites. Part designed by Jan Allan, and built on raised platforms, the mess tents are large, round and white. The furniture – luxury canvas chairs, strong, sustainable wood – sits on richly polished floors, and hand-woven rugs, large wooden chests and a small number of carefully chosen local artefacts complete an interior that successfully fuses colonial colouring with an African sensibility.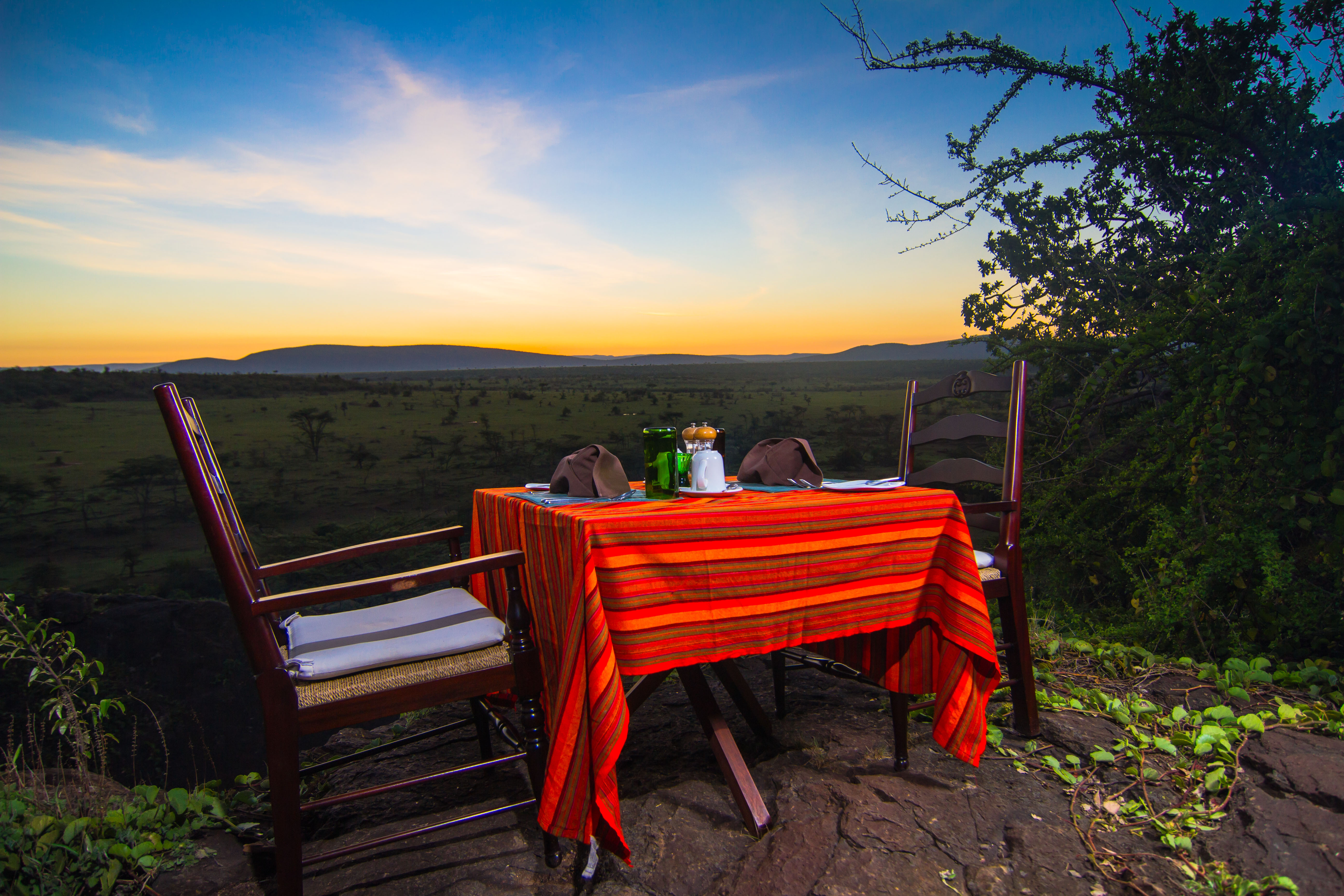 food and service
The food – traditional breakfast, three course lunch, four course dinner – is fantastic; we particularly recommend the delicious omelette for lunch. Meals are usually taken in the dining room, but are occasionally – as a real treat – served on the main decking, lit by the roaring camp fire. The service is equally as fine.
accommodation
Each en-suite Nina tent contains a double and a single bed, a changing and seating area and a large balcony. Predominantly white, the furniture is comfortable and occasionally ornate; beautiful writing desks look out over the plains. The beds are gorgeous – both to look at and sleep in – and the bathrooms, which are spacious, hold hot showers and flush toilets.
Taking the original Ninas as their source of inspiration, the suites consist of 2 separate sleeping tents, a lounge, kitchen and balcony. Designed to provide its guests with a camp-in-camp feel, each comes with its very own staff, and with private access to Ol Seki's wildlife viewing facilities. Decorated in much the same way as the rest of the camp, the suites are a luxurious addition to what is already a very luxurious destination. Wi-Fi is also available across the camp.
activities
Activities at Ol Seki include wildlife drives, night drives, guided walks, balloon trips, and visits to the local village and guiding school.
ETHICS
Conservation
Ol Seki is a participating member and Silver award winner of Eco Tourism Kenya which promotes responsible tourism practices. The camp is a semi-permanent structure and is continuously striving to reduce its footprint for the benefit of the land and neighbours.
Together with partners in Naboisho Conservancy, Ol Seki is also actively engaged in numerous conservation and community projects aimed at conserving the land and wildlife and providing a sustainable livelihood for local Maasai communities. In 2016, Naboisho Conservancy was the overall winner at the African Responsible Tourism Awards in recognition of the ways the conservancy truly brings together community and wildlife conservation.
Commerce 
As well as being environmentally responsible, Ol Seki directly contributes to the livelihoods of local communities through employment opportunities within the camp. Over 60% of camp staff are local Maasai, some of whom have never had the opportunity to go to school. They are provided training to offer them the opportunity to develop professional skills which they use to support their families.
Local craftswomen are also supported through them selling their wares to guests; this in turn encourages the survival of indigenous skills such as weaving and carving. Revenue from the trade of souvenirs has enabled the women to buy donkeys to support them in their long journey to market at Nkoilale, bearing their goods.
Community 
Guests staying at Ol Seki are welcome to visit Paya village and the funds from these excursions contribute to the education of village children.